Getting Started: The Ins and Outs of Instagram
If you have been following us on Instagram for a while, you have probably see the shift we've been making to become a more visually appealing and recognizable brand through the use of bright, colorful photos.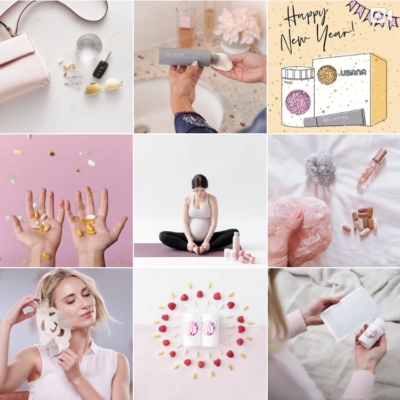 Since its inception, this social media platform has proven to be a powerful marketing tool for businesses. With over 1 billion monthly active users on the app, Instagram is considered to be one of the most popular social networks worldwide. With that many users, there is no limit to the success that a business can reach!
So, how can you leverage Instagram for your business? Let's start with the basics…
To create and register an account, you must download the iPhone or Android app to your device. The good news: You can download the app for free.
How to Register/Setup
1. Download the app on your Android or iPhone.
2. To launch, tap on the Instagram icon on your device's home screen.
3. Tap "Sign Up" and fill in the information. Note: Though we recommend uploading a profile image and writing an Instagram bio as soon as possible, providing a phone number and uploading a profile photo are optional.
4. If you would like, you can import contacts and friends from your contact list, Facebook account or Twitter account. You can also search for names and user names. You can add friends at any time from within your account.
5. You will be prompted to follow suggested Instagram users by tapping the "Follow" button next to their names. You can skip this section by tapping "Done."
One thing to note before you start taking photos: All photos are public by default, which means they are visible to anyone using Instagram or on the instagram.com website. You can make your photos private (under the "Privacy" setting on your account profile tab, far right at bottom), limiting viewers to only the people who follow you.
Tabs
Once you have registered/logged in to Instagram, you'll notice there are five icons — or tabs — at the bottom of your screen (left to right). This is your navigation panel. Note — the Android and Apple versions of this app look different, although they operate the same way.
1. Feed (home icon) — Similar to Facebook, you can scroll through posts from all the people you are following in real time.
2. Search and Explore (magnifying glass icon) — Like "Trends" on Twitter, you can see the photos getting the most attention on Instagram and posts that Instagram thinks you will like. You can also search for people, tags, and places here.
3. Share (plus icon)— Tap to take a photo or select photos from an existing album already on your mobile device.
4. Notifications (heart icon)— Updates from Instagram and other users are found here.
5. Account (profile picture icon)— Need to change any of your account settings? Update your bio? Change your profile pic? This is where you go.
Social Sharing
After you've learned the basics of Instagram, it's time to strategize.
Define your style. Color consistency and composition will help you nail your message.
Develop a content strategy that includes compelling and strong written and visual content that appeals to your audience.
Create a content calendar. A calendar allows you to create a balanced mix of different types of content. Do you want to post every day? Every other day? Once a week? Determine a schedule that will work for you.
Picture This
Before you start sharing photos, familiarize yourself with a few photo editing apps. When we curate our feed, we make sure to edit photos to have a similar look and feel. This look and feel can be achieved by selecting one or more similar filters and editing your photos with these each time. When you are ready, tap the plus sign, aka the "share" tab in the center of your navigation panel. This will activate your camera. You can either take a picture from there or choose a picture saved to your phone. Or, if you don't have the time, schedule out your content in advance! Our favorite app is Planoly, a visual planner and scheduler that you can use both online and in the app.
Caption
Your visuals may attract your followers, but your caption is where you really capture them. Be authentic to yourself, whether that is longer-form storytelling, or a quippy pun. Explain your picture and convey the importance of your photo to your followers. To increase visibility and make your content searchable, add hashtags and @mention other users! You can use up to 30 hashtags (don't forget to include #LiveUSANA so we can see your healthy lifestyle photos!) and we suggest you shoot for hashtags with between 50,000-500,000 uses so that your hashtags don't get lost in the mix.
The Extras
Take your Instagram to the next level with Instagram Stories. They allow you to establish authority, credibility, and most importantly help you develop a relationship with your audience. You can have them disappear after 24 hours, or live on forever in your Instagram Story Highlights. Integrating product giveaways is another great way to increase follower count and engage with a new audience. And finally: engage, engage, engage. Your followers won't really connect with you if the conversations are one-sided!
Well, that's it! What are you waiting for? Start snapping photos and begin building your Instagram network today! If you have more questions, feel free to message us on Instagram, or visit Instagram's online Help Center: http://help.instagram.com/