No Gym Necessary: Functional Fitness Training
Think of daily training, and you may picture intense sweat sessions on a running track. An overly invested fitness instructor, energetically shout-barking the next strenuous stretch. A dark room with too-loud EDM music blaring as everyone around you tries to frantically move to the beat. These traumatic ideas are enough to make any normal person hesitant to revitalize their routine.
Luckily, there's a fitness trend that steers away from intense, injury-inducing workouts: functional training. Let's talk more about this easily adopted fitness trend and see how it can impact your active lifestyle. (Of course, consult your physician before making any changes to your physical activity.)
Fitness for Any Body
Functional training was originally used in rehabilitation programs to treat "patients and non-patients seeking a safe, effective alternative training regimen." It fuses low-impact, full range-of-motion exercises—which involve multiple muscle groups—to improve repetitive motion, balance, stability, coordination, range of motion, posture, and increase flexibility and coordination. With a benefit list this impressive, it's no wonder these techniques are now used by everyday athletes.
Functional training is easy on joints and utilizes muscle groups in ways that are practical to the real world. Whether it's a push, pull, rotation, squat, or carry, this form of exercise focuses to refine day-to-day motions. With functional training, you'll notice improvement in everything from sports such as tennis or golf, to daily motions like jumping up from the couch to chase the kids.
You might even find yourself running circles around your gym rat friends: typical exercise machines isolate muscles in ways that won't necessarily transfer to real-world performance. Functional training looks to do the opposite, utilizing your muscles in a practical way. For instance, if you are looking to improve your tennis game, functional training motions would mimic the same movements of the sport. A tennis player may work to improve their serve with repeated, low-impact swings during their routine. Happiness will be your best benefit—but dominating your weekend tennis match is a close second.
Give Your Body a Breather
The early 2010s gave us CrossFit and dozens of other popular HIIT (high-intensity interval training) fads. These workouts are designed to be, well, highly intense, fast, and invigorating. For a professional athlete, interval training can be a way to optimize limited workout time. Even for an all-star athlete, however, these extreme exercises can be hard on joints. And rapid motion will lead to an increased risk of injury.
High-intensity exercises aren't only rough on the body, they can take a toll on the mind as well. The goal to get fit as quickly as possible may seem appealing at the start, but the best fitness routines are the ones you can stick with. Burnout is very real. Instead of looking to fast-track your #fitgoals, it may be best to incorporate a mix of regular exercises and functional training.
If you begin to burn out, focus on the upside to exercise, such as stronger bones and boosts to mental health. Your workout works wonders for a healthy heart, too, which has also been shown to keep your brain young. When it comes to an active lifestyle, it's all upside.
Exercise on the Fly
Ready to get going? Here are 13 exercises to try today. You just need a few free weights, a medicine ball, and a kettlebell. Simple. Before you know it, you'll be activating more muscles, consuming more energy, and be ready to own the rest of your day.
No weights? No worries. Here's a deep dive on equipment-free exercises you can do at home.  Regardless of where you're at in your fitness journey, these will work for you. If you are relatively new to working out, perfect! Functional training will be easier on all your muscle groups, joints, and overall level of fatigue. Already a pushup pro? That's fine, too. You can sprinkle functional training into your current routines or use it on days when muscle soreness would prevent you from your full workout.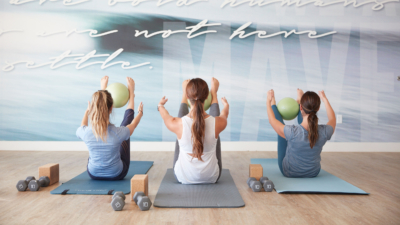 Now, head out to the garage, fire up your favorite high school anthem, and get to it!
A Supplemental Consideration
A healthy lifestyle and solid fitness routine is supported through proper nutrition. Often, supplements play a key role to keep your body moving. The USANA InCelligence Technology® Joint-Support Complex, found in Procosa®, influences the signal of pathways in joints that proactively support an optimal immune and inflammatory response.* It also helps regulate normal cartilage formation.* As someone with historically weak knees, Procosa is a must on my supplement list.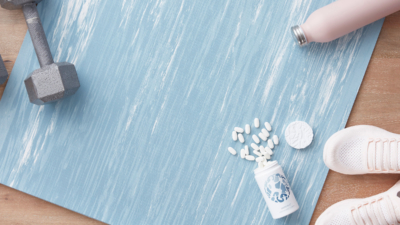 For healthy muscle function and strength support, look no further than USANA® MagneCal D™. Support your active lifestyle with bioavailable amounts of vitamin D, calcium, and magnesium. Regardless of which supplements you choose, anything you can do to help your body keep pace with your ambition is a win-win.
Train Up
Whether you're just starting your exercise journey, coming off a setback, live too far from a gym, or are looking to switch things up from your usual routine, functional training is a beneficial addition to any active lifestyle. Exercise machines might be comfortable, and change is uncomfortable. But if you incorporate functional training as an element of your routine, it just may make all the difference.
Are there any low-impact exercises you love? Let us know what your favorite functional workouts are in the comments below. And cheers to a healthy, happy, life well-lived.
*These statements have not been evaluated by the Food and Drug Administration. This product is not intended to diagnose, treat, cure, or prevent any disease.
This post is also available in: Anglais Espagnol Chinois simplifié