Reusing Plastic Bottles, and Other Recycling Tips
Since its inception on April 22, 1970, Earth Day has been celebrated with billions of people around the world taking part in locally sponsored service and global initiatives.
From installing solar panels to reduce our carbon footprint to employee-led service initiatives, USANA contributes to Earth Day values year-round. But we've found that not every effort has to be huge. Even simple encouragement to get outside and enjoy nature or reuse plastic bottles can make a positive impact. In that spirit, here are some easy and creative reuse and recycling hacks.
Reuse
A simple internet search returns thousands of ideas for reusing plastic bottles. Here are a few of our favorite ways to reuse USANA bottles:
Hide a Key—Glue a rock to the top of a bottle and bury it in your yard or planter to hide a key.
Camping—One of the great things about our bottles is they're lightweight and water resistant (if closed properly). Take advantage of this to store matches, smaller toiletries like cotton balls, and organize fishing hooks and lures.
Gardening—Store seeds, or use larger bottles for windowsill herb pots.
Travel—Reusing plastic bottles for travel is a great way to keep organized. Use one to hold your earbuds, create your own travel sewing or first aid kit, or pack an empty bottle to use as a small trash container.
Organization—Do you have that dreaded junk drawer somewhere in your house or garage? That's all right, we all do. Use old bottles to contain the small things at the bottom of said drawer—like odd buttons, batteries, paper clips, nails, and screws.
Recycle
In reality, there are only so many ways to reuse your USANA bottles, especially if you and your family take multiple supplements a day. They tend to add up quickly. But rather than chucking them in the garbage, properly recycle them.
All of USANA's nutritional supplement bottles, lids, and outer plastic sleeves are recyclable. All the cartons are recyclable.  Additionally, the shampoo, conditioner, shower gel, body nourisher, and hand therapy bottles and tubes are recyclable, as well as Rev3 cans.
The inner seals on the bottles are not recyclable, however, and some of the Celavive® packaging is not recyclable due to the airless pump system.
We encourage you to recycle the following product containers:
Conditioning Makeup Remover
Perfecting Toner
Protective Day Lotion
The following can be recycled once the dispensing pump is removed and discarded:
Protective Day Cream
Vitalizing Serum
Replenishing Night Gel
Replenishing Night Cream
Recycling is the best way to help conserve natural resources, turning waste into usable materials. And it isn't just for plastics.
Here are some general tips on how—and what—to properly recycle.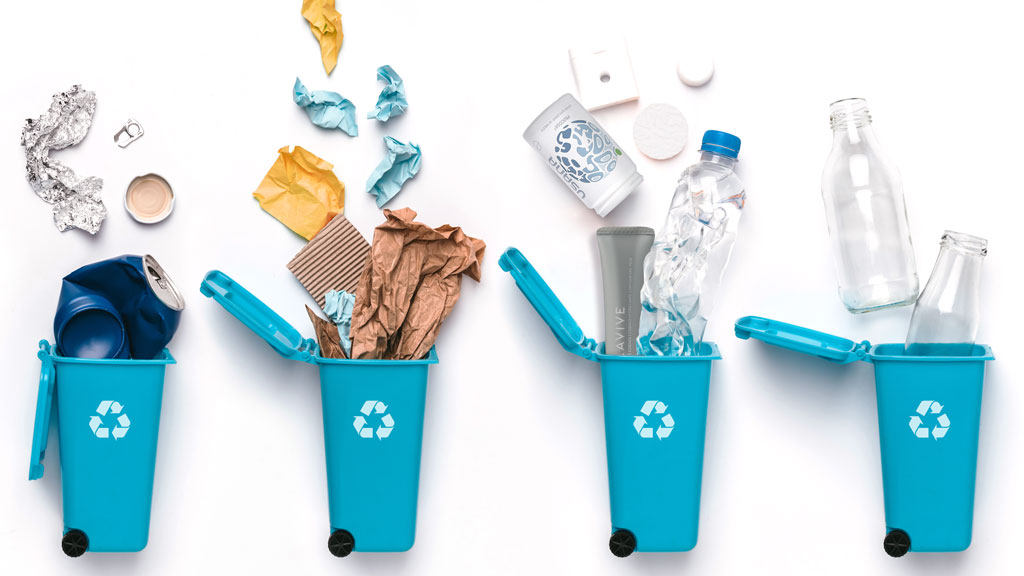 Plastics
The general tip for recycling plastic is to recycle by shape rather than the code found on the bottom of containers. Bottles, jars, and jugs can go straight into recycling (this includes your USANA supplement bottles). Just make sure they are clean.
The recycling of plastic grocery bags often raises many questions. They should be kept out of general recycling and, instead, dropped off at your local grocery store. Once you've done that, consider using cloth or sturdier plastic bags.
Metals
Common metal products such as aluminum soda cans, steel and tin cans, aluminum foil, and bakeware are recyclable, but a majority of these end up in U.S. landfills. Simply give them a rinse to get rid of food waste and put them right into your recycle bin.
Paper/Cardboard
Nearly all paper or cardboard products are recyclable. So, if you have old magazines, office papers, junk mail, school papers you've been holding on to since you graduated (because you never know who might want to check out your old physics notes), or newspapers lying around, bundle them together and put them in your recycling bin.
Glass
Not all glass can be recycled, including glass bakeware, drinking glasses, and window glass, as they are made of different materials. Glass recycling isn't available everywhere, so check your local guidelines before mixing glass in your recycle bin.
Batteries/Bulbs
Many batteries can be recycled, but they shouldn't be mixed with your other recyclables. Check with your municipality or do an internet search to locate your nearest drop-off center. And for car batteries, check with a local car dealership or automotive parts store to see if they'll accept them.
Electronics
Instead of throwing away damaged electronics, look up the manufacturer to see if they have a recycling program. Some companies may even send you a box for shipping. Your local municipality may also have special disposal days or drop-off locations for used electronics.
If your local municipality has a recycling program, double-check their guidelines to see what they do and do not accept. A quick internet search can also tell you where your nearest drop-off center is.
Learn More about Earth Day
Here are just a few places you can find more information about Earth Day, including tips on how to be more environmentally conscious.
U.S. Environmental Protection Agency
What's your favorite way to reuse your old bottles? And how do you observe Earth Day? Let us know in the comments.
This post is also available in: Spanish French Chinese (Traditional)