There's no roadmap to greatness. Dynamic leaders combine instinct, intuition, and initiative to fulfill their dreams. And it's what's USANA's newest vodcast, Driven with David Mulham, is all about.
Join USANA's Chief Sales Officer as he interviews top business leaders to uncover their secrets to success. Each episode showcases unique experiences and powerful life—and business— lessons. This is your chance to sit in the boardroom and listen to the benchmark achievements these successful individuals bring to their lives every day.
Dynamic and compelling, every episode will inspire and drive you towards success. Start watching today on YouTube.
Drive Your Success
Step into the boardroom with Peggie Pelosi, a social architect and ESG (environmental, social, and governance) specialist. For decades, Peggie has combined her forward-thinking leadership, business savvy, and charisma to do good throughout the world. Recognized as one of the most influential global corporate leaders, you'll be inspired by Peggie's depth of commitment in every aspect of her life.
Craft Your Future

The future can be unpredictable. To be successful, you need to be focused, curious, and ready to move. John Fleming embodies movement. Trained as an architect, he's spent decades researching, strategizing, and analyzing the future of business. Brilliant and dynamic, John has a unique vision of success. A sought-after speaker on the gig economy, learn in our latest vodcast episode why small businesses provide the flexibility and freedom to chart your own future.
Laboratory Tested, Board Room Approved
Dr. Wood is one groovy scientist. His work behind the microscope has been groundbreaking as well as his time in front of the microphone. He's funny, passionate, and committed to helping people around the world to living their healthiest lives. Armed with degrees from University of California, Santa Barbara and Yale, Dr. Wood has lived an exceptional life in service to science and humanitarian work.
Get Into The Groove

It's time to meet the rock-n-roll Chairman and CEO. Throughout his life, Kevin's musical talents has taken around the country, performing with the very best artists, like Collin Raye, Kenny Loggins, and Belinda Carlisle. But Kevin is more than the man keeping rhyme on bass guitar, he's the CEO and Chairman of the board for USANA. Get into the groove with a dynamic thinker, compassionate leader, and all-around good guy with Kevin Guest.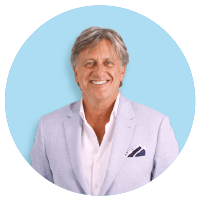 David Mulham joined USANA Health Sciences, Inc. in 2009 and now serves as the company's Chief Sales Officer. Prior to joining USANA, David had extensive experience in the Direct Selling Industry, having worked for Amway, Mary Kay, Nutrimetics, and Dorling Kindersley Family Learning. He subsequently worked in property development as Director of both Hunter Valley Gardens and Tempus Two Winery. David has a post-graduate diploma from Macquarie Graduate School of Management, Sydney, and received the Silver Stevie Award in 2015, for Executive of the Year — Health Products & Services and Pharmaceuticals.