There's no roadmap to greatness. Dynamic leaders combine instinct, intuition, and initiative to fulfill their dreams. And it's what's USANA's newest vodcast, Driven with David Mulham, is all about.
Join USANA's Chief Sales Officer as he interviews top business leaders to uncover their secrets to success. Each episode showcases unique experiences and powerful life—and business— lessons. This is your chance to sit in the boardroom and listen to the benchmark achievements these successful individuals bring to their lives every day.
Dynamic and compelling, every episode will inspire and drive you towards success. Start watching today on YouTube.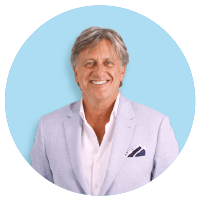 David Mulham joined USANA Health Sciences, Inc. in 2009 and now serves as the company's Chief Sales Officer. Prior to joining USANA, David had extensive experience in the Direct Selling Industry, having worked for Amway, Mary Kay, Nutrimetics, and Dorling Kindersley Family Learning. He subsequently worked in property development as Director of both Hunter Valley Gardens and Tempus Two Winery. David has a post-graduate diploma from Macquarie Graduate School of Management, Sydney, and received the Silver Stevie Award in 2015, for Executive of the Year — Health Products & Services and Pharmaceuticals.