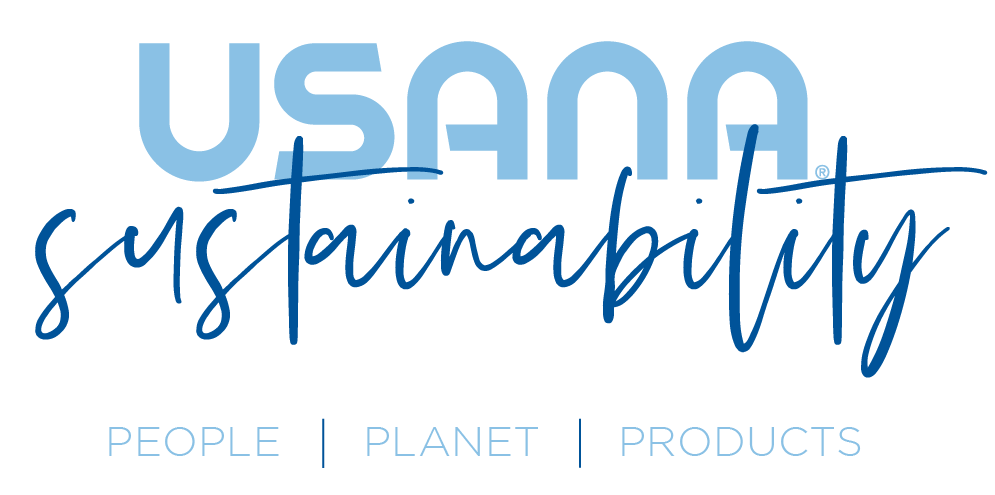 USANA believes in a brighter future. We dream of a world free from pain and suffering, and we want to improve the lives of others for generations to come. Our endless drive to advance the science of nutrition is motivated by a desire to create meaningful connections with our customers and communities.
USANA is proud to release its 2021 sustainability report, aiming to provide a high-level view of how it manages its environmental, social, and governance (ESG) priorities and other issues important to its business and stakeholders.
Read through the full report below.
At USANA, we define our approach to sustainability as the process through which we meet the needs of today without compromising our ability to meet the needs of the future. Our core values—health, excellence, integrity, and community—drive every decision we make. We strive to create the healthiest family on earth by empowering the individual and embracing our diversity. We understand that healthy bodies need a healthy planet to thrive. We eagerly accept the duties of environmental stewardship, sustainable packaging, and responsible sourcing. Community is at our core. Each day, we look for ways to be better listeners and positively collaborate with our communities. We always strive to improve the well-being of each individual person and place we impact.
By committing to social and environmental responsibilities, we place greater value in our planet, our people, and our business. USANA believes in a brighter future.

People, planet, and product anchor our pillars of sustainability and social responsibility. Here are our action plans for each priority:
People
Focus Area
Ambition
Action
Employee Health, Safety, and Well-Being
Strive to help our employees achieve physical, mental, and emotional health and well-being

Achieve 90% employee satisfaction

Provide generous benefits and compensation to employees globally, as well as a flexible and caring environment

Invest in employee workplace health and safety

Talent Management and Development
Enhance opportunities for internal mobility and collaboration, and provide employees and Associates with tools they need to build a meaningful career
Invest in technology, learning, and development
Diversity, Equity, and Inclusion
Support a globally inclusive community
Finalize enterprise-wide diversity, equity, and inclusion goals and strategies by the end of 2021
Community Engagement
Increase the health and wellness of communities in which we operate
Provide food to at-risk children through the USANA Foundation

Invest in initiatives that strive to address hunger and nutrition through non-profit partnerships
Planet
Focus Area
Ambition
Action
Waste Management
Reduce our waste to landfill
Identify additional opportunities to reduce and recycle materials used in our operations
Greenhouse Gas (GHG) Management
Reduce our GHG emissions
Invest in renewable energy alternatives such as solar power

Purchase 50% of our energy at our Salt Lake City campus from renewable sources in 2022
Products
Focus Area
Ambition
Action
Product Quality and Safety
Bring to market high-quality, science-based products
Continue to invest in research and development

Maintain high internal standards which meet or exceed all applicable local laws and widely accepted international regulatory standards in the global development and production of our products

Responsible Sourcing
Enhance our sourcing practices in line with our values, goals, and stakeholder expectations
Hold our suppliers accountable for meeting high internal standards for quality and ethical business practices

Now, let's take a closer look at the projects and initiatives around people, planet, and products accomplished in 2021.
People
We are committed to prioritizing diversity, equity, and inclusion; community engagement; talent development and management; and employee health, safety, and well-being.
Implemented >$1 million in salary adjustments, including raising starting wages for entry-level employees
Achieved 84% employee engagement based on global survey of employees
Provided 4.5M meals through the USANA Foundation
Standout Community Support
USANA Kids Eat
USANA Kids Eat is a unique USANA Foundation initiative that works to provide secure and safe food sources to at-risk children, raise public awareness surrounding food insecurity, and generate resources and revenue through local campaigns and volunteer opportunities.
In 2021, USANA Kids Eat provided backpacks filled with food for at-risk youth to 38 schools, community programs, and neighborhood clubs throughout Utah. Each bag had enough food for seven meals, and in some cases, food to sustain kids on weekends and extended breaks. At the heart of USANA Kids Eat is a network of volunteers who donate money, time, and energy throughout the year to help pack and deliver backpacks. Their efforts allow USANA Kids Eat to bring more than 8,000 meals to local, at-risk youth each week.
We also provided 1,500 relief bags of food to teachers, school staff, and administrators who continued to step up for kids during the ongoing challenges posed by COVID-19.
Planet
The healthiest bodies need a healthy, protected planet to live, so we are committed to sustainable packaging, waste management, and greenhouse gas management.
Saved ~400,000 pages of paper by transitioning to an online Holiday Gift Guide
26% of energy use¹ at our HQ campus is from solar arrays and renewable energy certificates
Began transitioning to 25% PCR materials and a smaller size for our bottles, where possible.
Switched from plastic bubble to 100% biodegradable fill in U.S. packaging
Initiated supplier program to improve the circularity of materials
Standout Production Development
Moving Production Closer to Our U.S. Operations
The production of both our bottles and caps is being moved closer to the Salt Lake City headquarters where our products are packaged. This will help to reduce Scope 3 emissions. Production of 75% of our caps will move from the East Coast of the United States to the Midwest, while bottle production will be 100% local versus across multiple states.
---
¹Excluding natural gas
Products
We strive for excellence from ideation to distribution—as highlighted in our efforts to insure responsible sourcing, as well as product quality and safety.
Invested $10.6M in R&D
100% of required employees received cGMP training
Developed a scorecard to evaluate suppliers on ESG standards 
Received the Stevie awards Company of the Year in the Consumer Products, Non-Durables, Large category
Standout Product Development
USANA Expands Research Collaboration in Traditional Chinese Medicine
In 2021, USANA and its subsidiary in China—BabyCare, Ltd.—announced a collaboration with Beijing University of Chinese Medicine (BUCM). Researching together, they'll combine modern nutritional science and traditional Chinese medicine with the goal of improving the health and wellness of individuals and families around the world.

Our second formal sustainability report has helped us dig deeper to clarify goals and guide upcoming sustainability projects for years ahead. Read our 2020 report here. USANA has spent the last three decades investing in our people and the planet, but we know we have more work ahead. We will continue to push for excellence and integrity in all we do.
---
To learn more about USANA's sustainability efforts, check out these past articles: