USANA Tech Tips: A Helpful App for Gluten-Free Dining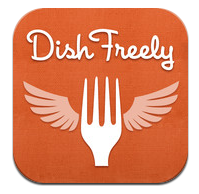 The gluten-free food market has exploded in recent years. It's due in part to the nearly 3 million Americans with Celiac disease, the 1 in 7 Americans who will have gluten intolerance at some point in their lifetime, and a new wave of healthy eaters who feel better without gluten in their diet.
If you're on a gluten-free diet, you've probably been frustrated trying to find restaurants that are certified as gluten-free. Some restaurants advertise a gluten-free menu, but many don't and gluten-free eaters end up being restricted to the one or two restaurants they know are gluten-free.
"Dish Freely," a new iPhone app, is helping gluten-free eaters find certified gluten-free restaurants.
The app allows gluten-free eaters to submit and rate gluten-free dishes they've tried. They can even search for specific dishes and see reviews of the best gluten-free results in the area.
All reviews are submitted by actual users who can upload photos of the dish, add comments, and even check into location-based services like Foursquare.
Download the app for free on iTunes
How about you?
Do you steer clear of gluten? If so, what are some of your favorite restaurants and/or dishes? Please let us know in the comments.
Sources: www.celiaccenter.org
Be in the know! Follow USANA on Twitter and like our USANA Facebook page for the latest news and notes.
http://whatsupusana.com/wp-content/uploads/2019/11/USANA_Logo_Black.png
0
0
Chris Hall
http://whatsupusana.com/wp-content/uploads/2019/11/USANA_Logo_Black.png
Chris Hall
2012-03-09 08:11:11
2012-03-09 07:50:24
USANA Tech Tips: A Helpful App for Gluten-Free Dining