USANA @ 20: Michael Callejas and Aaron Dinh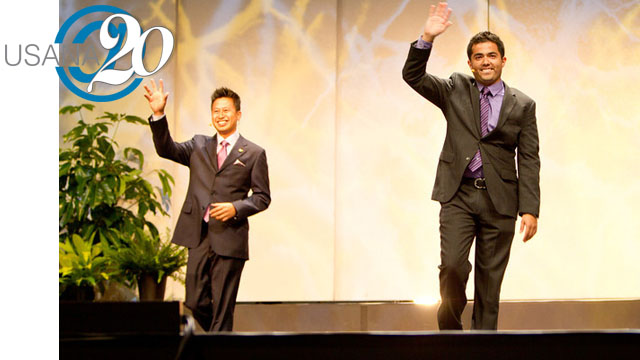 The future looks good in a suit. No surprise. Michael Callejas and Aaron Dinh — young, energetic, always smiling — wear success well.
But it wasn't something they bought off the rack. After finding USANA, they both worked to tailor it to fit their goals and dreams.
For Aaron and Cathy Ngo, their ascent to 2-Star Diamond Directors started when Michael recommended the USANA products to them. At the time, Aaron was flirting with the 80-hour-a-week mark at his job as a senior technician, and Cathy was a senior accountant.
The pair decided they couldn't live with themselves if they didn't try on the USANA opportunity. And with constant improvements over the years, it still fits like a glove.
Michael, now a 1-Star Diamond Director, started out in Highland Park, California — a place he wouldn't call glamorous. Michael wore a few different uniforms before finding USANA.
After graduating from the University of California at San Diego in math and economics, Michael worked as an accountant, then a plumber putting in 70-hour weeks. He wanted out, and eight months after finding USANA, he quit his job. He says he did it for a girl — the woman he'll marry next year. Whatever the reason, USANA still suits Michael quite well.
Celebrating You
Michael is a SoCal guy. Aaron and Cathy represent NorCal from their home overlooking Silicon Valley. Together they've helped cover California with eager, energetic, excited young adults ready to build and achieve.
If you've been to International Convention in recent years, you can hear their teams from Cali screaming and clapping louder and louder with each new speaker. You can feel their energy. It courses through the EnergySolutions Arena, infusing the rest of the crowd with youth and vigor. They are the future. And the future is loud, hyper, and ready to take the world by storm.
These are the people Michael and Aaron credit with their success. It's the teams, they say, who make it all possible. But even the best teams need leaders. And it's those guys onstage in the perfectly tailored suits who are helping to bring USANA to Gen Y, and helping the company ride that wave of energy into 20 more amazing years.
According to…
"It has been a pleasure to partner with Michael, Cathy and Aaron, and their teams over the years. These Star Diamonds are focused on raising the next generation of leaders in USANA. They encompass TEAM wholeheartedly and drive forward with a passion to help everyone succeed! I am proud of these two for all that they have accomplished and helped others to achieve. I love their energy, and the best part is, they are just getting started!"
— Lori Truman, Executive Director of U.S. Field Development
You Might Not Know…
It's not all slick suits for these two. In fact, Aaron is a really big outdoors person, and he isn't afraid to get dirty. Not many people know about the "gladiator" events, like the Spartan Run, that Aaron has participated in. Just look at the pictures for proof.
Maybe you didn't know Michael is a lifelong fan of a sport that might be most well known for missing teeth. He's a big hockey fan, and it runs in the family. Michael's grandmother lights candles for their beloved LA Kings. It must have worked, because the Kings just won their first Stanley Cup, which may have prompted Michael to get a Kings' tattoo.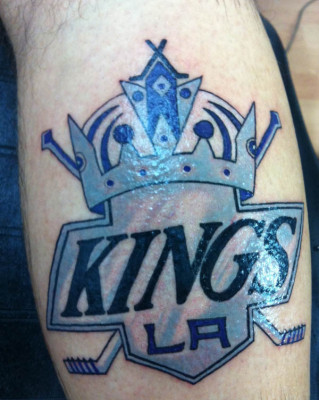 It Happened in '09…
The year of "No Limits" was highlighted by big accolades. In 2009 Dave Wentz was named one of America's Most Powerful CEOs 40 and Under by Forbes.com. And in the fourth edition, The NutriSearch Comparative Guide to Nutritional Supplements gave USANA products its highest rating, including its first Editor's Choice Award.
——————–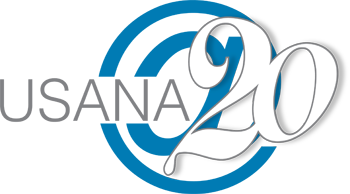 About the Series: We're celebrating USANA's 20th anniversary with USANA @ 20, a series featuring difference-makers — not only individuals, but departments, products, and more — who have had a significant impact on USANA and are poised to propel us into the future. We hope you enjoy learning more about just a few of the reasons USANA is, and will continue to be, a world-class company. To learn more about this series and to read previous installments, please visit USANA @ 20.
https://whatsupusana.com/wp-content/uploads/2012/07/Dinh-Callejas-Featured.jpg
360
640
David Baker
http://whatsupusana.com/wp-content/uploads/2019/11/USANA_Logo_Black.png
David Baker
2012-07-30 08:25:43
2012-07-30 14:38:34
USANA @ 20: Michael Callejas and Aaron Dinh