'Because I Said So' — Little Life Lessons From Our Mothers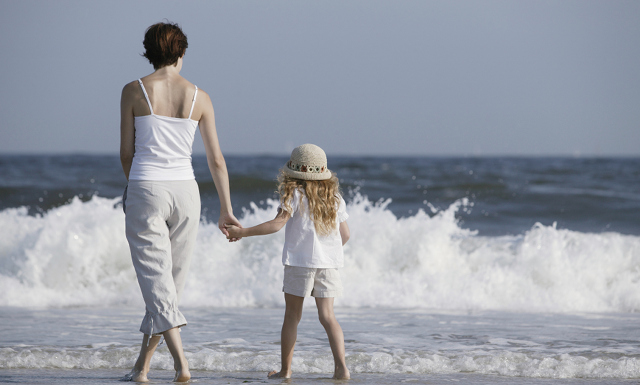 The other night my kiddos were a little restless as I was getting them ready for bed.
We typically follow the routine of bath, brushing teeth, reading and prayers. But I knew this was not going to happen this evening.
Right as I told them it was time to read, the kids knew that actually meant it was time to go to bed. I heard the typical gripes of, "we're not tired," "can we watch a movie?" "But mom…"
And as I went to say those infamous words that every parent has at least one time uttered, "Because I said so…" I stopped and smiled — OK, maybe cringed — and had to stop myself from laughing out loud because I was quoting my dear mother on something she had said to me when I was growing up.
Those notorious words that we swore we would never repeat were at the tip of my tongue.
Now that I'm a parent, I admire the sweet life lessons that my mom shared with me and I understand now the wisdom she was trying to instill.
How many life lessons have we learned and absorbed in our lives? We all have life lessons that we have learned from others that we greatly respect — those lessons that we carry with us every day. At the time I didn't really understand what my mother was teaching me, but now I find myself laughing as I quote her to my own children.
Life Lessons From Mothers
In honor of Mother's Day, I wanted to share with you a few life lessons that my mom taught me that impacted my upbringing.
"You are treated the way you act. If you don't like the way you are being treated, then change your act."
So many of us get stuck in our ways — the way we react to a situation, the way we go about our days, the habits we've created, the way we talk with others, where we are in life as well as in our business.
The great news is, as my mother taught me, we all have the opportunity to change. Although the word "change" may be scary for some, to others change for the better is always good.
As we grow as individuals, we learn to become stronger and hopefully help those around us to change as well. YOU are in control of your future and if you don't like the direction it is going, you have the opportunity to change it.
"You can choose your friends, but when your friends become a problem then I will pick them for you."
I have to admit that my mom only had to pick my friends once… OK, maybe just one friend. Looking back now I realize it was out of love for me. She wanted to make sure that I had great influences in my life. Friends are so important and whom you surround yourself with can help bring change to who you are.
"You are the company you keep, so stay in good company."
Who are you surrounding yourself with? Who are the people that influence you and your life? Better yet, what kind of friend are you and do you give back to the people in your lives? The world is full of good people and you can be one of those good people that influence and give back to others.
We all want what is best for those around us. We want to help, support, and love them — just like our dear mothers loved and taught us.
I challenge you to think about all the people you have met and will meet, and remember to take advantage of those opportunities to share your own life lessons and make a change for the better in someone else's life.
How About You?
On this beautiful day, cherish those around you and especially the mothers in your life. And take a moment to share with us the valuable life lessons you've learned from your mother.
We're proud to bring you the freshest content on the web! Follow USANA on Twitter, like our USANA Facebook page and enjoy the latest videos on the official USANA YouTube channel.

Learn what USANA is doing to make the world a better place.
The future of personalized health and nutrition is now available with USANA's True Health Assessment.
https://whatsupusana.com/wp-content/uploads/2013/05/78422567.jpg
385
640
Lori Truman
http://whatsupusana.com/wp-content/uploads/2019/11/USANA_Logo_Black.png
Lori Truman
2013-05-12 07:00:31
2017-03-10 10:21:38
'Because I Said So' — Little Life Lessons From Our Mothers