Your Social Media Ticket for USANA#17
Just three days until the most wonderful time of year, International Convention! This year it's all about celebrating our 25th Anniversary!
Whether you can make it or not, we invite you to follow the action on social media. Each year, the social media team works to bring you exclusive behind the scenes content, real time updates on keynote speakers and major announcements.
Be a part of the conversation taking place in Salt Lake City and across the world!
Welcome to #USANA17
This year, the social media experience at Convention will be bigger than ever! Our tagline for the 25th Anniversary year will be… Live the Story. We wanted something that both showed the history of USANA, as well as promoted the newest trend amongst social platforms. Live social. So Snap, 'gram Story and Facebook Live your way through the weekend with us. We want to hear from you.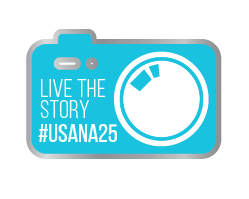 Follow the Action Online
The following sites are the MUST visits, whether you're attending Convention or not.
Facebook: We'll be on Facebook Live behind the scenes at general sessions, book signings and even the red carpet!
Instagram: We will be catching all the buzz on Instagram Story and you do not want to miss it! We even hear rumor of a lip synch challenge on the store stage.
Twitter: If you're not already following @USANAinc, what's stopping you?! We will be live-tweeting the entire event, so if you want to hear the news first, you'd better be paying attention.
Snapchat: Follow us here to learn how to win some of the highly sought after social media swag shirts and pins. Friend us on Snapchat @usanainc.
What's Up, USANA: A no-brainer. The USANA blog is the home base for Convention updates, exclusive photos, videos and quotes from USANA's elite. You'll want to subscribe so you don't miss anything.
WeChat. Your exclusive resource for Convention updates, tips, and reviews in Chinese. Subscribe today!
The Ultimate Hashtag Guide for Convention
Our social coverage has been so successful over the years that we've built specific hashtags for events. Below is your guide for what hashtags to use and where to use them.
#USANA17 – This is the general Convention hashtag. Use when and wherever you can.
#USANAgives – Use this when you're running the 5k, visiting the THF booth or packing a meal.
#TravelwithUSANA – The official hashtag of the incentive trips. At Convention, come can take a photo at the Recognition and Incentives booth, hashtag it and post it to get a limited, 25th anniversary gift.
#USANA25 – Be a part of the social media scavenger hunt! Check the hub for all the details.
#Askthescientists – Don't forget to visit the Ask The Scientists booth and share what you learn.
#USANAWorldRecord – Come and be a part of history as we attempt to set a Guinness World Records® title for "The Largest Gathering of People Dressed as Scientists." Register here.
But wait, there's more!
Social Media Studio: Come broadcast your very own Facebook Lives in our studio booth. Share the Convention excitement with everyone at home. You will even get a coveted Social Media Convention pin once you complete the live.
Exclusive Social Media T-shirt: One of the most popular shirts at Convention every year – you'll want to get your own so pay attention to social media to find out how.
Social Media Pins: Do you have the social media pins from the last 5 years? Don't break the streak! And if this is your first year attending, there's no better time to start your collection!
Social Media Mosaic: Be a part of history with the interactive hashtag mosaic. Post photos to your Instagram account and use the hashtags #USANA17 and #USANAlifestyle, print your photos and add it to the mosaic canvas.
There's an App for That
Download the USANA Events app. Do it now.
From planning out your daily schedule, to reading up on all the amazing presenters, to easily sharing your thoughts about trainings and presenters on social media, the app does it all.
Plus, the handy map feature makes sure you know where you need to be at all times!
Thank You!
It's no secret we couldn't do what we do without you – our readers, fans and followers. You have helped us create an amazing social media community. It's proving to be a valuable tool for connecting and interacting with USANA Associates and others interested in maintaining their health and taking control of their financial future.
A big thank you to everyone who has joined us. Please introduce yourself or re-connect with us at Convention. We're a new team and can't wait to meet everyone.
https://whatsupusana.com/wp-content/uploads/2017/08/USANA17_Social_Media_Feature_16x9.png
648
1152
Sasha Patane
http://whatsupusana.com/wp-content/uploads/2019/11/USANA_Logo_Black.png
Sasha Patane
2017-08-13 08:00:45
2017-08-11 15:43:14
Your Social Media Ticket for USANA#17