Year in Review: The USANA True Health Foundation in 2017
You Helped Make a Difference in 2017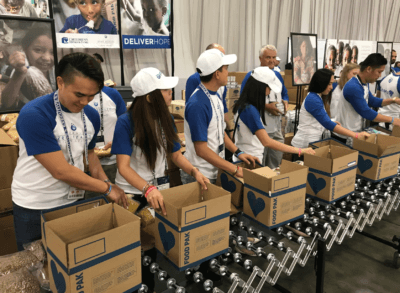 It's amazing what we can do when we work together.
And since 2012, the USANA True Health Foundation has been making an impact throughout the world. From humanitarian work to donating food and providing life-saving measures for children, the Foundation finished 2017 in spectacular fashion.
Founded by Dr. Myron Wentz, the Foundation provides critical human necessities to those who need them the most. And though the Foundation has only been around for five years, this nonprofit organization has already made a huge impact.
They've raised over $7 million ($2 million of which has gone to immediate disaster relief and feeding programs), donated more than 8.5 million meals, and have reached 26 countries. Best of all, USANA covers all administrative costs, allowing the Foundation to make use of every penny donated. Compounded by their commitment to use these funds wisely, the Foundation continues to search for new and effective ways to help those in need.
But USANA's charitable arm is more than dollar signs and numbers. The Foundation connects a global family of employees and Associates to many worthwhile people and projects.
In 2017 alone, USANA employees and Associates worked side-by-side during the National Day of Giving packaging over 100,000 meals for families both locally and around the world. They set up a free mobile clinic in Mexico. They painted a school in Uganda. And when a family in Malaysia lost their home to flood waters, the Foundation stepped in to build them a new one.
All of this is possible because of you.
Below you'll find a quick recap of the Foundation's contributions to the world in 2017.
Click here if you'd like to help the USANA True Health Foundation with its mission.
2017 Employee Donations
480 employees donated more than $107,000 (that's enough to provide more than 400,000 meals)
 2017 Events
During International Convention the USANA Family raised enough money in four days to provide over 1 million meals
2017 Service Trips
Malaysia

13 Associates spent three days building a home for a family in need
Provided food for 180 families
Another 12-person team of Associates provided free medical services to hundreds of patients

Uganda

A group of 17 people made up of USANA Associates and staff spent over 800 hours delivering meals to homes, painted school houses and giving love to hundreds of needy children and families

Mexico

22 Associates spent six days and over 1,300 hours providing, prepping and delivering meals to children and families, participating in maintenance and repairs of an orphanage, and bonding with 80 children
For the second time, USANA donated a year's supply of Usanimals to all 80 children at the orphanage
2017 Programs and Projects Across the Globe
US

Provide and pack food for people in the inner cities of Los Angelos, San Antonio, Dallas, and Chicago

Mexico

Provided food and aid to earthquake victims and for children and families in Baja Mexico

Canada

Provided food for school feeding programs in Canada for children who would otherwise have gone hungry every day.
Canada Associates also supported food programs for families in Eastern Europe

Philippines

Provided food and nutrition to kids attending school
Educated children on career opportunities available
Provided tutoring and health education to children

Australia

Provided food and nutrition for school feeding programs in central Africa and the Middle East
Provide thousands of dollars of food for children and families in Australia.

New Zealand

Provided food and volunteers to feed kids in school

Malaysia

Provided and delivered food to the homeless, elderly and disabled on a weekly basis
2017 Disaster Relief
The USANA family contributed $220,000 toward hurricane and earthquake relief in Houston, Puerto Rico, and Mexico
More than 50 Associates spent their days distributing emergency meals and supplies to victims of these disasters
2017 Meals and Food Paks
5 million meals provided to children and families all over the world
Employees and Associates spent the National Day of Giving packaging 100,000 meals for families locally and across the globe
USANA Associates packed 150,000 meals in four days during International Convention
2017 Donations
2,000 Associates added or increased their donations to the Foundation equaling approximately $120,000 per year
$220,000 given toward disaster aid
$450,000 in Usanimals (more than 1million servings)
$1.9 million given toward food, nutrition, and aid
THF's Contributions since 2012
$7 million (total)
More than $2 million in aid (immediate disaster relief, feeding programs, and other resources)
$6.5 million in Usanimals donated
5 million meals
Click here if you'd like to help the USANA True Health Foundation with its mission.
https://whatsupusana.com/wp-content/uploads/2018/01/Screen-Shot-2018-01-26-at-12.52.07-PM-1.png
879
1200
Ben Raskin
http://whatsupusana.com/wp-content/uploads/2019/11/USANA_Logo_Black.png
Ben Raskin
2018-01-26 14:00:00
2018-09-24 15:29:49
Year in Review: The USANA True Health Foundation in 2017