Travel Confidently with Booster C 600™
Boost Your Summer Vacation
Summer is the perfect time to hit the open road.
Whether you're splashing at the beach, camping in the mountains, or trekking to Grandma's, there's nothing better than making memories during summer vacation. It's your time to connect with your kids, explore the country (or even the world), and recharge your batteries. From baseball games to amusement parks to fishing trips, a summer vacation is your payoff for working hard throughout the year.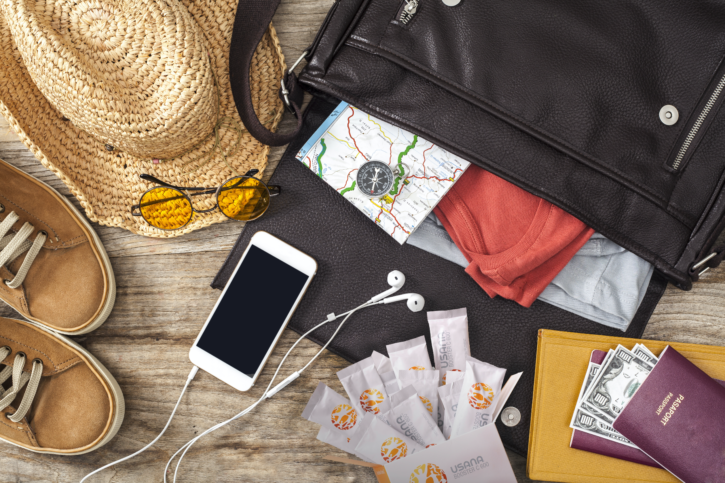 Between the crowds at the airport, not getting enough sleep, or taking "liberties" with your diet, traveling can put a strain on your immune system. That's where a the convenient single-serving packet Booster C 600™ can help bolster your immunity when you're on the go. It's small enough to slide into that weird pocket in your swim trunks but packs the strength you need to keep you ready for whatever comes your way.*
Convenient and packed with the antioxidants you need to make the most of your summer vacation, Booster C is quick, easy, and ready to travel with you.
Seasonal Antioxidants for You
Your body needs vitamin C to function properly. It's one of the vitamins you can only get from your diet. Vitamin C, also known as ascorbic acid, is a water-soluble nutrient found in citrus fruits like oranges and grapefruits. But you can also get vitamin C from tomatoes, red and green peppers, kiwifruit, broccoli, Brussels sprouts, and cantaloupe. On average, an adult needs 75 to 90 mg of vitamin C per day to avoid vitamin deficiency.
Vitamin C is important for a variety of reasons. It forms an important protein to make skin, tendons, ligaments, and blood vessels. Vitamin C helps with the absorption of iron and assists with forming scar tissue. Most importantly, vitamin C is a powerful antioxidant, which helps combat the effects of free radicals.*
Your immune system also needs zinc to function properly. Zinc is used in cell division, cell growth, healing minor scrapes and cuts, and the breakdown of carbohydrates. The average adult needs 8 to 11 mg of zinc per day to help support their immune system.
Booster C includes a unique combination of vitamin C, sodium ascorbate, zinc, and USANA's proprietary Poly C® plus echinacea and elderberry. It's perfectly formulated to kick-start your immune system. Each on-the-go packet can be taken straight or mixed into a glass of water. The light, lemon-berry flavored powder is tailor-made to help you make the most of your summer vacation.
The Double E's: Echinacea and Elderberry
Unless you're doing a deep dive at your local nursey, you've probably never heard of echinacea or elderberry. But echinacea has been used throughout history to support the immune system. Commonly called a coneflower, echinacea contains active substances to enhance your immune system like polysaccharides, glycoproteins, alkamides, volatile oils, and flavonoids. Taken on a short-term basis, echinacea extract has been shown in laboratory studies to naturally support a healthy immune system.*
Elderberry is a group of flowering plants found throughout the world, mostly in subtropical regions. Just like echinacea, elderberry is also used for its beneficial effects on the immune system. Elderberries contain a lot of anthocyanins. This is a type of flavonoid which helps protect healthy cells. This is important for your immune system and good for you, because elderberries have more anthocyanins than blueberries.*
Echinacea and elderberry with zinc, all found in Booster C, helps support immune function.*
Short-Term Use, Big-Time Results
Sometimes, you can get too much of a good thing. Booster C shouldn't be taken for more than two weeks at a time. Clinical research indicates the potential of unwanted side effects when the immune system is overstimulated. Unlike other USANA products where you should establish a regimen and stick with it, use Booster C only when needed.
A good rule of thumb is to take a Booster C before heading out on your vacation and use it for a short-term time to support your immune system.
Your Summer Packing List
As you're getting ready for some summer fun, make sure to bring USANA Booster C with you. Convenient, quick, and easy to digest, Booster C packs a vitamin C punch you need to have the best summer of your life.
Let us know in the comment section where you're traveling for vacation this year. Use #USANAtravels on Facebook and Instagram and share your summer memories.
*These statements have not been evaluated by the Food and Drug Administration. This product is not intended to diagnose, treat, cure, or prevent any disease.
https://whatsupusana.com/wp-content/uploads/2018/07/Screen-Shot-2018-06-29-at-9.14.03-AM.png
1219
1718
Ben Raskin
http://whatsupusana.com/wp-content/uploads/2019/11/USANA_Logo_Black.png
Ben Raskin
2018-07-03 12:04:25
2018-09-20 14:08:54
Travel Confidently with Booster C 600™