A Family Affair: 2018 International Convention
Last week, thousands of USANA Associates celebrated our 26th International Convention in Salt Lake City. Incredible attendees from across the 24 countries USANA serves traveled to celebrate their success and health as part of the healthiest family on earth. The sense of family was felt throughout the Convention the entire week. From a packed Vivint Smart Home Arena filled with cheers for all the amazing entrepreneurs who rank advanced this year, to evenings spent jamming out to the Beatles and dancing the night away, this year's Convention was one to remember. If you saw #USANA18 trending, this event was why.
All the Right Reasons
USANA CEO Kevin Guest's freshly penned book hit the shelves and tells an inspirational story from humble beginnings to professional triumphs. All the Right Reasons is filled with personal experiences, pitfalls, music, and family. Each chapter is a lesson in self-reflection. Kevin shares stories from his past and leaves you with his 12 guiding principles for success.
During the Thursday morning general session, Kevin announced that all proceeds of his book will go toward the USANA True Health Foundation. This decision speaks volumes of his dedication as a guiding force behind USANA.
USANA's Future Labs—New Product Innovation
A handful of USANA's expert scientists took the crowd time traveling to discuss the future of cellular nutrition and the future of USANA products—products that will break into new scientific frontiers and change nutritional healthcare in exciting new ways.
Top USANA scientists introduced:
The concept of personalized onics with USANA InCelligence Technology® and person-specific nutrients*
Ancient foundations products that connect ancient traditions with modern scientific methods*
Microbiome products that are optimized with prebiotics*
The Mind Project which will improve the cell-signaling pathways of neuroplasticity*
There are stellar new products in the stars for USANA users.
Packing On the Love
The USANA True Health Foundation set a goal of packing 300,000 meals, and thanks to the generous spirit of the USANA family, Associates and employees alike helped pack just over 300,000 meals for children and their families all around the world. This radical kind of generosity lead to the Foundation surpassing their goal this year. Because of thousands of global Associates, employees, and volunteers from the Children's Hunger Fund, the Foundation will be able to provide essential solutions for families around the globe who are suffering.
Lace Up and Race On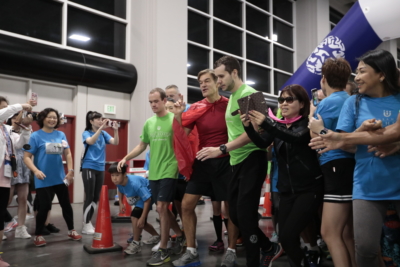 Over 2,000 runners raced for hunger and their health at this year's Champions for Change 5K. As always, Dr. Mehmet Oz of The Dr. Oz Show started off the race and got participants hyped to run. Those who raced on Saturday are a wonderful example of what it means to prioritize your health. Even at a bustling event, USANA entrepreneurs made the time to keep their bodies active, work together as a team, and keep pushing to cross the finish line together for a worthy cause. By signing up to run in the 5k race, they also raised enough money for three million meals with the USANA True Health Foundation.
Mic Drop from the Main Stage
If there's one thing general sessions at Convention can guarantee, it's inspiration. Whether it was the powerful words of USANA Founder Dr. Myron Wentz or stories of dedication from USANA athletes like Chris Mazdzer, you couldn't leave a session without feeling refueled. Two of those speaking-powerhouses were Mel Robbins and Erik Qualman.
Mel Robbins introduced her 5-Second Rule. She spoke about the influence of fear and self-doubt and how these feelings can stop you from living your best life. Mel taught that by taking a deep breath and counting 5, 4, 3, 2, 1, you can quiet down those feelings of anxiety and inadequacy. Her principle helps you discover how to assert control of your life, refocus your energy, and activate different parts of your brain that will revolutionize your life and your business.
Erik Qualman is a leading socialnomics expert who teaches how to connect with and engage your online audiences. He even hosted a breakout workshop on how to attract customers, utilize your personal brand, and showcase your online image. He's a former sitting professor at Harvard an MIT's edX Labs as well.
Abbey Road Meets USANAfest
Groovy vibes and Beatles music were pumping out the doors of the Salt Palace Wednesday night. Party-ready Associates rocked neon-colored afros, John Lennon-worthy shades, and electric slides all evening. The Free Radicals serenaded the crowd, especially Kevin Guest jamming on his guitar. There's a fantastic Ringo Starr story in All the Right Reasons you'll have to read to understand why the Beatles were such a hit this year.
See You Next Year
2019 International Convention is already on the drawing board. If you missed out this year, start planning to attend next year's event. It promises to be a week that will change your life, refuel your goals, strengthen your self-confidence, and grow your dreams.
Check out even more incredible moments.
*These statements have not been evaluated by the Food and Drug Administration. This product is not intended to diagnose, treat, cure, or prevent any disease.
https://whatsupusana.com/wp-content/uploads/2018/08/group-shot-edited.jpg
1536
2048
Shauntel Peterson
http://whatsupusana.com/wp-content/uploads/2019/11/USANA_Logo_Black.png
Shauntel Peterson
2018-08-21 10:30:58
2018-08-21 14:35:33
A Family Affair: 2018 International Convention