"Why are you stingy with yourselves? Why are you holding back? What are you saving for—for another time? There are no other times. There is only now."

–George Balanchine, the father of American ballet.
Abigail Simon's first ballet had her mesmerized. At 3 years old, she sat on a theater seat next to her mother. When the house lights dimmed and the curtain opened, she spent the whole evening entranced by the beautiful costumes, lyrical music, and the whimsical sounds of pointe shoes that bourréed and fluttered across the stage.
Aflame with inspiration, she's danced professionally for 16. As a young girl, she trained at American Ballet School. Her first professional position was with the American Ballet Theatre in New York, and after that, she truly found her home at Chicago's Joffrey Ballet. She now owns her company, Simon and Thompson Entertainment, that facilitates master classes and manages artists all over the world.
With stunning grace, a powerful ability to tell a story through her movement, and an unmatched dedication to every character she portrays, Abigail is taking the dance industry even further into athletic artistry.
"It's about having love and passion. The day I wake up and don't have love and passion for what I do, I won't do it. I hope that day never comes," she says.
Abigail lives in the moment, cherishes every opportunity she's given, and embraces the setbacks in her life—all with the grace of a beautiful art form. With a focused heart, a clear mind, and optimal nutrition, Abigail intertwines art and athleticism, making her an inspiring USANA athlete.
Support from Her Ensemble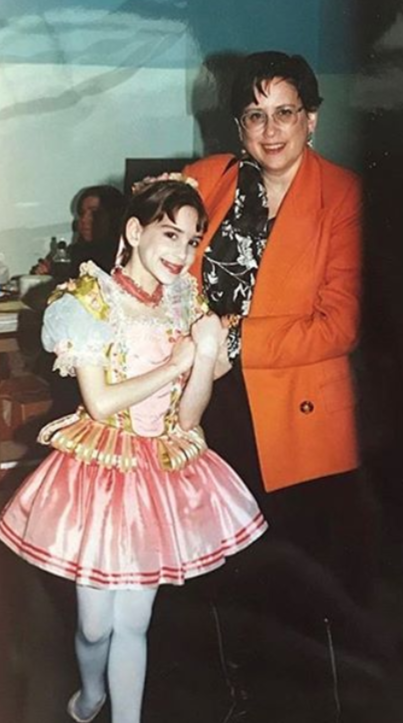 The entire Simon family is their own "little performing troupe", according to Abigail. Her father owns an acting studio in New York City and has dedicated his life to filmmaking and theatre. Her mother was an Opera-starlet and screenplay author. Plus, her two older brothers—one an actor and filmmaker and the other a painter. It was never out of the ordinary for the Simon family to spend days at the studio and theater growing up.
Abigail's biggest motivator has always been her mother. She is forever a light in Abigail's life.
"Now that she's passed away, it's my responsibility to keep that [motivation] alive. I know she's watching and [wouldn't want] me to give up."
Healing looks different for everyone, but Abigail's found solace in dance. Coping with grief is a heavy hardship for everyone, and dance is a powerful method to express emotions we cannot put into words. Using music and body to speak the unspeakable offers a medium to turn sorrow into something beautiful; we lose ourselves in the music, if only for a while.
Cue the Music
Abigail's most memorable role thus far is dancing Louise in Carousel.
"For my whole life, I had always wanted to dance in Carousel. Finally, getting a lead role in Rob Ashford's version was a huge step for me."
Louise dances a full section in the second act of the opera, "Carouse Dream Ballet," where Abigail fully committed to her character and left the audience moved. One evening after the final curtain closed, she fondly remembers her previous director from Joffrey Ballet coming backstage and expressing to her how blown away he was by her performance. And after a year of hardship, it confirmed that she made the right decision to not give up.
Abigail knows certain roles come to you when you need them. "That's why this didn't happen [for me] before. You have to be grateful for these moments when you get them."
The Foodie Ballerina
Abigail's mother was a fabulous cook. In a family of performing artists, meals at the Simon household combined fresh, whole foods. It's this foundation that has kept Abigail's relationship with food on the right foot.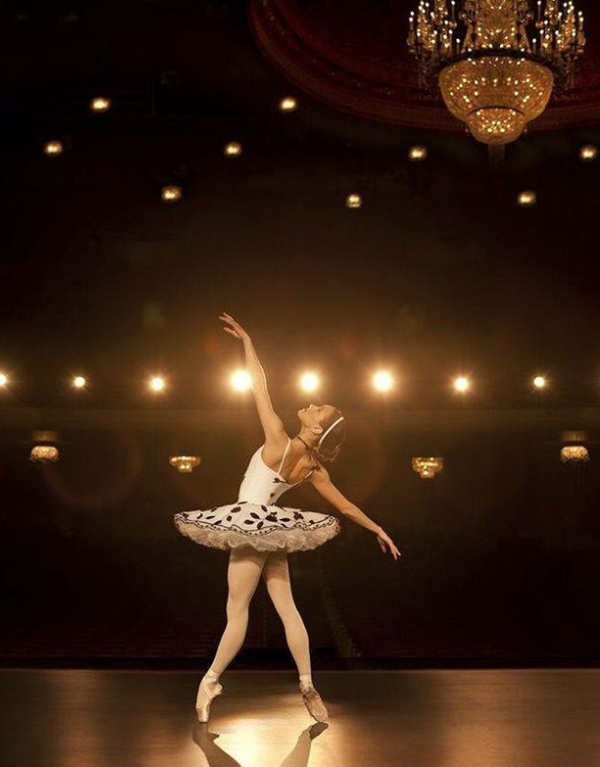 It's taken years of testing, learning what foods make her feel energized and what foods leave her body sluggish and not feeling well. In the ballet world, especially, it can be a struggle to maintain a positive, healthy outlook on food and body image. Being surrounded by mirrored walls and constant critique isn't always easy.
Abigail's advice to stay mentally well is beneficial for anyone looking to improve their nutrition. She stays fueled between hours of rehearsal and teaching private lessons by enjoying USANA MySmart® protein shakes every day.
"I can mix [a MySmart protein shake] into a drink or a yogurt if I only have a few minutes between rehearsals. I know my body feels better taking it. I recommend USANA's products to other dancers and all of my students," she says.
Because of her quick metabolism, Abigail must maintain her protein level so her muscles don't fatigue halfway through a routine. Ballet dancers are extremely hard on their bodies, and it can be difficult to stay healthy if their nutrition and supplementation is off.
"It's more important to pay attention to your body and how it feels rather than to listen to what someone else says. When you don't feel good, that's a sign. You have to learn as you go," she says.
"Nutrition is just as important as my daily exercise and, when I have proper nutrition, my stamina is much better and I feel better," Abigail says with complete confidence.
"I've obviously been dancing my whole life and have eaten a cheeseburger right before rehearsal and didn't feel good afterwards. During a rehearsal, if I eat a lot of broccoli, avocado, and other fresh, green foods, my energy is so much higher. I'll save my savory food favorites for dinner or the weekends, but not when I'm dancing all day."
Learn more about Abigail's story and why she chooses to always carry USANA products in her dance bag here. 
Mental Health in the Studio
"Meditation is crucial for artists," Abigail says.
Ballet is a competitive environment. If a dancer gets too caught up in comparing themselves to other artists, their confidence can plummet. Dance is just as much a mental art as it is physical. For Abigail, maintaining a positive and focused outlook in class, rehearsal, and auditions comes naturally, yet that doesn't mean she hasn't put in the work too.
"Sleep is really important to keep my mind healthy. The rejection, the mental draining—it can really get to you."
"From age 10, I started working with my meditation teacher Beth Lacomb, and she really trained me. She told me, 'If you cannot focus your mind, you will not keep dancing. If you get pulled in the wrong direction and have too much ego, you'll fall apart.' I carry that with me every day."
Abigail uses daily yoga and Pilates along with her meditation to better her daily life.
Shaping the Next Generation of Dancers
Abigail doesn't just dance for herself; she also adores instructing budding ballerinas and male dancers alike. She teaches private lessons, master classes, and more.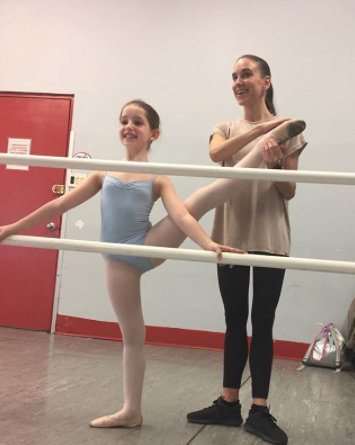 "When I'm teaching, my goal is to give students tools to help move them to the next level. In the early part of my career, I was a slow learner, and during my training, I wished there had been teachers who showed me tools on how to pick up choreography quicker. I have the patience to teach because of how much I struggled," she says.
In today's world of dance, and especially in professional ballet companies, instructors often focus on who can learn and execute the movement the quickest. While there's an important value in picking up choreography quickly, Abigail believes it shouldn't hinder the real art and motivation for the movement. She's all about moving past the ensemble roles by finding individuality—one's uniqueness as a dancer.
"For me, I think, why have movement if there's nothing behind it? If there's nothing coming from inside of you, why would I want to watch it? Where's your motivation coming from? Isn't the ultimate goal while you're up on stage to move people? To have them say, 'I've never felt that way before.' "
The same can be said for your passion, your business, and your lifestyle. Remember your motivation, embrace your uniqueness and what's coming from inside.
Dancing a Pas de Deux with USANA
In ballet, the main duet between the two leading dancers is the pas de deux. The duet is all about connection, chemistry, and supporting one another. A pas de deux is a special moment on stage for the dancers and audience to really develop the story of the ballet. Abigail has danced with some phenomenal partners over her years on stage, and she's happy to have USANA with her during every show as her nutritional dance partner.
"Whatever fuels you, however you express yourself, no matter the setbacks that come your way, set the stage and give it your all. You're bound to get that encore performance soon."
7 Facts About Abigail
Why she trusts USANA: The products make my body feel good. On the days when it's hard for me to get up and go to class, those are the days I make sure to take USANA supplements.
Her go-to USANA product: I drink USANA MySmart® protein shakes—every day. I also love using Sense™ shampoo and Celavive® skincare products.
When she's not in the studio: I'm eating. I'm a big foodie. I'm actually so much of a foodie I'm on a Netflix show—Somebody Feed Phil. There's a whole New York episode with a section on ballerinas that love to eat.
Her biggest motivation: My mom. She always believed in me, and I never doubted her encouragement.
If she wasn't a ballerina: I would probably be a chef or host my own Food Network show.
The artist she listens to most: Max Richter. I love his movie soundtracks. I like to feel like I'm in a movie when it's playing. It's very inspiring—great for photoshoots.
Her favorite social media channel: Instagram: Find me @abigailsimonofficial
*The mentioned athletes are either distributors or dedicated USANA product users who have received compensation and/or complimentary USANA products for their partnership with USANA.
*These statements have not been evaluated by the Food and Drug Administration. These products are not intended to diagnose, treat, cure, or prevent any disease.