Back to Heart Health Basics
That heart-shaped sugar cookie tastes great around Valentine's Day. But is it the best thing for your heart?
Sweets and chocolates are surefire ways to show the people you love you're thinking of them during the most romantic month of the year, but if you really love somebody, you'll give them a bouquet of kale.
The problem is most people don't get a second date when they gift cruciferous vegetables.
A healthy diet and regular exercise are the best ways to strengthen and protect your heart, not just in February, but all year long. As we enter Heart Health Month, here are some thought-provoking articles on the best ways to show your heart how much you care.
We Got the Beat
The heart meets the challenges your body throws at it. But what's the optimal level of beats per minute? If you're working out, your heart is going to beat faster compared to sitting on the couch watching television. Get in rhythm and find out your best heart rate.
A Lovely Combination
A balanced diet and exercise are fantastic to support your heart and adding key nutrients to your diet can promote your healthy heart. Try adding USANA's premier heart health supplement, Proflavanol® C100, to your daily routine. Made with grape-seed extract and vitamin C, Proflavanol C100 has the nutrients you need to support your heart.*
Get Moving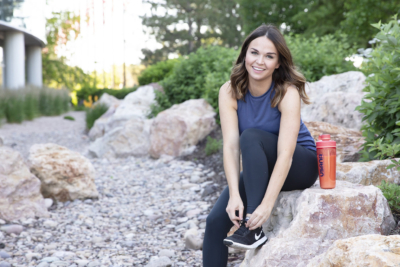 One of the best ways to protect your heart is regular exercise, five times a week for 30 minutes. And it doesn't have to be triathlon training. There are lots of ways to get your heart rate up, from jogging to lifting weights to going for a swim. Get motivated and get your heart rate up with these simple tips for better health.
Fuel Your Powerhouse
Try saying coenzyme Q10 five times fast. Not easy, is it? This tongue twister is a superstar at helping your heart with the nutrients needs to support your cardiovascular system. Learn the science behind coenzyme Q10 and how it helps your heart.
Power Your Heart
Now you know what coenzyme Q10 does for your heart, you're probably curious how to fuel your cells. That means you're ready for CoQuinone® 30. Formulated with a well-absorbed form of coenzyme Q10 with alpha-lipoic acid for maximum benefits, CoQuinone 30 gives your cellular power plants the charge they need to stay energized. Discover what CoQuinone 30 can do for you.*
Valentine's Day might only come once a year, but good heart health is something you should celebrate every day. Treat your cardiovascular system with a smart diet, get plenty of exercise, and promote your heart health with CoQuinone 30.* Tell us in the comment section how you help your heart and give your best tips for strengthening the most important muscle in your body.
*These statements have not been evaluated by the Food and Drug Administration. This product is not intended to diagnose, treat, cure, or prevent any disease.