Sarah Hildebrandt: A Life of Momentum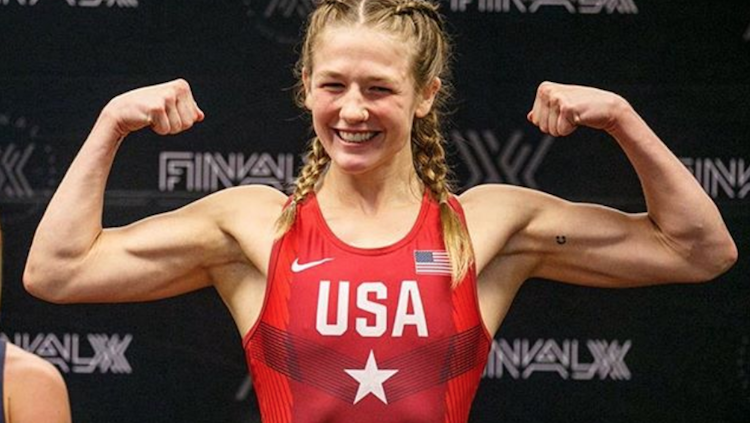 Watching Sarah Hildebrandt, USANA-sponsored athlete and female wrestler for Team USA, is like watching a well-choregraphed dance. Her intricate precision, skill, and measured movements make you forget the athleticism on the mat. Each move appears effortless, but anyone who understands this sport knows achieving this level takes mastery.
At first, you might not recognize the tremendous strength and athleticism required to carry out such complicated maneuvers. It's a sport of power, mental strength, and graceful intuition to soar to the level of Hildebrandt's success. A well-rounded competitor, she recognizes her part in this unique and emerging sport female athletes are working to expand.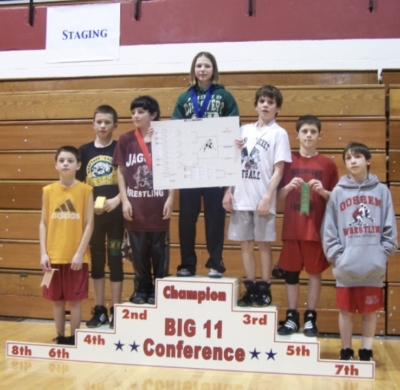 As a young girl, Sarah refused to give up on her impulse to be involved in wrestling. In the seventh grade, she attempted to start a girls' team at her school. Unsuccessful, she assumed a spot as the only girl on the boys' team. Wresting in the lightest weight class, she took to the sport with natural ability and excessive enthusiasm. "When I first started wrestling, I was definitely met with some adversity. People didn't think I should be competing in the sport, and to this day, I still get messages from people who disagree," says Hildebrandt. Despite the criticism, she pursues her passion to create a career for herself in women's wrestling.
Sarah was already a well-rounded athlete, participating in soccer, dance, and tennis as she entered the grappling world. But nothing topped her love of wrestling. This impressive highlight reel from her relatively short career gives you a glimpse to her athletic ability.
Consistency is Everything
At the Final X Series earlier this summer, Hildebrandt secured her spot on the World Team for the third consecutive year. "Gotta keep on trend," a cool and calm Hildebrandt chuckles. She came out of this recent competition excited and incredibly focused on September's World Wrestling Championship in Kazakhstan. The season ahead will be filled with extensive travel, intense training, and a precision focus on health and performance as she prepares to compete for the Olympic team next year. With a light and lively enthusiasm for the sport, Sarah knows her success requires excellence in many dimensions of her life.
"It's not just about training really hard those 2-4 hours in the practice room. It's about making sure your body's well taken care of. It's about recovering. It's about taking good vitamins and supplements. All those things—it's a 24/7 job."
Her persistence extends beyond the injury and setbacks young athletes often encounter with an intense commitment to their sport. Her focused drive toward her goals allows her to compete to the best of her ability, even with an injury. "You can be injured and still be a winner on the mat. I take care of my body so I can bring the best me to practice every day. After that, the results just take care of themselves."
A look inside a day in the life of Hildebrandt illustrates just how demanding it is to achieve peak performance. As one might expect from an Olympic level athlete, her training schedule is intense. She spends time practicing on the mat each day, works with her coaches to hone her strength, nutrition, and recovery, and gets in regular cardio to help her reflect and meditate. Conditioning her body and mind, as well as taking time to relax and recover, are all pieces that, together, create this incredibly talented, confident, kind, and ambitious young competitor.
"Consistency is everything," says Hildebrandt, "staying consistent and disciplined without becoming too restrictive helps me walk around at my fight weight." Having moments to relax and take the pressure off gives Hildebrandt balance in her life to compete at her best.
Facing Taboos in a Male-Dominated Sport
While women's wrestling is growing rapidly, she admits it's still somewhat taboo to be a woman competing in a male-dominated sport. "We're not quite there yet in terms of equality in the sport," says Hildebrandt. "I'm sure it's the same in other sports for women, but we're not getting the same support or coverage." However, she knows there's tremendous growth in the sport right now. "I do think it's becoming more and more accepted, a little less taboo. But it still gets funny when people discover I'm a wrestler."
In high school, Sarah was one of three women in the whole state who competed in the sport. "Now, there are 30 girls at my former high school who wrestle," she says. Currently, they are working to sanction 41 schools in the NCAA for women's wrestling. "We're well on our way." The sport has grown tremendously in such a short time, so I can only imagine what will happen in the next five years."
More and more, it's acceptable for young women to step out onto the mat. Hildebrandt is part of a community of women who are dedicated to ensuring this growth. From her own experience, she encourages young women interested in the sport of wrestling to stick with it. "When you love something, no matter what you do, someone's going to think you shouldn't be doing it," she says. "If wrestling lights you up, keep going. There's so much more good in it than bad to take away. Stay focused on what you love and block out all the people who seem to think otherwise."
Regular activity on social media helps Hildebrandt create a community and engage in the ongoing conversation around women's wrestling. "I use social media as a platform to let people know what women's wrestling is all about—to educate in a sense. Some people just don't know it exists," says Hildebrandt. It helps to "put a face to these athletes." Social creates a place for her to become relatable to fans and provide an opportunity to jump onboard the exciting growth of women's wrestling.
But she doesn't do it alone.  Her team often travels to speak to high school boards about sanctioning women's wrestling. As someone at the forefront of the sport, she takes her role to create a progressive environment around the sport very seriously. "It's our job to help propel women's wrestling into the public eye and give it the exposure it deserves. And, I love being a part of it. I think we're doing a really great job."
Wrestling Fits the Female
When you're as laser focused as Sarah, working to achieve your goals isn't considered sacrifice. She is single-minded and motivated. "Right when I joined the sport, partly because I had a lot of audacity, I decided I wanted to be an Olympic champion. I didn't even know how to do 99% of the things wrestling requires you to do." Now, 16 years in the sport, her progression and success has certainly aligned with her monumental goal of becoming an Olympian.
"Because I had a goal when I was so young, it's always been something to chase. There were moments when I didn't think I wanted it anymore. There were moments when I didn't think I was good enough anymore. But the goal stayed strong in the forefront despite all of the doubt. It's been a wild picture of progress. Now, leading into the Olympic Games it just needs to be that steady constant up, and we'll accomplish the goal."
Growing up wrestling on a male team, Sarah knows better than most what makes her excel as a female wrestler. Being female has many advantages in competition. Women, while typically not blessed with the same brute strength as their male counterparts, make up for it with lithe flexibility and agility on the mat.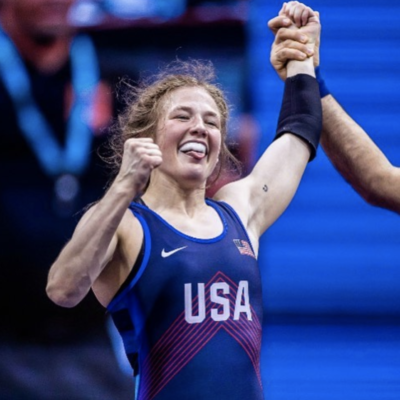 "I feel like girls really have the advantage in the sport of wrestling because we're not as strong or fast as men. Although still incredibly strong and powerful, there's an extra care we take in our technique. We can't rely necessarily on straight athleticism," says Hildebrandt. "We have to nurture the technical aspect of it, and the mental side of it—it really turns into a game of chess. I feel like we're just technical masterminds, and mixed with our athleticism, it makes a really beautiful craft."
As Hildebrandt proves women are tough competitors. "I've done so many sports, and they all made me amazing, but wrestling is just so empowering. I think it's because it's so demanding in every aspect of what a human can give to something."
Mental acuity meets strength and grace. Hildebrandt is a role model for young athletes to chase their dreams. Through consistency, courage, and the knowledge that she's put in the work to make it at an elite level, she's achieved monumental success. Keep your eye on her, as Sarah continues to blur the lines of what we once thought impossible in the world of competitive sports.
5 Fun Facts About Sarah
Why she trusts USANA: I was so excited to be a part of something that is going to help me improve my day-to-day activity with products I can trust. There is something terrifying in the wrestling world, and the elite athlete world, about taking vitamins or supplements. There's always that trust issue. But when I visited USANA headquarters I was like, 'wow, this is different.' USANA just goes above and beyond.
Her favorite USANA product:  I love HealthPak™ to take on the go. I also love Celavive® skincare. These products are especially great to take with me while I'm traveling.
Her go-to hobbies off the mat: I love to read, and I love to bake. A few months ago, I took it upon myself to start this sourdough journey with a wild yeast sourdough starter. It's like the world's most boring pet, but I actually love it. I just keep the sourdough culture alive, and I've been on this journey of baking bread, which is very challenging. And I love fantasy novels. My favorite series right now is the Stormlight Archives.
What you'll find on her playlist: I like to listen to a lot of orchestras that play songs you would hear on video games and movie trailers. My favorite to listen to when I'm training is really killer violins and cellos, it's just awesome.
Where you can follow her journey: Follow me at @sarhilde on Instagram!
*The featured athlete is a dedicated product user who has received USANA products and/or compensation for his partnership. 
https://whatsupusana.com/wp-content/uploads/2019/07/Screen-Shot-2018-12-17-at-4.15.53-PM.png
470
750
Candice Keller
http://whatsupusana.com/wp-content/uploads/2019/11/USANA_Logo_Black.png
Candice Keller
2019-07-16 10:00:55
2019-07-16 11:26:07
Sarah Hildebrandt: A Life of Momentum