Healthy, Happy Smiles: USANA's Oral Care System
Fresh breath and a bright smile can give you a surge of self-confidence like nothing else. White teeth and healthy-looking gums are an important part of your overall healthy life. Take a look inside your medicine cabinet. If you've used the same toothpaste for years, perhaps it's time to give something new a try. USANA® Whitening Toothpaste Featuring ADP-1 and USANA® Oral Probiotic are perfect additions to your daily dental routine.
Smile with Confidence
Brushing your teeth sets the tone for your day. USANA's Whitening Toothpaste is scientifically proven to give you a white, bright, healthy-looking smile. With naturally derived ingredients and a powerful postbiotic, this fluoride-free toothpaste gives you the fresh breath and confidence to get close throughout the day.

Flash those pearly whites. A brilliant, white smile draws others in, builds you up, and makes you feel fabulous.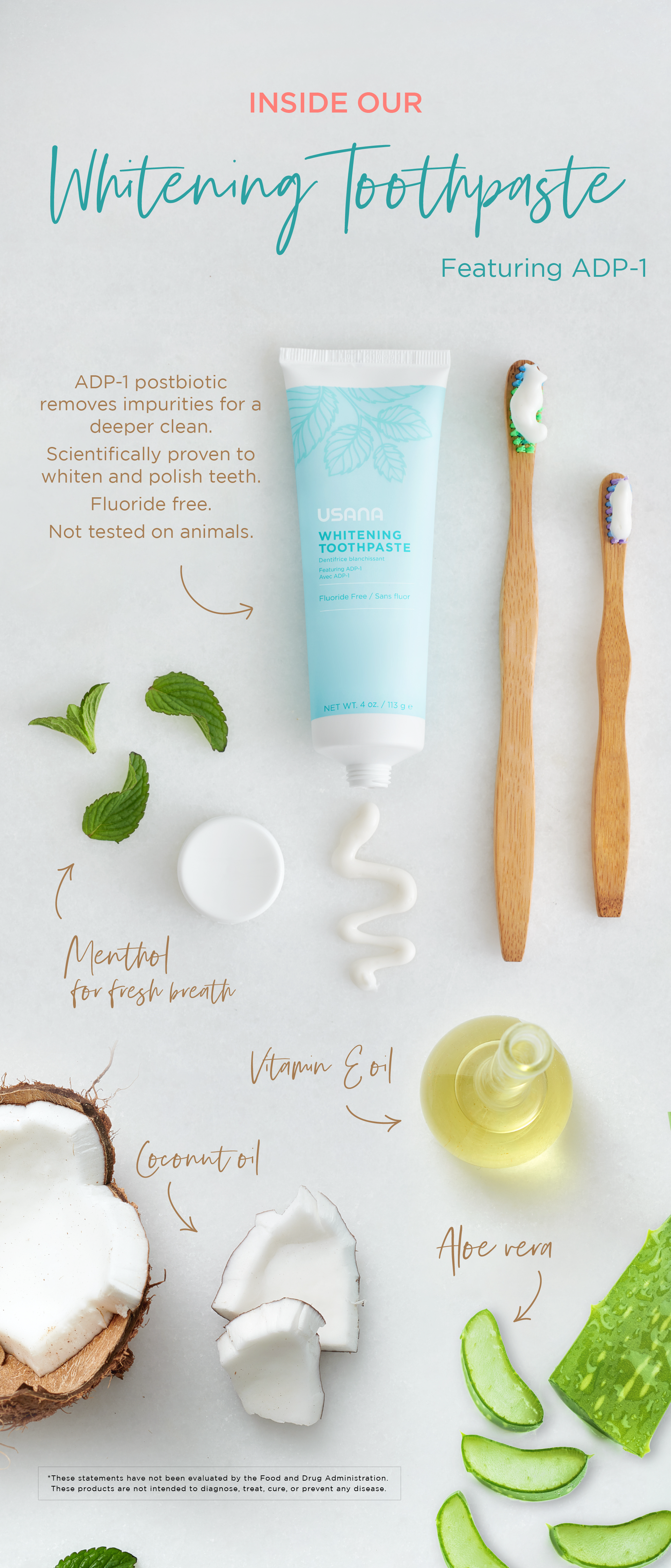 What Is a Postbiotic?
You've probably heard a lot about probiotics. They are the good bacteria everybody needs to function properly and maintain good digestion. Postbiotics, on the other hand, work by drawing in impurities. Adding a toothpaste with a postbiotic, like ADP-1, attracts the impurities in your mouth so they can be brushed away.
Fluoride free
Gentle formula
No harsh chemicals
Naturally Derived Ingredients
Coconut oil
Menthol for fresh breath
Aloe vera
Vitamin E oil
Replenished, Fresh, and Fabulous
USANA® Oral Probiotic is unlike any other oral health product on the market. Wind down at night with a new, healthy habit. After your evening flossing and brushing, use USANA Oral Probiotic to protect your healthy-looking smile. When the tablet hits your tongue, powerful probiotic strains replenish good bacteria known as microflora. It goes to work while you dream so you wake up to a fresh mouth.*

Let's Talk Fresh Breath
Bad breath makes everyone self-conscious. Breath sprays, mints, and gum only temporarily tame it. For a full day of fresh breath, keep your Whitening Toothpaste handy and take Oral Probiotic nightly. Whether you're a latte lover, a glutton for garlic, or obsessed with onions, brushing with this minty-fresh toothpaste and replenishing your mouth with Oral Probiotic will leave you confident that your cravings won't overpower any conversation.
Deep Clean Science
For the science behind the advanced ingredients in our new oral products, check out their respective pages on Ask the Scientists.
Start Each Day with a Healthy Smile.*
You've taken care of your teeth for years. But rethinking what products you use to get a beautiful smile is important. With these two new products, your days can begin and end even better. Trust your bright, healthy-looking smile to USANA. Try them for yourself at USANA.com and check out #USANASmiles on social to see how everyday smiles are being transformed.
*These statements have not been evaluated by the Food and Drug Administration. These products are not intended to diagnose, treat, cure or prevent any disease.