Deliciously in Season: 5 Healthy Fall Snacks for Kids
Leaves are turning from shades of green to explosions of red, orange, and yellow. Days are shorter, and checkout lines are longer as shoppers scramble for last-minute school supplies. Fall is here.
Autumn may cool things down, but it doesn't stop kids from outdoor adventure. Fuel your little ones' exploration and imagination with these five healthy fall snacks for kids. Some you can whip up in five minutes; the rest store for days, or even months, to curb quick cravings any time.
Savory-or-Sweet Celery Sticks
Celery is a cool-weather crop, prime for the picking in autumn or early winter. It's low in calories, a rich source of antioxidants, and contains a laundry list of phytonutrients. Pair a stick of the good green with cream cheese and/or Greek yogurt, and sprinkle crumbled pretzels, cashews, sliced grape tomatoes, or peas on top for a savory, healthy treat. For a sweeter, more familiar version, swap the cream cheese for peanut butter and top with your kids' favorite dried fruits.
2 sticks of celery
4–6 Tbsp. cream cheese and/or Greek yogurt (or peanut butter), blended to taste
Garnishes of choice
Instructions
Wash and cut celery sticks into four 4-inch segments. Fill each stick with roughly 1 Tbsp. of spread. Top with your children's favorite garnishes. For some foodie fun, try making these pretzel stick butterflies.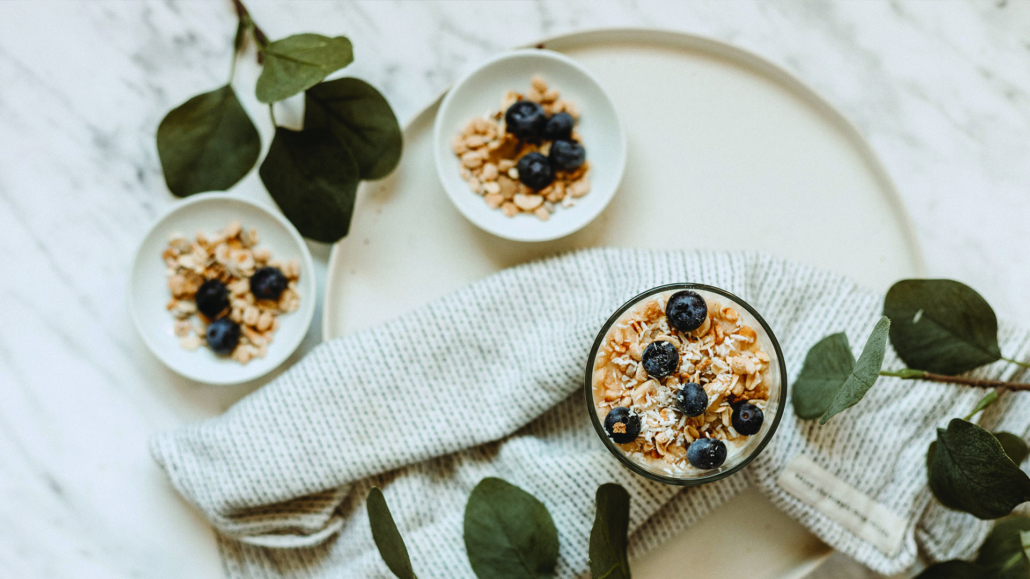 Maple Cranberry Granola Mix
Fall is prime harvest for cranberries, a tart superfruit packed with vitamins C, A, and K, fiber, and a range of other nutrients. And while maple syrup is sugary, it also contains manganese, zinc, calcium, riboflavin, magnesium, and potassium. Bake up this seasonal staple and send your little adventurers off with a bag—prefect for healthy fall snacks for kids.
2 ½ cups rolled oats
1 cup whole almonds
2/3 cup dried cranberries
1 tsp. ground cinnamon
Pinch of salt
½ cup maple syrup
¼ cup melted coconut oil
1 tsp. pure vanilla extract
Instructions
Preheat oven to 300°F. Line a large baking sheet with parchment paper. Toss oats, almonds, cranberries, cinnamon, and salt together in a large bowl to combine. Add maple syrup, coconut oil, and vanilla extract. Stir until the oats are evenly coated. Spread mixture onto prepared baking sheet and bake 45 minutes, stirring every 15 minutes. To help granola preserve its crunchy texture, cool completely before serving.
Oh-So-Nice Pumpkin Spice Crockpot Oatmeal
Ah, pumpkin, the delicious and underappreciated fall staple. Or overappreciated, depending on your perspective. Either way, they're packed with vitamin A and are a good source of fiber, potassium, antioxidants, and other key nutrients. Expand your kids' palettes with this crockpot oatmeal, a perfectly warm treat for a crisp fall afternoon. All it takes is five ingredients and a crockpot. Chill after cooking and easily reheat any time your kids crave a warm pick-me-up.
2 cups water
2 ½ cups milk
1 cup pumpkin puree
1 tsp. pumpkin spice
1 cup steel cut oats
Optional sweetener, such as raw honey, maple syrup, or agave nectar
Instructions
Place all ingredients except sweetener in crockpot and stir to combine. Cover and cook on low for 5–9 hours. Serve plain or with added sweetener, to taste. Refrigerate leftovers in an airtight container for up to 5 days.

Pumpkin Mini Muffins
We're not done with the orange gourd just yet. These muffins are not only delicious, they'll stay good for up to three months in the freezer. Plus, they're low in added sugar. Almond butter is high in healthy, satisfying fats and contains vitamin E, iron, and calcium, and you'll still get all those pumpkin benefits. The recipe makes 24 mini muffins, perfect for snacking or even hosting a kids movie night—maybe even a great pumpkin classic?
3 eggs
¾ cup almond butter
¼ cup maple syrup or raw honey
½ cup pumpkin puree
3 Tbsp. peanut oil
1 tsp vanilla extract
¼ cup whole wheat flour
1 tsp. cinnamon or pumpkin pie spice
1 ½ tsp. baking powder
½ tsp. baking soda
Instructions
Preheat oven to 350°F and grease a mini muffin tin with nonstick spray. Stir all ingredients in a medium bowl for 30–60 seconds to thoroughly combine. Spoon batter into muffin tins, about 1 ½ Tbsp. of batter in each. Bake 14 minutes, or until a toothpick comes out clean. Allow time to cool before serving. Store in an airtight container, up to 3 days in the fridge or 3 months in the freezer. Serve at room temperature or chilled. Spread cream cheese on top when serving for a little extra treat!
Cinnamon Pear Chips
Pear season begins in late summer, but many varieties come in season through fall and winter. They're loaded with fiber and are a good source of vitamin C. Bosc pears are a winter fruit with creamy white flesh and matte, yellow-brown skin—perfect for baking. Pear chips might sound foreign to your little ones, but once they try this simply delicious, two-ingredient recipe, they'll want to try even more healthy fall snacks for kids.
2–3 Bosc pears
Cinnamon
Optional: brown sugar
Instructions
Preheat oven to 200°F and lightly grease a baking sheet. Slice pears super thin and lay on pan in a single layer. Sprinkle with cinnamon and, if desired, a little brown sugar. Bake for 2–2 ½ hours, flipping chips halfway through. Protein-pack this fall snack with cottage cheese as a dip.
Fun Nutrition for Young Minds
Fresh, in-season ingredients are a delicious way to incorporate autumn flavors into healthy fall snacks for kids. And there's fun to be had making these treats, too. Try the recipes above and let us know which ones become household favorites!