Jenn Brown: Two-Time Emmy Award Winner, Wife, and Mom

Life moves pretty fast—especially if you're trying to keep up with Rhett and Nash.
A little-known fact: Madison Square Garden is situated above New York's Penn Station. This iconic arena has hosted scores of the biggest events in the city's history: Ali/Frazier's Fight of the Century, the Concert for Bangladesh, WrestleMania 3, Stanley Cup championships, and civil rights rallies. With seven tunnels of trains running underneath the Garden, MSG's floor vibrates from both the deafening roar of the crowd and the Midtown subways.
It's June 24, the Garden is at capacity for Bellator 180, Sonnen vs. Silva. And Jenn Brown is on hand to host fight coverage for this fierce MMA battle.
Although mixed martial arts wasn't a sport when Jenn was leading the University of Florida softball team, she's lived at the crossroads of journalism and athletics her entire life. A two-time Emmy Award winner, Jenn has reported from the sideline of the biggest college football and baseball games for ESPN. She was the first female correspondent for Inside the NFL and sidelined for the smash-hit show, American Ninja Warrior.
And tonight, she's riding the wave as the Garden floor rises and falls in anticipation for the legendary fight. Jenn is ready—she always does her homework—and just like the fighters, she's ready to get to work and throw down.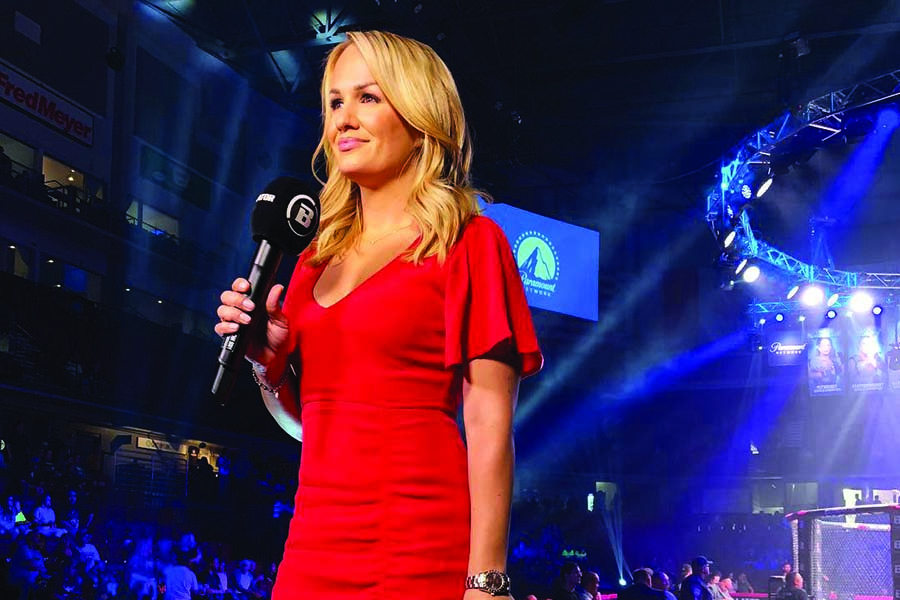 Rolling with the Punches
Jenn prides herself on preparation before every fight. Whether she's in the studio or cage side, she's committed to getting the story and supporting her broadcasting team. MMA is a tough sport, and the storylines before every fight are built for great narratives. Her job is to be an extra set of eyes and feed back to the desk what she's seeing outside the locker room and along the cage.
"I'm incredibly fortunate to be working with experts," Jenn says. "You have to key in on what they're talking about and use the information you've tracked down to pay off their story."
She's more than a traffic cop during the fight. The eternal team player, Jenn provides her cohosts with thoughtful insights to enhance their coverage. "It's an incredibly dynamic process describing the organized chaos before a fight," Jenn says. "You have to be present if you want to do your job."
The Power of the Mind
Success feeds success. It's all about finding a foothold and turning it into a foundation. Jenn found her base in sports at a young age, building an exceptionally dynamic life.
Raised in Orlando, Jenn's parents were Olympic gymnastics coaches. A gifted athlete, it's no surprise she gravitated toward sports—it's the number of sports she competed in that sets her apart from other student athletes. At Bishop Moore High School, Jenn captained and played in five sports over the course of one year: diving, volleyball, basketball, softball, and track.
Game days are great, but it's the work you put in at practice that makes the difference. Jenn attributes her success to pushing through the discomfort and striving for excellence.
"I'm a very optimistic person," Jenn says. "I'm a real believer in the power of the mind. You have to be able to know how you can control a situation, and even more important, how a situation can control you."
Both in and out of sports, there have been disappointments. But for every stumble, a lesson was learned. "If it doesn't work out my way, I can find a way to see the positive," Jenn says. "Everything in my life has a reason—I can look back and know that's why it happened."
Passing the Bar
Before leaving the University of Florida, where she graduated summa cum laude with a degree in criminology, Jenn applied to law school. Specifically, she applied to 17 law schools with the intention of becoming a sports agent. In the interim, Jenn was offered a job at E! Entertainment. She jetted off to host Bikini Destination as the letters of acceptance came to her parents' house.
Seventeen schools. Seventeen letters. Not a single one opened.
This says a lot about Jenn. She's always moving forward, focused on the next horizon.
Asked how she measures success, Jenn thoughtfully explains it's difficult to qualify success in the sports entertainment industry. She's grinded through years of tough assignments and grueling schedules, interviewing some of the most focused personalities in the world. Through the highs and lows, her faith in the work and commitment to excellence has been the professional reward of a lifetime. "I'm happy and loving what I do," Jenn says. "I don't think you can measure success any other way."
And those 17 law school letters? They're still in her childhood bedroom dresser at her mother's house in Orlando. "Someday we'll open them. Maybe when my kids start getting their own letters of acceptance to college," Jenn says.
The Family Circus
Jenn married actor Wes Chatham in 2012. Eighteen months later, son Nash was born. A second son, Rhett, joined the family two years after Nash. For a couple living in front of the camera, it was essential for Jenn and Wes to create a schedule to balance the demands of work and raising their kids.
At first, it was tough. Wes was taking different roles building his IMDb resume, while Jenn was building her reputation along the sidelines. Both were committed to mastering their craft but wanted to make sure they were there for Nash and Rhett. Hard work paid off. Wes was cast as Amos Burton on the series The Expanse. The sci-fi procedural provided something most actors never get—stability.
"You don't get to pick your schedule, you work with what you have," Jenn says. "We've worked incredibly hard to find a balance between career and family life. It's not super easy, but we figure it out."
For six months a year, Wes shoots in Toronto, freeing Jenn up to be there for the family. And like a tag team, Wes comes back to take care of the kids while Jenn heads out to cover the next Bellator title fight.
Balancing her time between family and career helps Jenn live an incredibly busy life. "I know it's cliché, but I love having my life, my family, and my job," Jenn says. "I've been able to do some amazing things. Now after the hard work I've put in, I'm able to be more selective about what I want to do."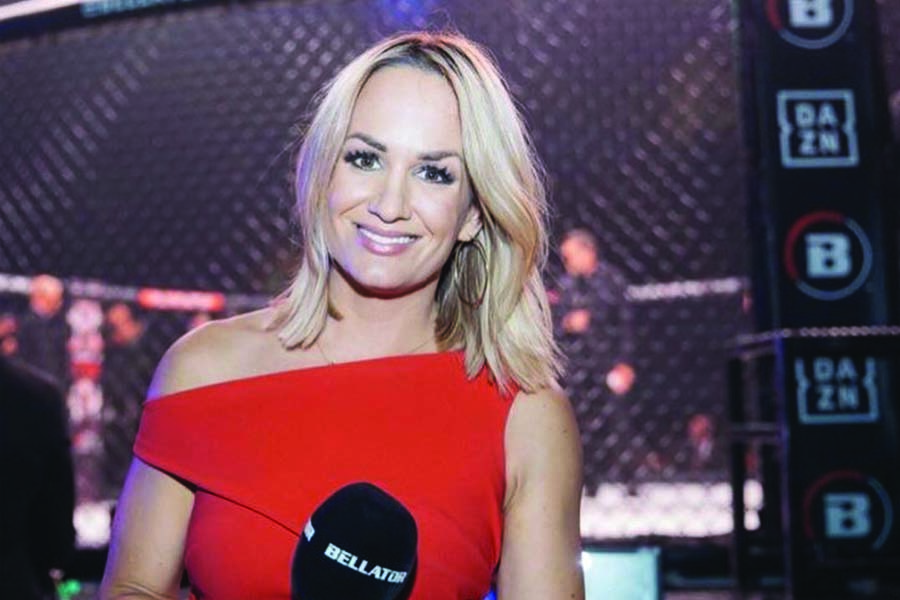 Being Your Best Self
If you're lucky, you have a job you not only like, but you're good at it, too.
Part of what makes Jenn a force in front of and behind the camera is her family's focus on fitness. When she and Wes were dating, they would always talk about trying to be the best version of themselves. This motivated Jenn to find her best self, both for herself and her family. That's why it was a natural fit for Jenn to partner with USANA.
"Not all vitamins are created equal," Jenn says. "I love USANA and what they have built both with their vitamins and research."
Considering how many weeks a year Jenn is on the road, she knows she has to take care of herself. It starts with her HealthPak™.  Twice a day, she gets the nutritional supplementation she needs to look and feel her best. "You have to have a mindful approach to what you put into your body," Jenn says. "It's important for people to think about."
Even her kids are in on the action. Every morning, Jenn and Wes make sure Nash and Rhett take their Usanimals™. These kid-friendly supplements support healthy growth and development with an excellent range of essential vitamins, minerals, and antioxidants. Jenn loves having Usanimals in her house, "If we can't get them to eat their broccoli, we know they're covered."*
On January 20, 2020, Jenn will switch roles from interviewer to interviewee on The Dr. Oz Show. It's an intriguing role reversal, as she will discuss healthy living with Dr. Oz and why it's important to her and her family. Tune in to learn more about this incredible sports personality.
*These statements have not been evaluated by the Food and Drug Administration. These products are not intended to diagnose, treat, cure or prevent any disease.
The pictured athlete is either an Associate or dedicated user who has received compensation for her partnership and/or complimentary USANA products.