Go Big: Facing Your Fears with Felicity
"

Flick

"

Palmateer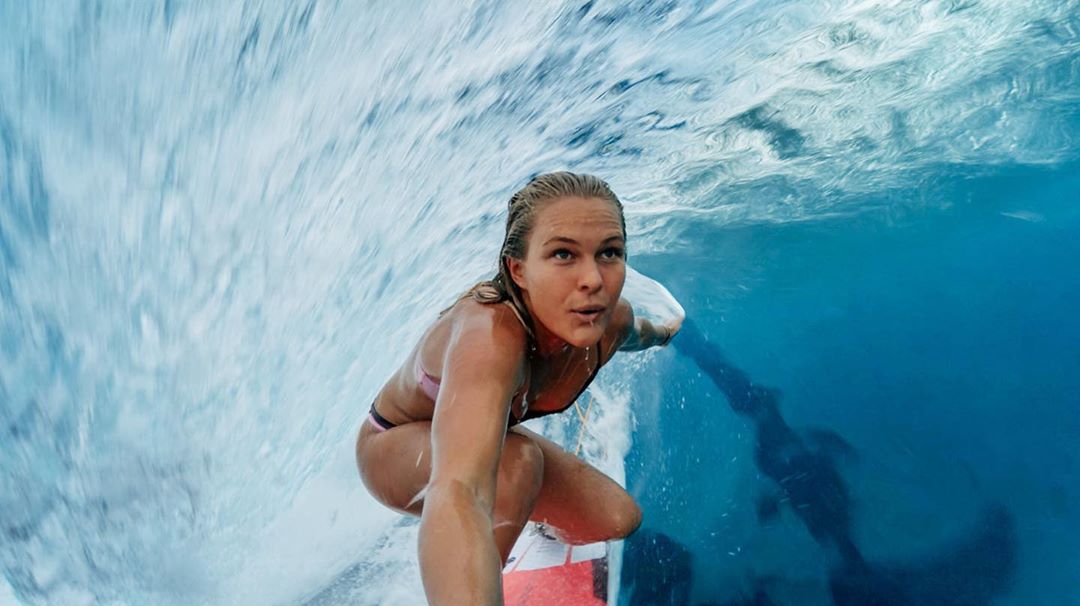 "Risk lies between hesitation and commitment."
This adage slips through Felicity "Flick" Palmateer's lips so casually, one can't deny she knows its meaning through and through.
Drawn to surfing at a young age, Flick is successful, in part, because she knows what it takes to traverse the mental challenges of surfing. This, along with her physical talent, creates a win-win. Although she risks her life for her sport, her commitment doesn't allow her to fail.
Participation in a sport as dangerous as big wave surfing takes a high level of athleticism, a competitive drive, and a dual nature of equal parts risk-seeking and easygoing. At least that's what works for Flick.
She fell in love with a sport that puts her body and life on the line each time she rides out to the massive waves. Between qualifying events leading up to this year's big wave season, Flick took time to discuss her career from the east coast of New South Wales, Australia.
View this post on Instagram
Bold Beginnings
 The first time Flick scaled a board, she was 6 years old. She took on the waves with a spirit of determination.
"My dad, he's a really keen surfer," says Flick, "and I have three younger brothers. He was actually taking my brothers out for some father-son time to teach them how to surf. But I was like, 'hey, I want to learn.' So I grabbed a boogie board and started to try to stand up by myself."
And for the next six years, her love of surfing revolved around being at the beach and the lifestyle it created. At age 12, she became interested in surfing contests. Her dad originally steered her away from the competitive face of the sport for fear she would lose her love of surfing. He enjoyed the daily doses of bonding time they shared with their mutual love of riding waves together. But Flick's tenacious spirit won out. She entered herself in her first contest and got her first taste of winning—she was hooked for life.
At 27, Flick made a career out of competing professionally as a surfer. She started making money at age 16, competing in Junior events. At 18, she went pro and travelled the world with the World Qualifying Series.  More recently, her career drives her to chase even greater heights and larger waves.
View this post on Instagram
Women Welcome
Flick's been lucky to have support behind her throughout her journey of death defying waves. Many sports don't always treat male and female competitors with the same degree of respect and recognition. But for Flick, even as the only girl in the lineup, her teammates and father have encouraged her to take a crack at larger waves and sponsors since she was 13 or 14. She's fortunate that others have that level of confidence in her, and she looks forward to the future for young female surfers.
"Our governing body of surfing, the World Surfing League, announced equal prize money for both men and women two years ago. So, our sport is on the forefront of embracing equality. It's awesome to be a part of surfing right now, because they're kind of leading the charge," says Flick. 
Her positive experience gives her full confidence that surfing is a viable option for any young, passionate woman.
"Young girls can now start to consider surfing as a career," says Flick. "I don't have to work part-time jobs to be a top female surfer—this is something I can do."
View this post on Instagram
Facing Fear, Together
 Big wave surfing is an extreme sport that involves surfers paddling (or towing) onto waves at least 20 feet high. Flick is known for being the first female surfer to ride the biggest wave at Cow Bombie in Western Australia in 2015. Waves here can reach up to 40 feet high. And she continues to take on challenges of this remarkable magnitude—actively competing in the World Qualifying Series for the past 10 years.
Transitioning into big wave surfing, Flick enjoys the value of team camaraderie. Heading straight for some of the largest swells in the world, having a crew to look out for you and be witness to this life-or-death sport brings an affinity for life.
"I also compete on the Big Wave World Tour. I've been doing this for three years now," says Flick. "And for me, it's almost more rewarding. There's much more of a team aspect with big wave surfing."
Flick is aware of the influence she and other big wave surfing athletes have. Speaking of the recent, devastating Australian bush fires, she commends the efforts of her fellow athletes who have aided the country during the tragedy.
"They have been donating memorabilia, surfing jerseys, surfboards, and donating their time," she says. "It's been inspiring to see so many people doing so many amazing things, you know? A lot of the area that burned was quite close to the coastline. These are places, as surfers, we go to a lot. The fires have changed the landscape dramatically, which is shocking, really."
This island continent lost so much—national parks and large numbers of their koala population, for example.
"Australia isn't burning anymore," Flick says, "but the effects will go on for a long time."
View this post on Instagram
Keen Conditioning
 To prepare for big wave season, Flick follows a regular training program throughout the year. Outside of diving into the water as often as possible, she conditions her body and mind with breath enhancement training and strength and conditioning training with her coach in Australia. Recently, she's become passionate about a practice called ginastica.
"It's a mix of Brazilian jiu-jitsu and a flowing, fast-paced yoga. I started practicing last year, and I'm really loving it," she says.
Flick is priming her body physically to prepare for the upcoming season and competing in qualifying events. She enjoys the meditative aspect of breath training, and works with a coach to physically strengthen and condition her body. But a large part of a surfer's life involves just getting out to the waves.
"Currently in the southern hemisphere, we're coming into the big wave season. I'm preparing and waiting for big flow," she says. "I surf as much as possible. Whenever there are big swells, I try and surf out."
Falling from such great heights puts surfers in danger of being injured. And Flick has had her share of injuries throughout her career.
"I actually got a fin chop in my right thigh above my knee and needed stitches recently. But, I guess if you play the game, you're going to get hurt. These are some of the most rewarding experiences in my life, and I'm not going to live on the sidelines. I'm going to play." she says.
Facing fear in the aggressive water that creates monster waves not only takes accepting the beating your body may receive, but an expert ability to tap into tranquil head space as you approach the power of the ocean.
View this post on Instagram
Purely Present
After a wipe out, a surfer may be held underwater by massive, consecutive waves, risk being slammed into reef, and be exposed to extreme water pressure.
For Flick, the roaring challenge of the ocean is alluring. When facing the unpredictability of the waves, second-guessing herself is not an option. She recently posted on Instagram about her experience at Jaws during a wave session in Maui, Hawaii.
"If you're not committed, that's when problems arise," she says. "The end of last year, I was not mentally in the right place. The thing that stood out to me was actually admitting, 'I'm scared' and just being vulnerable. It took a lot of the power away from the fear." In her Instagram story, she posted:
"The only opportunity you have to be brave is when you're scared."
Arguably, a lifetime of facing her fears has made her good at reaching a state of parasympathetic rest. She's proven she's a talented surfer, but the mental aspect of big wave surfing requires greater levels of mental control.
"When I take off on a wave out there, everything goes quiet," she says. "You are in uncomfortable situations a lot of the time, and lots of people don't like that. You're learning how to manage fear and stress, and how to not react on an emotional level. Trying to manage the fear is the most exciting to me, because it's challenging."
Success lies just beyond your fear. And facing the fear that comes with big wave surfing is beyond comprehension for most. For Flick, fear creeps in when she thinks about a future event in the present moment. That's when the unknown begins to take over if you aren't trained to tap into something greater.
"That's why there's only 200 people in the world, maybe, that do this sport," Flick says. "Surfing is quite spiritual when you think about it. It's a sport we do in nature, so there's an instant spiritual connection to the land and the ocean. When I was 6 years old, I didn't want to surf to become a professional surfer. I started surfing because I fell in love with the ocean. Having those pure moments in mother nature is when I started to realize I could do the thing I love most and make money from it. So, for me, surfing is just definitely meditative and spiritual above anything else."
The Sea and the Sky
Flick is driven by the wildness of the sea and the challenge of overcoming the fear its power invokes. But it doesn't stop with waves—she's also drawn to the sky.
"I've recently realized I want to get my helicopter pilot's license," she chuckles.
Clearly adrenaline and risk drive Flick, but she's proof that, when she brings her grounded spirit to a challenge, she soars.
---
View this post on Instagram
7 Facts About Flick
Why she trusts USANA: As an athlete, I'm always looking for those one percenters that will optimize my overall performance. Being able to trust USANA because of the quality of the products is a huge plus. I only want to fuel my body with the best.*
Her favorite USANA products: I use quite a few. When I travel, I'm all about convenience. USANA's HealthPak is awesome. You can customize it the way you want, and it comes in daily dosages. So, if I'm going for seven days, I take seven packages with me. Probiotic and the Poly C are a must when I travel. I take Poly C when I'm on the plane, just to support my immunity. I travel to some pretty remote places being a surfer, so I always take probiotics with me. And then I love all of the Celavive products, too—especially the Vitalizing Serum and the Hydrating + Lifting Sheet Mask. I use these religiously.*
What being a USANA athlete means to her: It's been an incredible experience to be part of USANA. This is my second year, and I love to experience conventions and meet other USANA athletes.
Training and pre-wave tunes: Guided meditation. I don't really listen to music because I feel like I'm already an amped up person. I need to almost go a little slower.
Biggest motivation: Having those pure moments in nature.
If she wasn't a world-class surfer: I'd be a member of the circus. I have dreams of flying through the air as an acrobat.
Her favorite places to surf: Hawaii or Tahiti. I go every year, and it's always heaven on earth.
Where to follow her:
*The featured athlete is a dedicated product user who has received USANA products and/or compensation for her partnership.
*These statements have not been evaluated by the Food and Drug Administration. These products are not intended to diagnose, treat, cure or prevent any disease.