As you spend extra time at home, you may be tempted to kick your regular screen time into high gear. Just remember, your screens are a great way to make quality connections, enjoy high-level entertainment, and experience personal growth.
Use technology for good—connect with your loved ones at home, your furry friends, social communities, or hone your connection with yourself with these popular social activities on the interweb.
Host an At-Home Dance Party
Thank you Jalaiah and Skylar for helping make lottery the BIGGEST song in the world. Tell the blogs eat it up! pic.twitter.com/HOo2jy5TAH

— K CAMP (@kcamp) February 15, 2020
Tik Tok has taken over as a viral dance movement. Prompt your own at-home dance party with your favorite Tik Tokers/humans to fill your home with creative, connected energy. Extra credit if you can "Renegade" with them.
Teach your Pet a Trick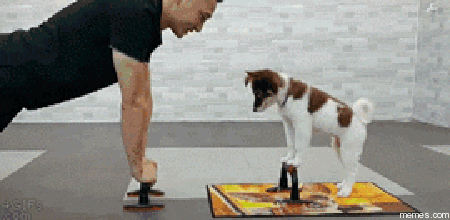 Your dog is probably bored, too. Use extra time at home for some pet bonding. Follow your favorite YouTube tutorials to teach a new trick or two. It's sure to make you stand out at any dog park once you're back to puppy socializing.
Exult with Your Gaming Crew
i hope everyone is staying safe and out of the way. i cant believe the new animal crossings release is causing this much panic.

— nope (@LilNasX) March 15, 2020
For those anxiously waiting, there's no better time for the highly anticipated Nintendo Switch game Animal Crossing to drop.
Bond with your gaming community as you lose yourself in this charismatic game.
Hone Your Dance Moves
Follow a 305 Fitness live cardio dance class—join in at 12:00 p.m. and 6:00 p.m. EDT each day.
Or follow a #DanceWithDebbieAllen livestream to get moving and connect with the larger dance community. Both music and dance are great ways to raise dopamine levels. So, get your groove on today.
View this post on Instagram
Plan a Virtual Watch Party
Gather your crew for a communal watch party. Share content with features from Facebook or enjoy an epic movie night with Netflix Party, an extension on your Chrome browser.
Don't let distance keep you from social gatherings geared toward your favorite entertainment.
Experiment with Your Eggs
Don't forget your self-connection. Now's a great opportunity to check in with yourself and focus on the things you've been wanting to do. Repot your plants, prepare your garden, or try a new recipe to enjoy fresh flavors as you fill your home with the yummy aroma of a home-cooked meal. Start by trying this new way to make your morning eggs.
What platforms are you using to connect and play with your community and loved ones? Comment below to share your experience.