USANA CopaPrime+: Clinically Proven to Keep You Sharp

Keep Focused, Even at Home
There are benefits to working from home.
You don't have to worry about traffic, lunch is steps away in your kitchen, and the dress code is always casual Friday. But it can be hard to stay on task when every conceivable distraction is within arm's reach. Television, pets, kids running amok—all can wreak havoc on your focus.
Take back control with USANA CopaPrime+.
CopaPrime+ is a nootropic, a supplement designed to help maintain cognitive function, mental efficiency, and mental accuracy. Scientifically formulated with American ginseng, bacopa monneri, and coffee fruit extract, CopaPrime+ helps you focus on the task at hand. Even if that task is walking the dog, changing diapers, or getting dinner ready.
CopaPrime+ nourishes your neurons (a type of brain cell) and supports the level of important cognitive proteins in your body. And when your neurons have the nutrients they need, you'll feel it. Supported attention span, short- and long-term memory support, and keeping your brain healthy as you age to preserve mental sharpness are just a few of the benefits.*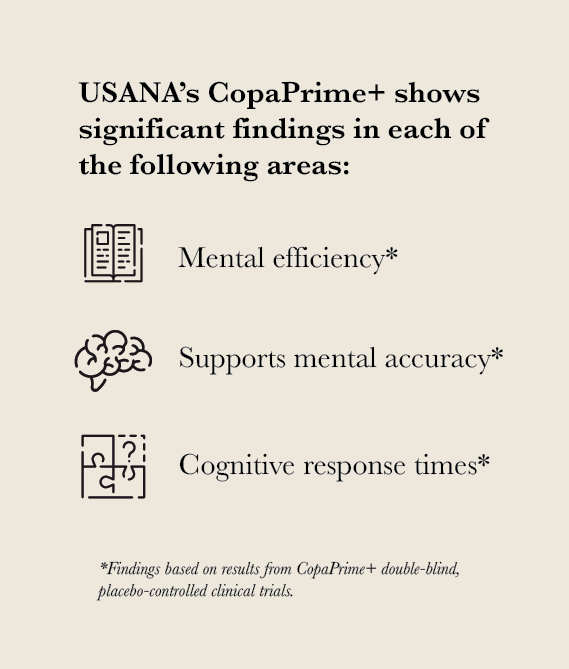 Science By the Numbers
But don't take our word for it. CopaPrime+ has undergone extensive clinical trials conducted by two Australian universities. These double-blind, placebo-controlled studies produced significant findings in the following areas:
Mental efficiency*
Supports mental accuracy*
Cognitive response times*
Exciting news! Especially when scientists discovered benefits from taking CopaPrime+ after only 45 minutes. That's important, because every minute counts when you're juggling the demands of both work and home. Ask the Scientists gives you more detailed information on these  insightful clinical studies.
Whether you work from home or still brave the office every day, get focused and stay on task with CopaPrime+. Order today.