Finding the Water: Reaching Olympic Levels with Kelsi Worrell Dahlia
Unlike other Olympic-level athletes who dream of competing from a young age, Kelsi Worrell Dahlia didn't always believe she was meant for greatness.
As a child, she tried many sports before taking to the water to find the one she loved. "I started swimming in a small swim club in New Jersey. At first I didn't like it because practice was early and it was cold, but I found the water pretty quickly that first summer. I started swimming year-round when I was eight," says Kelsi.
While others realized her potential early on, as a realist, Kelsi's goals didn't include being an Olympic contender. It wasn't until halfway through her college career at the University of Louisville that she began to see herself as more than an exceptional swimmer—realizing she had what it took to compete as part of Team USA. "It wasn't until I had some really good times that I could actually let myself dream and say, 'okay, maybe I could actually do this,'" says Kelsi.
24-hour Athlete
Competing on a high-caliber team and intensive training pushed Kelsi to become more competitive and strive to break records. For Kelsi, "College elevated everything. Year after year I was consistent, continued to get stronger, and modified and refined my race strategy. Overcoming some injuries and illnesses during my first couple of years really gave me a chance to see what my body could do."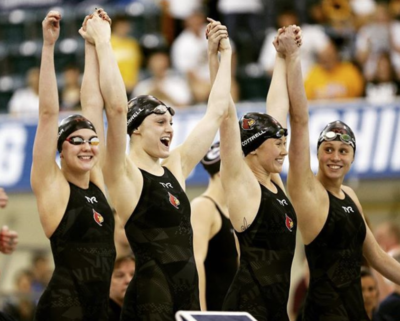 She became a 24-hour athlete. "I started to think about how I could improve my sleep, my nutrition, my endurance, my recovery—every area," says Kelsi. This upgraded mindset and a newly earned confidence would help her reach Olympic levels.
Becoming an Olympian
Kelsi's specialty is the butterfly stroke—an extremely difficult competitive stroke, it requires extreme strength, endurance, and athletic mastery. Of the four strokes swimmers compete in during the Olympic Games, it's considered the most challenging. 
The 2016 Summer Games in Rio de Janeiro was Kelsi's first Olympic experience as an official member of Team USA. She competed in the 100M butterfly and the 400M medley team relay. During semi-finals, "I had a really disappointing swim," Kelsi says, "so I didn't get a chance to compete for the podium. But, because Team USA is the best swimming country in the world, I was able to be on the prelims for the 400M medley relay." Kelsi swam to a 9th place finish during her individual race and was integral to the USA taking home the gold.
Although her Olympic experience wasn't exactly what she imagined, Kelsi's hard work earned her recognition as one of the most talented swimmers in the world. "I was in the stands when I won my gold medal, actually," Kelsi laughs. She hopes her swimming career includes another Olympics.
Record-Breaking Success
As Kelsli waits for another chance at the Games, she reflects on a career full of golden moments. Her relay team set a world record in the 400M medley relay at the World Championships last summer to win gold. Kelsi swam her fastest time ever—a shining highlight of her remarkable career.
Achieving almost superhuman levels of fitness and mastery is not without its challenges. "If you look at my accomplishments, it looks like all rainbows and butterflies," says Kelsi. "But it definitely hasn't been. When I was 10, I was diagnosed with exercise-induced asthma. I manage it well and am grateful for my doctors, but it's mentally challenging and something I've had to really work on in practice."
Physical injuries and illnesses may be setbacks on Kelsi's path to gold, but she sees these challenges and disappointments as fuel for her next season. Overcoming each adversity allows her to remain compassionate and motivated to take on whatever comes her way.
Owning Her Place
The 2020 Summer Games in Tokyo have been postponed. With the swimming trials pushed out to June 2021, many Olympic hopefuls have a full year to pause, regroup, and prepare for competition.
For some professional athletes, it's a letdown. Kelsi's taking the break with optimism. "I'm really grateful for it, actually. I think it would have been way too much pressure on every athlete to try to maintain training, fitness, and health in the midst of a pandemic," she says. "I think it's allowing everyone to just breathe, relax, and avoid breaking any walls to find training space."
To take advantage of the break, Kelsi is realigning her goals to make a powerful return to swimming. "Swimmers don't take any time off between seasons, so I'm trying to look at it in more of a positive light than lost time," she says. During her mandatory offseason, Kelsi is training and maintaining peak levels of fitness. She lifts weights, jogs with her dog, uses a spin bike for aerobic training, and gains mental relief using a small 12×9 foot backyard pool to keep her feel of the water.
A Motivation Edge
Like anyone else, Kelsi has periods where she struggles for motivation. During a minor slump this past winter, she discovered cryotherapy. "Being at such a high level for so long, trying to figure out what's next for me, I didn't know how much longer I wanted to swim," says Kelsi. "With cryotherapy, you enter a chamber that's negative 160 degrees for three minutes. It strengthens my motivation."
Finding new ways to push forward is an edge elite athletes must have to stay ahead of the competition. Kelsi credits cryotherapy for sharper focus and more energy, but she has clearly proven she's exceptional all on her own.
The future of her career is unknown, but Kelsi urges young swimmers to remain on their own clear path. "Because swimming is so black and white, it's really easy to compare your times with others," she says. "Even if I compare my pro journey to other professional athletes, I could have been really disappointed."
Everyone has their own journey, and Kelsi's has been exceptional. She credits finding balance, making sacrifices, and the support of friends and family for helping her reach such great heights. With many milestones still ahead, keep your eye on Kelsi Worrell Dahlia as she continues to fly.
7 FACTS ABOUT KELSI
What she loves about USANA: She knows she can trust USANA products. Stringent testing with a dedication to safe, effective products makes her a proud partner. Attending the USANA Live International Convention in 2019 was a highlight in her partnership. She enjoys meeting people who work to make USANA great.
Favorite USANA product: Sensé Energizing Shower Gel and the body polishing gloves. She loves how they make her feel.
Olympic Swimmer Kelsi Worrell Shares How She Keeps Her Skin Healthy

Olympic swimmer Kelsi Worrell Dahlia follows a strict regime to keep her body – including her skin ­– in top form. This record-breaking competitor shares how Trusted Sponsorship Partner USANA Health Sciences Inc. keeps her skin healthy regardless of how many hours she spends in the pool.

Posted by Dr. Mehmet Oz on Wednesday, July 1, 2020
Nutritional product to optimize her routine: USANA Probiotic*[US].
Pre-pool playlist: Christian music to remind her of her purpose. She can also be caught blasting pop music—Justin Bieber's new album is currently in rotation.
Favorite place to compete: Budapest, Hungary. "Hungarians love swimming more than any other country in the world. They pack the stands and really go crazy, so it's fun to swim in such a spirited atmosphere."
After she throws in the towel on professional swimming: She still has many competitive races ahead, but is excited to be a mom and raise a family while staying involved with the swimming community and its athletes.
Biggest motivators: Staying connected to the foundation of training for her sport helps her push every single day. Remaining grateful also keeps her motivated—she sees swimming as something she gets to do. Her faith keeps her gliding at record-breaking speeds.
Where to follow Kelsi: Twitter and Instagram: @kelsiwhirl
The mentioned athlete or partner is an Associate or dedicated product user who has received compensation for his/her partnership and/or complimentary <a< p=""> </a<>
These statements have not been evaluated by the Food and Drug Administration. These products are not intended to diagnose, treat, cure, or prevent any disease.<a< p=""></a<>