Alysha Clark: Food, Fire, and Faith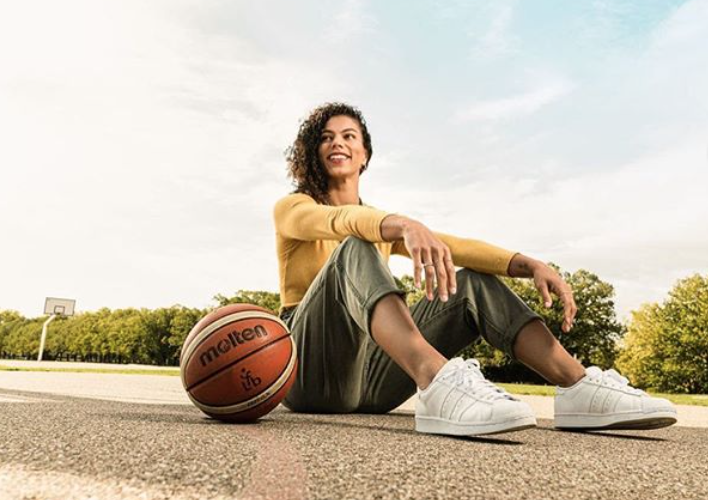 It's a treat to finally meet someone you've heard a lot about, and learning what motivates them is the cherry on top. Alysha Clark is one of the best players in the WNBA. With several championship wins to her name, she's a court defender that any guard on the court fears. But basketball is just one facet of this inspiring individual.
When I first spoke with Alysha, it was only a few days after she and her team—the Seattle Storm—won the 2020 WNBA finals. And can you guess the first thing we talked about?
We talked about food, of course.
Food
Within five minutes of answering the phone, we were exchanging recipes—specifically, healthy taco recipes. It was clear Alysha had one foot on the basketball court and one in the gourmet kitchen.
"I first started cooking when I began to travel internationally for basketball," she says. "Here in the United States, if you want to eat a chicken pot pie, it's really simple—you go to the store and buy a crust and all the other ingredients. In some other countries, it wasn't so easy to make the foods I missed from home, so I started researching and teaching myself to make food from scratch. And now I love making fresh food—it's healthier, too."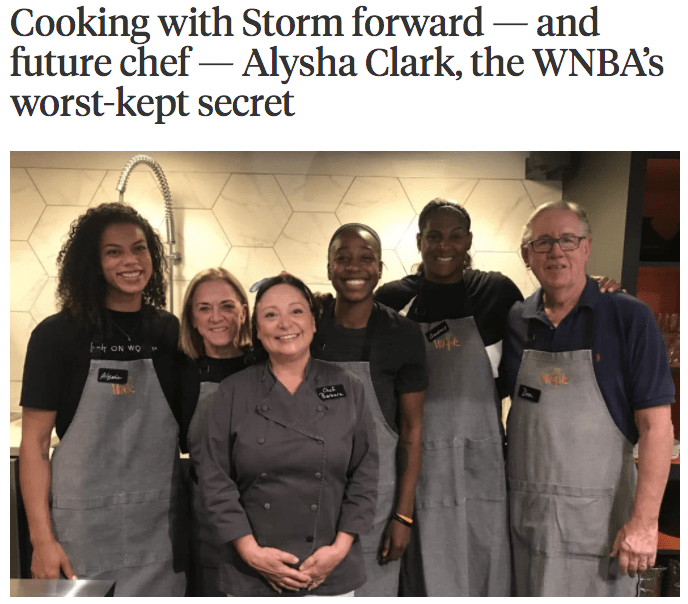 Being a world-class athlete, health and nutrition are always on Alysha's mind. But fine dining doesn't always agree with clean eating. Still, Alysha has paved her own way.
"A lot of times, I eat to fuel my body. But sometimes I just want to enjoy some delicious food," she says. "Eating healthy often gets a bad reputation nowadays. Some people think eating healthy means you can't enjoy food with flavor, and I disagree. I've learned to put a healthy twist on my favorite foods. You can find ways to make your meals healthy and flavorful—you just need to look and experiment."
Right now, healthy cuisine may be a hobby for Alysha, but she's taken steps toward joining the world of culinary art.
"I would love to be a professional chef. It's something I might consider doing one day," she says. "I've gotten to know several chef mentors here in Seattle, and they've allowed me to come into their restaurants to learn all the details of being a chef and managing the business. Food brings family and friends together for joyous times. So I'd love to share that joy and flavor with other people. Also, I just really like good food."
Fire
Eventually, we got around to discussing basketball. It quickly became obvious that Alysha's basketball career didn't begin like most do.
"I wasn't a sports kid growing up," she says. "In middle school, I played every sport I could so I wouldn't have to go home after school and do chores."
When Alysha reached high school, she chose to play basketball between the volleyball and track seasons to stay in shape. And she insisted she was terrible at the sport, at first.
"Seriously, my family and friends still joke about how bad I was," she says.
However, basketball became much more serious when she and her family moved from Kansas to Tennessee.
"In Tennessee, basketball is the woman's sport," she says. "And when I began to learn the fundamentals of the game, I fell in love with it. I love challenging myself and seeing what I can do—and basketball provided a challenge that resonated with me."
The passion to face challenges head-on fueled Alysha's fire through high school and beyond. When she reached her senior year, she was among the best basketball players in state and was offered several college athletic scholarships. She played at Belmont University and Middle Tennessee State University. Not only did she lead the nation in scoring for two years, Alysha was the first player to win Freshman of the Year and Player of the Year at the same time.
She had, in her words, "a pretty good college career." So naturally, she was invited to the WNBA draft and was picked by the San Antonio Silver Stars. Alysha played overseas and eventually joined the Seattle Storm—the team she plays for today. But while it may seem like Alysha's always been on a winning trajectory, she faced challenges every step of the way.
"It hasn't been easy," she says. "I put in a lot of work, but it's work I enjoyed. I try to tackle obstacles head-on and keep moving forward."
Faith
"The greatest obstacle I've had to overcome is learning to have faith and confidence in myself," Alysha says. "Athletes experience incredible highs, but also crushing lows. There were many times in my career when people would doubt me, and I would even doubt myself."
After being drafted by the Silver Stars, Alysha was cut during the last day of training camp—two years in a row. Her coaches said she wasn't ready. This came as a huge blow, and it took her a long time to recover mentally.
"I tried to use that defeat to fuel me," she says. "But when I was cut for reasons outside of my control, I started to lose faith in myself. And I wondered if all those people who doubted me were actually right."
Even after joining the Seattle Storm, it took her several years to prove she could make the roster. And it took her a long time to really feel like she belonged in the league. It was a worry that never truly left her, but Alysha has learned to make peace with her doubts and keep moving forward in spite of them.
And when a person confronts their uncertainties and fears, they often find greater faith.
"My faith in God has played a massive role in who I am and what I've accomplished," she says. "I've been in some dark places, and there have been times when I've felt I don't belong or don't have a purpose. But I've learned to let go of those negative thoughts and focus on doing good with the platform I've been given. I know my purpose is to serve, help, and inspire others."
And that's exactly what Alysha does. She volunteers in her community, and even hosts the Annual Toy Drive for the Seattle Children's Hospital.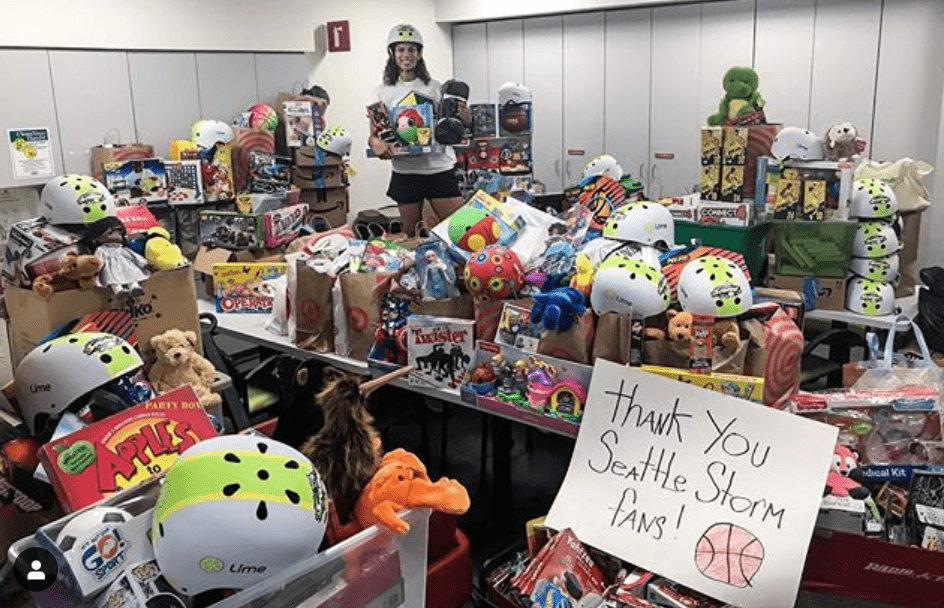 "Helping to establish this charity has honestly been my greatest achievement," she says. "It's what I'm meant to do. And it's so exciting to see it grow. I really hope to turn it into a Foundation and change the world for the better."
And though she may be crossing the line between basketball and the culinary world, her heart is set firmly on service and charity. It was clear during our conversation that Alysha is happily pursuing what she most believes in as she strives to keep her faith alive every day. 
Four Fun Facts About Alysha
Her favorite USANA product: The MySmart™ Shakes, for sure. I've used them for years now. I also love the Celavive skincare products. I recently started using the regimen consistently—it's made a huge difference.
Her favorite place she's visited: That's a tough question, but it has to be Israel. This country has become a second home to me. I also loved visiting Lyon, France. The city is beautiful, and it's home to some of the world's most delicious foods.
What you'll find on her playlist: I like a lot of music. Seriously, my game day playlist is the most random playlist ever—even to the point where I'm not allowed to DJ in the locker room because my music is all over the place. I love Beyoncé, Soul for Real, and I was obsessed with the Spice Girls.
Where To Follow Alysha: On Instagram at @alyshaclark.
*The featured athlete is a dedicated product user who has received USANA products and/or compensation for his partnership.
**These statements have not been evaluated by the Food and Drug Administration. These products are not intended to diagnose, treat, cure, or prevent any disease.