Allison Pineau: Dominating the Hardwood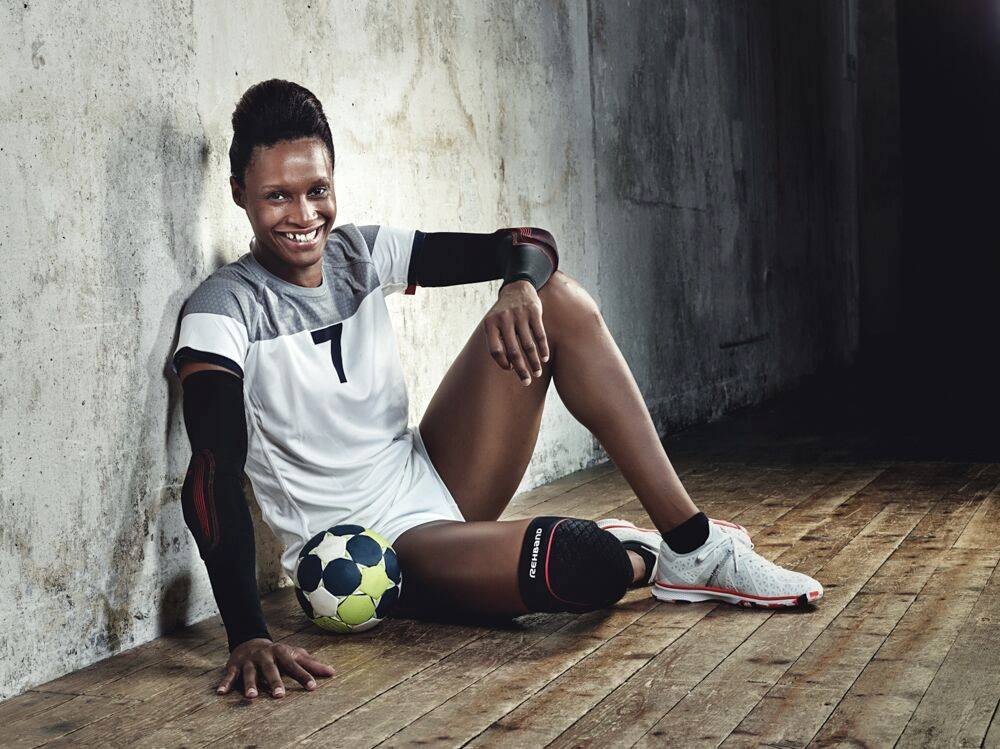 Allison Pineau is ferocious.
She's covered in layers of muscle, scrapes, and cuts. For over two decades, she's committed to playing handball at the highest level. And while she's earned Olympic honors, World Championships, and EHF Championship League medals, Pineau is just now reaching levels she's only dreamed about.
Made in France
Pineau was born in the small town of Chartres, just outside of Paris. Famed for its cathedral, Chartres is also known as a place where sports rule.
Passion for competition is an active gene in Pineau's DNA. She comes from a family of athletes. Though they didn't go pro, her parents competed and challenged themselves. And like all success stories, a hint of luck offered Pineau the opportunity to take her passion to new heights.
When she was a kid, a handball coach noticed her game. Pineau didn't have the famous footwork or strength yet, but the coach recognized a key physical feature for all great handballers: Pineau has large hands. She was a natural passer and exhibited early skills to play handball at a high level. He recruited Pineau to attend a summer camp—the first steps toward her professional career.
"He believed in me and said I could be a natural," Pineau says. "Who would have thought having large hands could be the mark of a good player?"
Pineau threw herself into handball, growing her skills year after year on her club team. In 2008, she was a substitute for the French Olympic team, and in 2012, she started in the London Games.
How to Play Handball
Handball is one of Europe's most popular games, after football (soccer) and basketball. Teams of seven play on a 40 by 20 meter court with wooden or PVC flooring and two netted goals on each end. Players are allowed to handle and throw the ball using their hands, but they must not touch the ball with their feet.
The object of the game is to score the most goals over two, 30-minute halves to win the match. Handball is a very high-speed sport and body contact is permitted (sometimes encouraged). Attacking players can dribble the ball once and must pass within three seconds of taking possession. This makes for super-fast and incredibly exciting matches. The ball moves quickly to each attacking player, looking for advantage against the goalie, while defending players do everything within power to block, steal, or disrupt play.
Handball is physical—very physical. Play requires strength, speed, and agility. Athletes need to have incredible levels of cardiovascular fitness, combined with superior upper-body strength to shoot on goal. They also have to stop on a dime and have the mental focus to track the speed of the game.
Pineau has all of these tools and puts them on display every time she storms the court.
"It's a very physical sport," Pineau says. "There's a lot of injuries: torn ACLs, jumping into people, pushing, and everything. If you're weak, it's pretty easy to get injured."
Fueling the Fire
Fitness is everything in handball. If you can't run, you can't compete.
Pineau's success on the court comes from her Apogee approach to physical fitness. She lives in the gym, pressing herself to new heights. After a 2012 ACL tear in her left knee and a 2017 surgery to fix her ankle, Pineau knows she has to be strong enough to take the punishment while competing.
"I love the gym—it's part of the success," Pineau says. "It's a grind and a lot of work, but I view it as an investment in myself and key component to be physically ready and mentally focused."
Fighting back from injury has forced Pineau to reexamine other parts of her training regimen. Starting a year ago, she began meditating. Practicing with her team and pushing herself in the gym strengthened her body, but creating moments of clarity helped free her mind. For Pineau, meditation has allowed her to explore moments in games and her life in greater detail, producing a calming feeling.
"Meditating has produced a lot of good things into my life," Pineau says "It helps me focus and relax my mind. It allows me to be at peace with myself."
In addition, Pineau trusts USANA to help with her nutritional goals. She sticks to a healthy diet—lots of fruits and vegetables, lean meats, whole foods—but her active lifestyle requires additional supplementation.
"As you get older, you have to be conscious of the foods you put on your plate," Pineau says. "I have to take care of my body and, even though I am only 31, I know I have to follow daily habits to fuel my life."
The Next Generation
Although the Tokyo Games have been postponed until 2021, Pineau still has her eyes on a gold medal. She's playing club handball in Budućnost and training for the next Olympics. The biggest opponent she has to face is time—Pineau wants to enjoy every second of the few years of handball she has left.
And she has unfinished business—taking silver against the Russians in 2016 has fueled and refocused her energy, because the difference between winning and losing at this level is razor-thin.
Pineau marvels at the new generation of players: "There is so much talent out there. Stars are emerging so much younger—it's incredible how much the sport has evolved."
Recognizing her role as a leader both on and off the court, her goal is to share the value of sports and what handball has given her. She wants the emerging professional handballers to appreciate the work and dedication it takes to succeed.
"It's important to talk with the younger generation, to give them advice and help them grow," Pineau says. "It's not enough to just compete. Handball is so much more."
Off the court, Pineau competes in a different way—she's studying economics and plans to pursue a career as a stock trader.
"You have to set a goal and obsess about achieving it," Pineau says. "You must push your limits all the time and know what you can bring to the team. It's more than training hard and giving it all you can. It's about the details, team spirit, and the sacrifice required to be a champion."
At a Glance
Sport: Handball
Hometown: Chartres, France
Honors: 2009 International Handball Federation Handball Player of the Year
Three-time Olympian: 2008, 2012, and won silver in Rio Games in 2016
Career after handball: Financial trader
7 Facts About Allison Pineau
Why she trusts USANA: You have to be extremely careful what you put into your body. I know USANA has the best products for Olympic athletes.
Her favorite USANA products: BiOmega, Celavive Skincare, and Rev3 Energy.
Queen Pineau. Allison was crowned world player of the year by IHF in 2009.
Plans after handball: Pineau is studying economics and wants to work as a trader for a financial company after she retires.
The perfect breakfast: Avocado toast with porridge mixed with a banana.
Revenge game against the Russians in 2018: Pineau still has goosebumps about besting the Russian in the World Championships.
Where you can follow Pineau: Follow Allison Pineau on Facebook or Twitter.
*The featured athlete is a dedicated product user who has received USANA products and/or compensation for his partnership.
**These statements have not been evaluated by the Food and Drug Administration. These products are not intended to diagnose, treat, cure, or prevent any disease.