Robert Killian: Crushing All Obstacles
Battle is never pretty. And yet the 2019 Spartan World Championship venue in Lake Tahoe was breathtaking. As spectators succumb to the natural beauty of its crystal blue mountain lake and the grandeur of the Sierra Nevada, Robert Killian gets lost in his own thoughts.
He's won a world championship before. In 2015, the rookie came out of nowhere and bested the field. Equal parts ridiculous physicality, the heart of a warrior, and foolishness to tackle the world's most intense obstacle course, Robert pinned his ears back and crushed the competition. His dominant performance was so surprising that t-shirts were printed with "Who the F is Robert Killian?"
Haters gonna hate. Doubters gonna doubt. Robert Killian keeps proving who he is with every race.
Before joining the obstacle course race (OCR) circuit, Robert's resumé read like something from a comic book. He and his sister were raised by his uncle in Charleston, South Carolina. Prior to living with his uncle, his family was in chaos. His mother was overwhelmed raising the kids, and Uncle Taube Roy stepped in. He proved to be the grounding force in Robert's life, offering guidance, leadership, and structure—elements Robert thrives under.
After graduating high school, Robert enlisted in the Army at age 17 and received an ROTC scholarship to one of America's best military colleges—the Citadel. This premier institute is a breeding ground for America's next generation of leaders, and there Robert learned what it took to excel academically, athletically, and morally.
"I take my military career very seriously," Robert says. "Without professional structure, values, and an honor code, it's hard to find a worthy life. Without dedication in all aspects of life, my life wasn't going to amount to much."
After earning his bachelor's in computer science, Robert began his military service. Stationed in Fort Polk, Louisiana, he worked as a signal officer. He served honorably and fully committed to his troops, building lifelong friendships.
It was around this time Robert discovered triathlons.
A full triathlon is a 2.4-mile open water swim, a 112-mile bike ride, and a full marathon. Fit, trim, and ready to rumble, Robert made the most of his training sessions, pushing himself to the limit for the 2009 Kona Ironman. He was relentless, tackling 100-mile training rides and 20-mile runs each week.
And his hard work paid off—he won the military category in 2009 and the team challenge championship in 2010.
Special Forces
In 2012, Robert reported to Fort Bragg for special forces training. He was on a quest to become a Green Beret, a test of next-level toughness. Not just a physical challenge—it's a day-in, day-out attack on your mental strength. To conquer it all, Robert leaned into his Ironman training: focus, finding balance, and prioritizing his responsibilities.
"I've done something challenging before, but you don't have those luxuries [fancy food, cryotherapy, supplements] to balance it out," Robert says. "It's a different type of suck, a much different type of pain."
On a daily basis, Robert and his fellow soldiers hauled 120-pound ruck sacks, ate only on MREs (military issued meals ready to eat), and lived in the woods. Beyond grueling, the Green Berets are the best of the best. Robert committed to join their ranks and endured swamps, mountains, and stifling heat. He fought through pain, hunger, and lack of sleep and counted on his team to pull him through.
"It's the people with you," Robert says. "It's all about teamwork and relying on the other guy to help you get through the course. It's all training and the ability to look back and say, 'Hey, I've done this before—I can do it again.'"
Not a One-Hit Wonder
Back to Lake Tahoe. Great stories are formed around conflict: man versus nature, man versus man. At the 2019 Spartan World Championship, it's Robert Killian versus both. Not only does he have to survive the crippling 4,000 feet of elevation gain in the mountains, but he also needs to out-run, out-carry, out-crawl, and out-everything to vanquish the other elite competitors.
For two hours, Robert braved 30 obstacles (rope climbs, mud pits, and boulder hauling, to name a few). And if that wasn't bad enough, he still had to outrun all 241 competitors the 13.1-mile half-marathon. For most of us, this is a nightmare. For a Green Beret, it was a walk in the woods.
Robert had advantages the other competitors didn't. For starters, his OCR career is second to none. He's won Ironman's, US Army Best Ranger, and was named Army Athlete of the Year in 2010. Second, he always challenges himself to achieve, thinking if I've seen it once, I can do it again. And third, and most importantly, he knows who he's racing for.
He competes for his family. As a professional OCR racer, the prize money supports his wife and their two children. When his daughter was three weeks old, she had embryotic fluid in her lungs. The stress was unimaginable, and though the doctors were able to work their magic, Robert turned to training to burn off frustration and stress.
"There's nothing like having my family's support. I wouldn't be able to do this without them," Robert says. "We've created a balance, and I want to make sure they get their credit for our success."
As his kids grow older, they're joining him on his training runs. He calls them his ninjas as they jump, climb, and run with him in preparation for Dad's next race.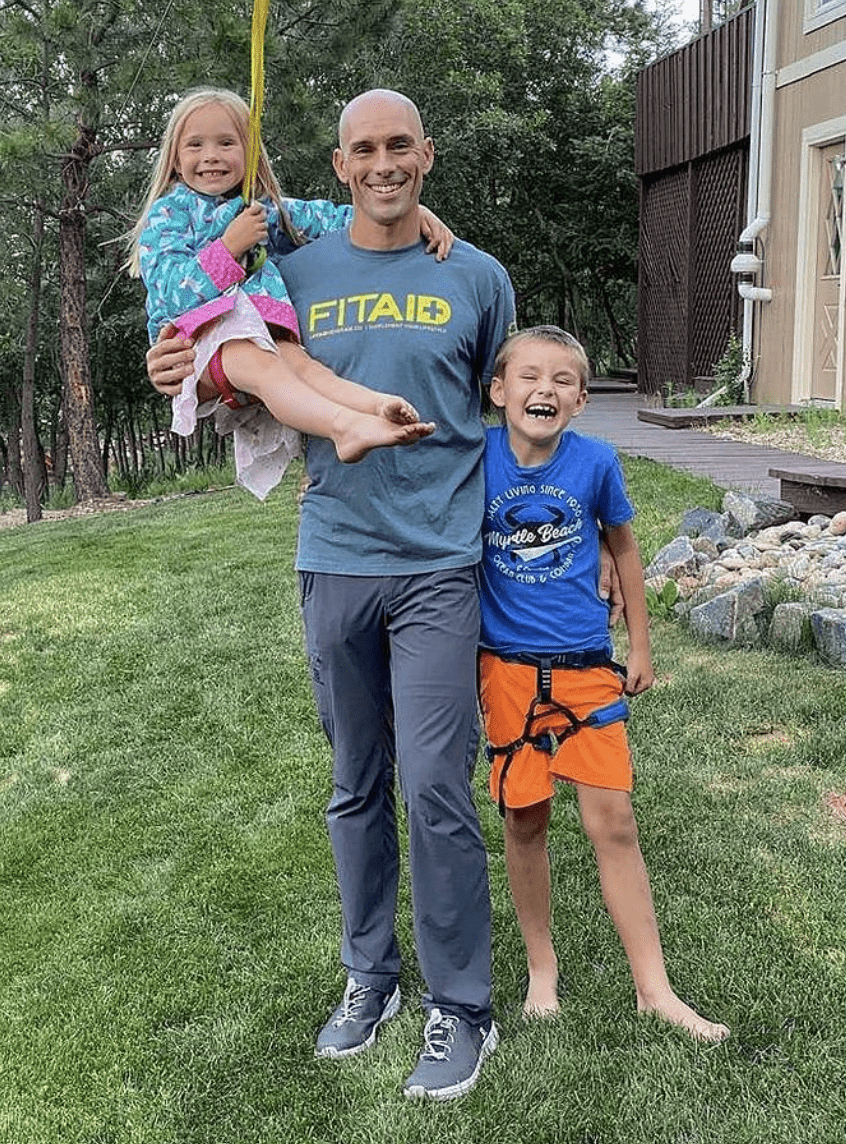 "I love having them with me—it's my passion," Robert says. "This is something we can enjoy together. I don't want to be away from my family—it means so much more for me to hang out with them. They're so much fun."
Armed with his family, his sense of duty, and living honorably, he's ready as he toes the starting line. The pressure of work—briefing higher-ups on tactical military situations—is gone. When he's racing, nothing holds him back. His mind is free. Robert finds peace in the tortures of the Spartan Race because nothing can touch him out there.
Built Spartan Tough
Robert proved he isn't a one-and-done Spartan champion. In the Lake Tahoe Beast, the best of the best Spartan races, he won with a time of 2:11:54. The culmination of years of training, focus, and work led him to this pinnacle.
OCR racers have shelf lives. The best compete at the highest levels from the ages of 35 to 40—Robert recently turned 39. Injuries may take out the best, but time beats them all. And Robert is fully aware there is a limit to winning championships. Younger kids are learning from him and his contemporaries. Their dedication and leadership in the world of competitive obstacle course racing is shaping the next generation of competitors.
"The young guys are coming," Robert says. "That's why I have to take advantage of every opportunity."
Robert's daily commitment to excellence means a life well lived. Challenges can be conquered, and goals achieved. Find the right balance, and you too can live the life of a champion. Not everyone can be a Spartan world champion, but taking inspiration from Robert's life can make a difference in your own. As Robert says, "It's about finding the balance."
8 Facts about Robert Killian
Why do you trust USANA? I trust USANA because they are committed to producing quality supplements, recognized by the NSF Certified for Sport program.
What are your favorite USANA products? The HealthPak™. I also take Pure Rest™ and Mineral Calm [to help get] a great night's rest and Stress Relief to help deal with those tense moments we've all felt*.
What is your favorite OCR competition? Spartan Austria/Tyrol. It's the trifecta weekend event—all three events done over two days! The terrain challenges you just as much as the obstacles, and the staff and volunteers are so passionate.
What does being a USANA Athlete mean to you? People don't recognize the sacrifices that go into being a full-time athlete. Having a sponsor to help support that dream has literally been life changing.
How do you stay focused? I stay focused knowing I'm an inspiration to my kids and others looking to overcome obstacles on and off the course. Focus on your goals, put in the work to achieve your dream, and make it happen at any age. And, yes, you can with a family and a full-time job—even in your 40's.
Best place you've visited in the world? Kauai, Hawaii. The island has everything from mountains, epic coastal trails, beaches, surfing, scuba diving, canyons, and camping sites. It's everything I love.
What's your favorite cheat food? Moose Tracks Ice Cream.
Where To Follow Travis: Instagram at @robert_killian.
The mentioned athlete is either an Associate or dedicated USANA product user who has received complimentary USANA products and/or compensation for their partnership.
*These statements have not been evaluated by the Food and Drug Administration. These products are not intended to diagnose, treat, cure, or prevent any disease.
Click here to add your own text