T.J. Milne: A Life En Pointe
T.J. Milne tells stories through movement. A true virtuoso, her art, athleticism, and devotion are something of a wonder—but one of her most stunning traits is her genuine kindness and love for people.
She performs as a dancer in the world's largest water show, The House of Dancing Water, in Macau. As she waits for shows to begin again, she continues to inspire others through her attitude, dedication, and beautiful original projects.
Love at First Dance
T.J. began dancing at 9 years old. She remembers her first ballet class like it was yesterday—filled with excitement to dance just like her older sister. After all the pliés and pirouettes were through, she vividly recalls walking out to decidedly tell her mom this was what she wanted to do. From then on, she lived and breathed ballet.
"My dad hung a small practice barre in our basement and found a little slab of wood I could practice my turns on," she says. "I was downstairs practicing ballet all the time."
Ballet held her heart. And T.J. has never second-guessed her commitment or looked at another career. Teenage dance competitions solidified T.J.'s love for performing in front of an audience. At 17 years old, she was selected to attend the Kirov Academy of Ballet School in Washington D.C. This year of intense training was pivotal in her development as a dancer, affording her unique dancing opportunities to launch her incredible journey.
Sparkling Like a Gem in Macau
Known as the "Las Vegas of Asia," bright lights and casinos line the main strip of Macau. The people welcomed her with open arms, and T.J. enjoys exploring the markets, culture, and majestic mountains surrounding the area.
She moved to Macau in 2015 to perform in The House of Dancing Water. It's a story that unfolds through pools and jets of water and incredible imagery and lighting. And T.J. makes her art look effortless. Her role as one of the Dark Queen's daughters is playful and fun and gives her freedom to explore movement within her performance.  She flows through complex choreography and takes the audience's breath away as she falls from an eight-meter-high trapeze.
With talented divers, acrobats, dancers, actors, porters, and straps artists from 31 countries, this fantastical show offers a rare opportunity for performers to develop their artistry. T.J. learned to scuba dive to play her secondary role as the leading female character, The Princess. Most of her entrances are magical appearances from underwater, and her dramatic exits from the stage are that way, too. She also serves as the Dance Captain, the spokesperson for her team, which allows her to broaden her leadership skills.
On a regular schedule, the cast performs a whopping 10 shows a week in a theatre that holds over 2,000 spectators. And when they aren't performing, they train. T.J.'s grateful to have USANA's support to keep her healthy and ready to perform.*
"I have noticed the difference in my endurance as a performer since becoming a USANA Athlete," she says. "When I feel my healthiest, I dance my best."
The Healing that Shaped Her
T.J.'s amazing career hasn't been without hardship. Eight months after she moved to Macau, she broke her collarbone. For the first time in her life, she couldn't do what she loved.
With a metal plate mending her clavicle, she watched from the audience for seven months. And as she celebrated her fellow performers' successes, they celebrated each step of her recovery.
This support system was key in her recovery. And luckily, she had an amazing team cheering her back to health. Her physiotherapy team spent hours with her, helping her heal and strengthen. And friends gave her the inspiration and determination to safely return to performing.
"My physio designed exercise programs and encouraged me in each victory," T.J. says. "They cheered for me the first time I lifted my arm over my head. And when I did my first plank, there were cheerleaders around me. Despite the mental and physical challenges, I went home thankful for the support, for my healing body, and the drive to dance again."
He collarbone healed fully, and T.J. was back on stage where she continues to live her dream.
"My injury forced me to dig deeper. To ask myself why I loved to dance so much. To find what made my days happy without dancing," she says. "To feel thankful and humbled by the encouragement of my physios, friends, family, and colleagues. It all shaped me for the better."
A Ballerina Who Elevates Others
T.J.'s inspiration to live life to its fullest is as extraordinary as her dancing accomplishments.
"Sometimes the most memorable moments in my day are the interactions I've had with people," she says. "A smile or a kind conversation can be just as impactful as a great performance or dance class."
Laughter also inspires T.J. For her, laughing with others at "bloopers" on stage is what makes it all memorable.
Her warmth, authenticity, and desire to lift others shines bright. This, along with her dedication, talent, and skills make her a phenomenal mentor and role model. Sharing her love for ballet is a passion. T.J. finds joy in teaching anyone who has the heart to learn and the courage to try. Her students come from all skill levels and age ranges. She believes ballet class is like the journey of life, and success is being proud of something you learned in each session. "In each class, there are big and small moments of exploration, but all these occasions impact the way you dance."
As she shares her classes through Zoom with students in Canada, Belgium, and Japan, for T.J., "It is the greatest feeling when a student makes a new discovery in ballet or you see their face light up during a moment dancing together."
Staying Positive with Closed Borders
T.J.'s positivity and determination have carried her through the effects of COVID-19. Macau closed its borders right as the pandemic hit, so she lives in a safe little bubble. However, with no flights to deliver an audience, the show was put on pause. Once the world has healed, she will be back on stage.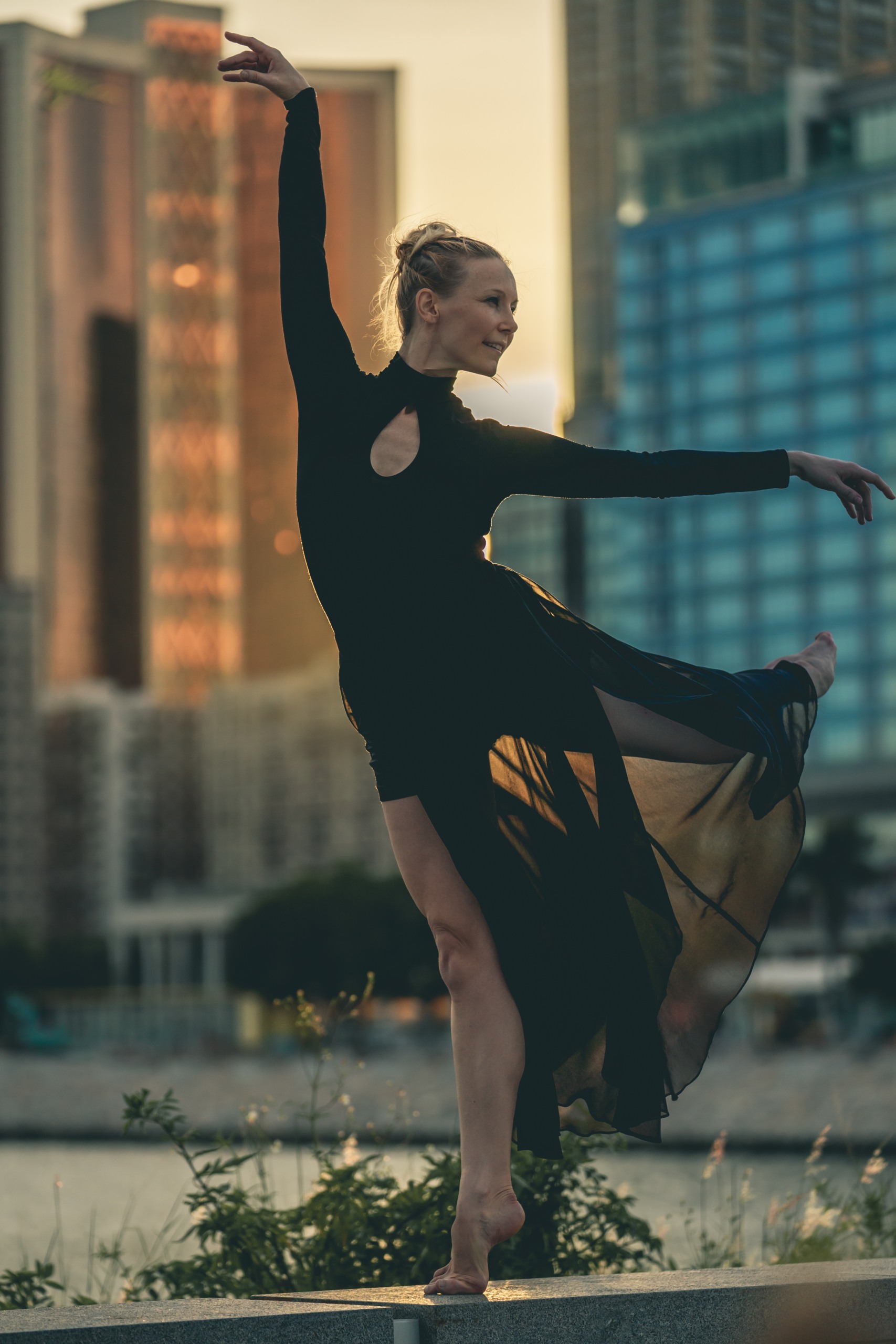 In the meantime, T.J. fills her days with everything that makes her happy—dancing, teaching ballet through Zoom, and simply enjoying each moment. "I want to look back on this time and know I did my best to keep growing in my career," she says. "Even through the challenges."
T.J.'s life en pointe is a life well lived. She takes every moment, both on and off the stage, to savor the magic and share it with others.
7 Facts About T.J.
How do you start your day? With a delicious cup of coffee followed by my daily ritual of meditation, oracle cards of inspiration, and my gratitude journal.
What are your favorite USANA products? I love to have my USANA protein shake with a scoop of Fibergy Plus booster. I always take my morning MyHealthPak vitamins before I begin my workout.
What is your training routine? I'll do a Zoom workout class with my best friend in the USA or lead a virtual ballet class for friends around the world. A beautiful studio in Macau has graciously allowed me to dance and train there, so sometimes I even meet a friend for a ballet class.
What do you do after the ballet shoes come off? After twirling, I either find myself outside in nature, on a hike, or joining a yoga class.
How do you unwind? I love to catch up with loved ones around the world. And before I doze off, I enjoy a final stretch and thinking of my top three favorite moments of my day, just to have these in my head as I sleep.
How have you filled your time while the show is on pause? The performers have come together to make creative choreography pieces, film projects, and fun photoshoots around our beautiful city of Macau. It keeps us inspired and passionate.
Where to follow T.J.: On Instagram, @tjmilne2
*The featured athlete is a dedicated product user who has received USANA products and/or compensation for her partnership.
**These statements have not been evaluated by the Food and Drug Administration. These products are not intended to diagnose, treat, cure, or prevent any disease.