Riding Atop the Waves with Sarah Douglas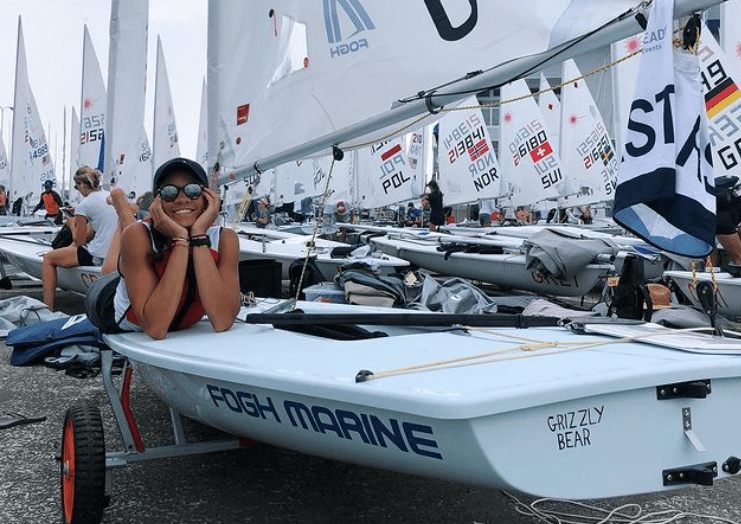 Water covers 70 percent of the world's surface. And Sarah Douglas is ready to conquer it all.
Sailing starts from the shore. Even before Sarah Douglas pilots her Laser Radial to the middle of the harbor she surveys the water, scanning for any advantage. The mysteries lie in the ripples. Are they storm driven? What's the wind direction? How's the temperature? Will it be a scorcher or freezing out in the open water?
The 27-year-old Canadian sailor is a mini meteorologist. Her eagle eyes analyze each cloud and how they move across the water. Every detail can be the difference between victory or defeat. With data collected, the circumspect mariner launches into the ocean.
"Sailing is like running a race while playing a chess game," Sarah says. "We're reading the wind, studying the waves, and analyzing the other participants."
Sarah is representing her country this year on the world's biggest stage. A gold medalist at the 2019 Pan American Games, she's in the hunt for glory at Tokyo.
On the High Seas
Sailing is a family affair for Sarah. When living in Barbados, her father and Greg, her brother, used to head to the yacht club to sail. Anyone who has ever stepped foot in Barbados knows the weather is stunningly perfect for sailing year-round. Sarah followed her family into the water.
Sailing quickly became the family's passion, with the Douglases moving to the marina to get on the water more often. They'd also often travel to other islands throughout the Caribbean. By the time Sarah was 10, she was competing (and winning) races.
"It was a bonding experience for the entire family," Sarah says. "Sailing became the way we communicated and connected. It was very important and all-consuming for us."
This passion for the water lead Greg to the 2008 Beijing and 2012 London Games and inspired Sarah to follow in his footsteps. As one of those rare athletes whose skill matches her tenacity, she quickly rose to prominence in the sport—winning the 2007 Canadian Optimist Championship and the 2010 Ontario Sailing Youth Sailor of the Year. But a disappointing second place became the genesis of Sarah's greatest comeback.
Into the Drink
A silver medal for most is an incredible achievement, but Sarah was haunted by placing second at Youth Nationals in 2010. It was crushing, and she thought her elite sailing days were done. Incredibly competitive in her youth, Sarah "hated to lose and loved to win." She says, "When I lost, that was it. It was the biggest blow in my life. I quit sailing and started coaching."
Sarah focused on school, eventually earning a Bachelor of Commerce. She also coached young athletes at Ashbridge's Bay Yacht Club for two summers, but something was off—she was down in the doldrums. It wasn't until a chance encounter with trampoline gymnast and Canadian gold medalist Rosie MacLennan that she got back on the right track.
"Rosie had just gotten back from London and was describing how it felt to win a medal for Canada," Sarah says. "She talked about the struggle and dedication it took to win. I saw her as a role model and wanted to chase that dream."
In that powerful moment, Sarah refocused her energies and committed herself to winning a world championship. Back in the boat, she placed high in multiple competitions before earning a spot on the Canadian sailing team. She's grateful for the opportunity and proud of the work she's accomplished to represent her country.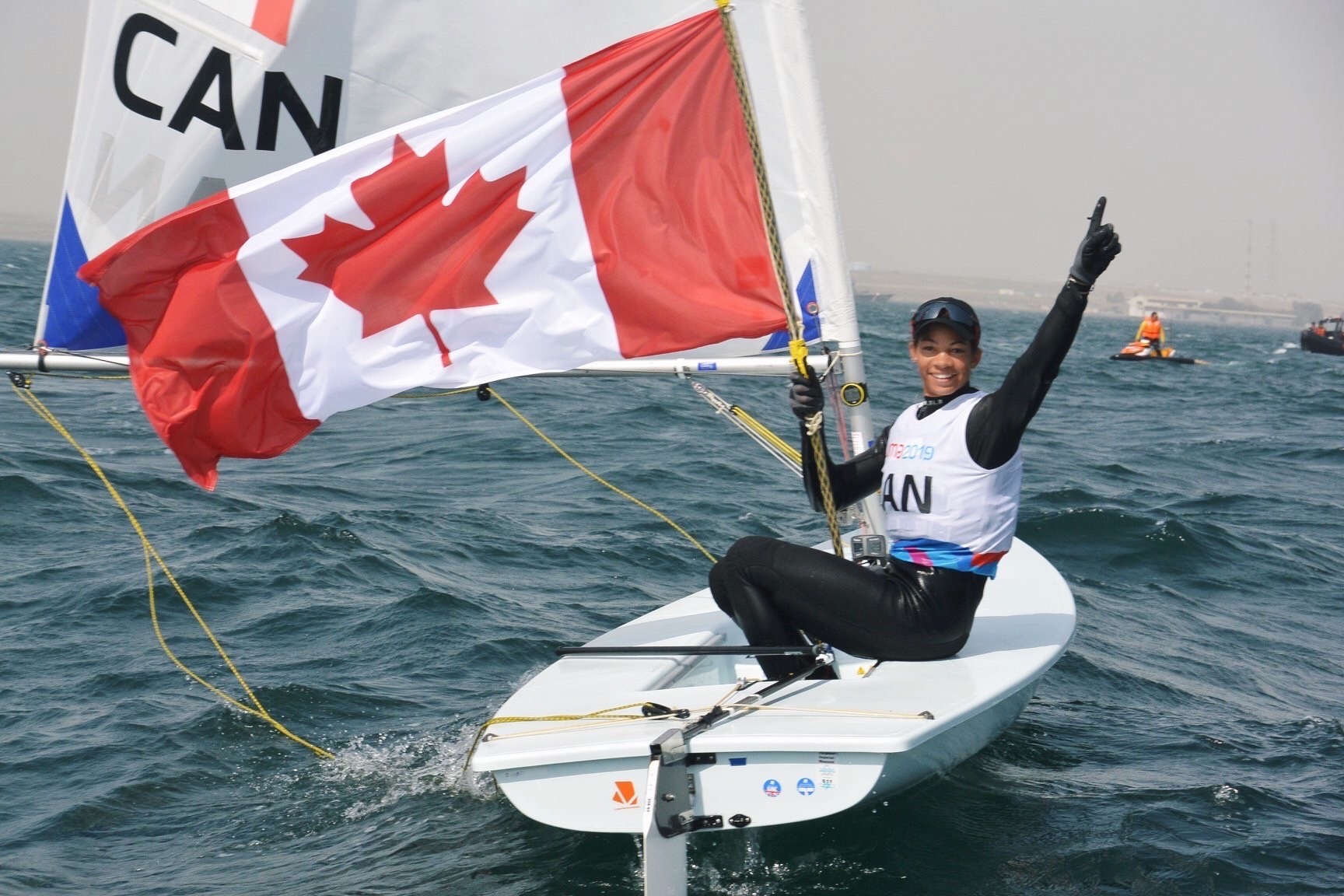 "When you put your sail up, it's the Canadian flag," Sarah says. "Your jersey has the Canadian flag on it and you're asked to carry the weight to be the very best. It creates incredible pressure, but I wouldn't want it any other way."
The Sea has No Backdoor
Running in the boat's cockpit is a four-inch-wide strip of nylon fabric called the hiking strap. When you see sailors perched perfectly perpendicular off the side of the boat,  their feet are hooked under this strap as they whip across the water.
Sarah smiles when she talks about the hiking strap. It's the only thing preventing her from getting dropped in the drink. You need sea legs to keep your lunch down on the water, but it's essential to have powerful legs and core strength if you want to sail competitively. Lose your grip and you're getting wet.
"Oh, I've lost a lot of sunglasses out there," Sarah laughs.
Her boat is a Laser Radial sailboat, which recently changed its name to the ILCA 6. It's almost 14-feet-long with a single sail. The laser is one of the most common dinghies found around the world and Sarah has spent a lifetime trying to master the vessel.
"Sailing definitely strains the body," Sarah says. "Your legs connect you with the boat, but your core counterbalances you against the wind. You're in constant motion with each wave. You're absolutely connected with the water."
Barbados has a saying: the sea has no backdoor. It means, once you're out on the water, there's no reset button to magically get back to the shore. For Sarah, part of her love of sailing lies in the intensity of the sport. Sailing is serious business. You're not only competing against the other sailors in the water, but also the heat, weather, and sun.
"It's when the blood, sweat, and tears pay off," Sarah says. "It takes grit, determination, and leadership to excel in the water."
Run a Tight Ship
The morning of any competition is eerily similar for Sarah. After analyzing the weather forecast, she eats a hardy breakfast. Time on the water punishes your body. You need to have enough calories to survive if you want to compete. Races are an hour long and you can race up to three races a day, plus competitions last for six days.
To stay in the right frame of mind, Sarah has started to meditate and journal. Even though sailing is so taxing on the body, your mind can't slip in the ocean.
"My mindset is key to success," Sarah says. "Every morning I do a short meditation, journal, and focused breathing. I practice circle breathing because it helps refocus my energies on what I need to do."
Meditation may help calm her breathing, but definitely doesn't damper her competitive spirit. Once Sarah's in her boat, it's on! She displays an unbelievable ability to channel her energy into ferocious sailing.
"I'm competitive in everything I do," Sarah warns. "And I can't wait to see what happens this summer in Japan."
Follow Sarah's journey on Twitter @sarahdouglas_, Instagram @sarahdouglas_, or on her blog.
7 Fun Facts about Sarah Douglas
Why do you trust USANA? USANA is committed to producing quality supplements recognized by the NSF Certified for Sport™ program.
What are your favorite USANA products? The USANA SportsPak. It's really convenient and helps me stay healthy when I'm training away from home.
What is your favorite stretch of water to race? Kingston, Canada.
What does being a USANA Athlete mean to you? This journey on the water has been my life's dream. I appreciate USANA's support as I go for gold.
How do you overcome setbacks? You have to stay focused on your dreams at all times. Always project yourself accomplishing your goals.
How'd you get through 2020? I made sure to enjoy time with family back in Toronto.
How do you break the tension before a big race? Joke telling. My coach and I try to crack each other up to keep things light.
*The featured athlete is a dedicated product user who has received USANA products and/or compensation for her partnership.
**These statements have not been evaluated by the Food and Drug Administration. These products are not intended to diagnose, treat, cure, or prevent any disease.