Leaping into the History Books
Every high jump ends on a failure.
That's not to say these elite athletes don't win medals and stand on podiums with their national anthem playing. High jumpers leap until they can't clear the bar. They're constantly challenging themselves, pushing to reach new heights and set records.
This ying and yang of success and failure is in the DNA of all high jumpers. And no one exhibits the passion of the jump like Priscilla Loomis. Born in Queens, New York on Valentine's Day, she holds dual-citizenship, with her father coming from Antigua and Barbuda. She represented the tiny West Indies islands in 2016 in Rio de Janeiro and won silver in two Pan America Games.
Priscilla is passionate about encouraging others to follow their dreams and strives to be a role model for anyone who has faced adversity and roadblocks. To pursue her Olympic dreams, she's dedicated herself to grueling trainings, physical and emotional sacrifices, and overcoming setbacks after defeats. Priscilla is powerful both in her sport and in life.
With a shock of purple hair, lean muscles on a tall frame, and a smile to charm the world, Priscilla has her eyes set on representing her country again on the world stage. She lives her life by the simple mantra, "I can become great at anything I set my mind to." Most will never experience this level of international success, and Pricilla's committed to share her passion for training, embracing the sacrifices, and having fun along the way.
Clearing the Bar
What does it take to high jump? Or better yet, what does it mean to be a high jumper? The equipment is simple: a thick pad to catch you and a couple of poles holding a crossbar. Everything else needed to leap into the air and clear the bar is found in the jumper's legs, technique, and heart.
Priscilla is meticulous in her preparation for each jump. With equal parts focus and anger in her eyes, she visualizes the 10 paces to the bar. Breathing in deep, she'll clap her hands above her head as if to announce to the world her five-foot-ten frame is about to accomplish something incredible. Prior to takeoff, she struts a slight dip and launches towards the bar.
The approach is a bouncing J-shaped run. It's more skipping than running—each step loads her knees and hips with the energy to bound into the air. A last step signals her departure from Earth as she jumps backwards with tremendous force. Pricilla's head is the first to clear. Then she thrusts her shoulders back as her body contorts into a halfmoon. Gliding above the bar, she snaps her feet forward, like a scorpion strike, as her calves and feet miraculously miss knocking off the crossbar.
Landing on the pad, inertia pops Priscilla up. She pumps her fists in the air and almost takes a bow as if to say, "you're welcome." The ride takes less than five seconds, but it's an exhilarating experience for both athlete and spectator.
So, back to the question, what does it mean to be a high jumper? It's the passion to recklessly embody the most exact movements. Priscilla lives in the moment because she's done the work. She's confident in herself as her own best champion. And nothing will stop her as she inches higher with each jump.
Failures Aren't Negatives
Not every jump clears the bar. Priscilla was quick to point out you're going to miss the bar more than you'll clear it. One would think type-A, apex hunters like her would be furious with failures—each setback a nagging itch never scratched. But it's the complete opposite for Priscilla who sees the positive, even through negative outcomes.
She's adamant every jump won't make the set height. Your run might not give you enough angle. Your head could crash into the bar. You could clear the entire bar and forget about your feet at the last millisecond. You could even forget to go limp after clearing and have your knees smash into your face. Even in moments of intense concentration and performance, mistakes are still made. This is the starting point in Priscilla's pursuit of perfection.
"We [high jumpers] are doing something incredible with each jump," she says. "It's not a natural move, but instead of beating myself up because I forget to do something, I celebrate what I did right. I'll complement my run or how my hips moved. And if I can't find something good on my jump, I'll tell myself my hair looks damn good."
Priscilla talks about high jumping with the passion of an artist. And she knows how to put on a show to entertain and marvel the crowds. It takes an insane level of self-confidence—which she has in abundance—when you're competing at the highest level.
"We're not normal," Priscilla says. "We're Olympians. There is incredible pressure to perform for our country, our team, and ourselves. You know what the stakes are, and I'm ready to challenge myself."
A Leap into the Unknown
High jumpers have ceilings, and one can't jump competitively forever. Priscilla isn't ready to hang up her cleats just yet. There are still approaches to be attempted, new records to be set, and blissful clearances into the pad after another successful jump.
She's logged over 10,000 hours through her track and field career. That's over 4,380 days focused on one goal—to win gold. It's a lifetime of sacrifice, drive, and passion. To achieve her dream, Priscilla is painstaking with every aspect of her health. She fuels her body with healthy foods and lots of water. Sports massages remove knots from her muscles, and she tends to her mental health with a sports psychologist.
"I needed someone to help me channel my energy," Priscilla says. "I start and end each day with journaling, because I need to know where I started and where I'm going."
Not one to be idle, Priscilla also pursues other dreams. She hosts a podcast and radio show, owns a cleaning service, and founded a non-profit. And if that wasn't enough, she finds the time to encourage other business owners with her five athletic lessons learned: humility, don't quit, keep educating yourself, enjoy the journey, and think like an athlete.
"Thinking like an athlete means to compete and fight for what you want," Priscilla says. "Do the work, get up, and go get it. This is your life—pursue your dreams at all costs."
Follow Priscilla's journey on Instagram @priscilla_frederick or check out her website at PriscillaLoomis.com. For more details regarding Priscilla's quest for gold, download her Let's Go! with USANA appearance.
7 Fun Facts about Priscilla Loomis
Why do you trust USANA? I trust USANA because it's important for me to know exactly what I'm putting in my body. They are high-quality products and guaranteed to be free of any banned substances.
What are your favorite USANA products? The HealthPak! I also love Rev3 Energy.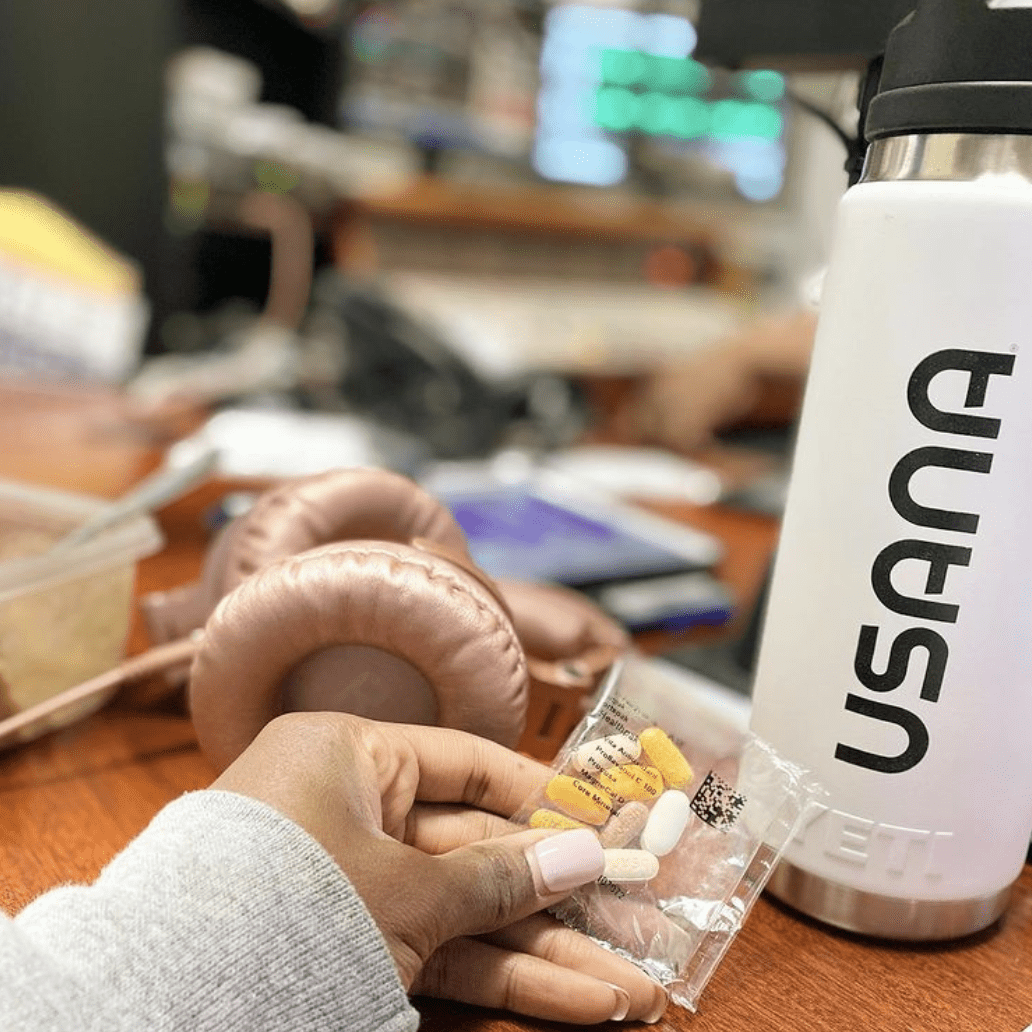 What is your go-to music before competing? My music choices are all over the place but I'm listening to a lot of Beyoncé, Florida Georgia Line, old school J.Lo sprinkled with some Miranda Lambert, Rihanna, and Ariana Grande.
What does being a USANA Athlete mean to you? Truthfully, I love representing the name USANA. The whole brand is about being the best version of yourself, supporting health, a balanced nutrition regimen, and fueling your fitness goals.
How do you overcome setbacks? I overcome setbacks by facing them head on. I know they are coming and part of my journey. So, I look at setbacks as a challenge to make me better.
How'd you get through 2020? With positivity, patience, and a very supportive family. My husband kept me laughing and motivated. 2020 was an opportunity to get stronger and work on my weaknesses. I was blessed with this time.
What is your favorite non-track and field sport to cheer for? I love all of the sports but my favorite to cheer on is swimming and gymnastics. I can't wait to see surfing this year.
*The featured athlete is a dedicated product user who has received USANA products and/or compensation for her partnership.
**These statements have not been evaluated by the Food and Drug Administration. These products are not intended to diagnose, treat, cure, or prevent any disease.