There are some things in life that just make sense. The lasting partnership between USANA Health Sciences and the Women's Tennis Association (WTA) is one of those things; they're a perfect match. USANA is proud to support the WTA, but even more, we love providing these amazing athletes with the very best nutritional supplements that will help them maintain top form throughout their professional careers.
As a Global Premier Partner and "Official Health Supplement Supplier of the WTA," USANA and the WTA have shared a productive and healthy partnership since 2006. The current sponsorship agreement lasts through 2016. This pairing gives USANA the benefits of significant marketing, digital and social media activation; WTA Legends appearances; sponsorship of ten WTA events across all regions of the world, including the season-ending WTA Finals in Singapore; and a player ambassador program that includes direct endorsements from an international roster of elite athletes.
Quick Volleys
Some quick-hit information about this successful pairing:
USANA, the Official Health Supplement Supplier of the WTA, first partnered with the WTA in 2006.
More than 170 WTA players use USANA products, including 15 of the Top 20 and 8 of the Top 10.
Currently, there are 4 USANA brand ambassador members of the WTA. They are Caroline Wozniacki, Genie Bouchard,  Monica Puig, Zheng Saisai.
The annual "Aces for Humanity" campaign raises money for the USANA True Health Foundation. Every ace served by WTA players at Premier WTA events throughout the year translates into a dollar amount; $10 for ambassadors, $5 for all other players.
A Lasting Partnership
With millions of people attending live events, and millions more watching the best tennis players in the world on television, it's no wonder the WTA is the No. 1 name in women's sports. It's natural, therefore, for an organization that embodies such a high level of excellence to seek a partner that would provide its athletes with the highest quality, science-based nutritional supplements in the world. That's why, in 2006, USANA was chosen to be the Official Health Supplement Supplier of the WTA, an Official Partner of the WTA, and the Official Multivitamin of the WTA.
"USANA provides WTA players with the highest quality supplements to help them stay healthy and compete at the highest level. We are proud of our 10-year partnership with USANA that keeps our athletes at the top of their game with the most effective nutritional supplements and health care products in the world." — Steve Simon, WTA CEO
USANA is honored to be able to extend its relationship with the WTA and continue providing quality supplements to these elite female athletes. As a global leader in the industry, partnering with the world's leading women's professional sport for nearly a decade, not only signifies that USANA stands by its science, but that USANA offers products that world-class athletes can trust.
WTA USANA Brand Ambassadors
Who are the players that are making up USANA's international roster of Brand Ambassadors? Team USANA proudly includes the following eight players* who personally endorse USANA and its products.
Caroline Wozniacki is a former World No. 1 on the WTA Tour, having held the position for 67 weeks. During her 10-year profession she has captured an impressive 23 WTA titles and has represented Denmark in the 2008 and 2012 Olympic Games.
"I feel better mentally and physically than I did this time last year and am excited to see what opportunities this season brings my way. I'm thankful to be able to team up with a company like USANA that cares about my well-being and I know we can do great things together."— Caroline Wozniacki
Caroline says nutrition is a key to top performance.
Genie Bouchard is a former junior Grand Slam champion and is one of the most highly-touted players to emerge from Canada. In fact, she became the first Canadian woman to reach a Grand Slam final at Wimbledon in 2014. She captured her first career WTA title in May 2014.
Genie talks about the advantages of supplements.
[youtube]https://www.youtube.com/watch?v=SFMkLjpDOMg[/youtube]
Monica Puig
 is the No. 1 ranked Latin American player in the WTA and is the first Puerto Rican to win a WTA title. She also won the inaugural WTA Rising Star Invitational at the WTA Finals in 2014, and made her first appearance in the Top 50 the same year.
Zheng Saisai is currently the second highest-ranked Chinese tennis player in the WTA, and in 2015 won 4 doubles and 1 singles WTA titles.
'Serving' Those In Need
In addition to serving each other, USANA and the WTA have partnered with the USANA True Health Foundation on a unique program aimed toward serving those who stand in need around the world.
In 2014, the pair launched its inaugural "Aces for Humanity" campaign. Beginning at the BNP Paribas Open in Indian Wells, every ace served at Premier-level WTA events translates into a donation to the USANA True Health Foundation. The Foundation's mission is to provide the most critical human necessities to those who are suffering or in need around the world. For every ace served by any player, the WTA will donate $5, and for every ace served by a USANA ambassador, the WTA will donate $10 to the foundation.
Since 20111, the WTA has donated over $140K to USANA's charitable efforts.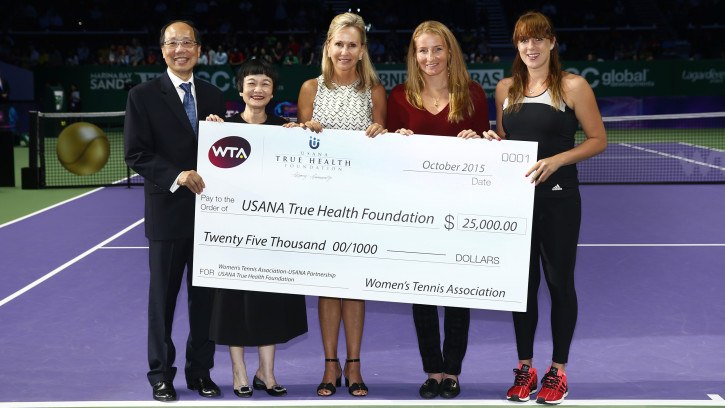 Your Perfect Match
Naturally, we think USANA and the WTA are a perfect match. We also think you're a perfect match to follow these amazing USANA athletes on Facebook and  Twitter and Instagram. We'd also be remiss if we didn't plug our partner's social media sites. For additional information about the WTA, please be sure to visit the website. Also, become one of the nearly 1.5 million people who like the WTA on Facebook and follow them on Twitter.
*The mentioned athletes are either distributors or dedicated users who have received compensation for their partnership and/or complimentary USANA products.
**Information is current through February 2017.