Supplement Spotlight: Fill Up, Weigh Less with Fibergy® Plus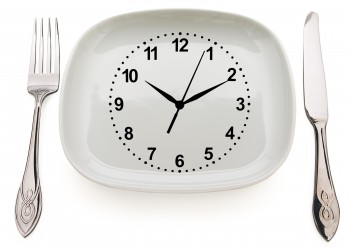 You know the feeling — it's 10 a.m. and you're diligently working on "changing your eating habits" (aka dieting), so you're starved to the point of gnawing on your arm. There are still a couple long hours to go before lunch. You desperately start rifling through your desk for something…anything…to eat. Even the petrified, 5-year-old raisins you find stashed behind your Microsoft® Office 2007 software look pretty appetizing.
If you could rewind your morning and start all over, you could have avoided the black-hole-in-your-gut feeling with one addition to your breakfast Nutrimeal™ shake: a scoop of USANA® Fibergy® Plus.
At only 30 calories per serving, Fibergy Plus makes a great addition to any cold beverage that will help you stay on track with your diet without suffering the pangs of hunger.
With 12 grams of dietary fiber, Fibergy Plus alone supplies nearly a quarter of the dietary fiber you need per day to feel less hungry while dieting, so it's easier to control your eating and therefore, possibly, lose more weight. According to a study published in the Journal of the American College of Nutrition, those who eat low-glycemic or high-fiber foods tend to eat less and feel less hungry.
Fiber is fabulous not only because it will help you feel full, it also offers a number of health benefits. Fibergy Plus uses fiber primarily from psyllium and inulin; there's some flaxseed meal in there too.
It provides 8 grams of soluble fiber, which dissolves in water and has been shown to be beneficial cardiovascular health, and 4 grams of insoluble fiber, which helps move things along in your digestive system. Inulin also acts as a prebiotic, which supports healthy immunity by stimulating the growth of healthy bacteria in your gut.*
A couple words of warning: if you haven't been getting a lot beforehand, you'll want to start slow when adding fiber to your diet, or you could experience some abdominal discomfort. It's also vitally important that you drink enough water so that the fiber will move through your digestive system. So add a little extra water to your Nutrimeal in addition to consuming more water throughout the day.
You'll also want to make sure to take any medications or other supplements at least an hour before or two hours after consuming your Fibergy Plus to ensure your body is fully absorbing them before the fiber sweeps through your system.
Your diet doesn't have to equal deprivation. Drinking Nutrimeal mixed with additional Fibergy Plus and eating low-glycemic meals heavy on the whole grains, fruits like pears and apples, veggies, beans, and legumes, are simple ways for you to feel full and happy as you work toward your wellness goals.
Check out some of our USANA Test Kitchen posts to discover more ways to incorporate Fibergy Plus into your meals too! I'm particularly fond of those found in Baking with Fibergy.
Roberts S, et al. The Influence of Dietary Composition on Energy Intake and Body Weight. Journal of the American College of Nutrition, Vol. 21, No. 2, 140S–145S (2002).
*These statements have not been evaluated by the Food and Drug Administration. This product is not intended to diagnose, treat, cure, or prevent any disease.
http://whatsupusana.com/wp-content/uploads/2019/11/USANA_Logo_Black.png
0
0
Camille Fletcher
http://whatsupusana.com/wp-content/uploads/2019/11/USANA_Logo_Black.png
Camille Fletcher
2012-01-18 08:00:49
2012-05-01 17:09:23
Supplement Spotlight: Fill Up, Weigh Less with Fibergy® Plus