Influencer Insider: Animated Actor Charlie Schlatter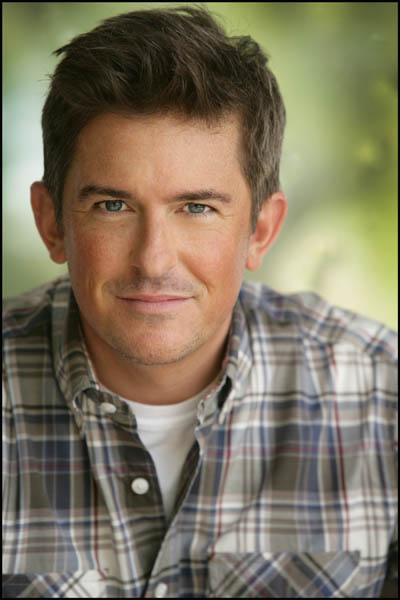 He obliterates the competition on the racetrack, smashes monster trucks, flips tricks on his motorcycle and flies over rooftops on his skateboard.
Who is this daredevil?
That would be Charlie Schlatter — or rather, his 8-year-old alter ego Kick Buttowski.
Kick Buttowski, Suburban Daredevil, is one of Disney XD's new hit shows. It takes a satirical look at an 8-year-old boy who aspires to be the most hardcore daredevil in existence.
The Essence of 'Kick'
Actor Charlie Schlatter is the voice of Clarence "Kick" Buttowski. He says playing a daredevil is second nature.
"When I was a kid, I lived on my bike and thought I was Evel Knievel," Schlatter says. "I would jump over anything and everything on my yellow Schwinn. Naturally as you get older, you grow wiser and unfortunately a bit slower. Yet my wife, who has seen all my speeding tickets, may beg to differ."
Kick may not be the perfect 8-year-old, but Schlatter explains, "We certainly try to portray him as a very confident young boy with the hopes to instill that same confidence in other kids. We describe him this way: Pint size body, Ginormous guts! And there's nothing subtle about him."
Big Fans Close to Home
There's also nothing subtle about the pride Schlatter's own three children have for their dad's acting career.
"My kids are so supportive of my career," he says. "In fact, they inform me every time a new episode of Kick Buttowski is on. I try to bring them to every event they might find interesting. And because for the most part we record cartoons alone and in a vacuum, it is so gratifying to see the actual effect my cartoons have on my kids and their friends. Especially when I am coaching my son's basketball team. It's great to be Coach Kick!"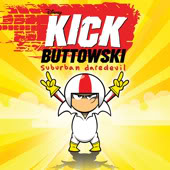 Schlatter says he always wanted to be either an actor, or a drummer. The drum got "beat" by acting. In the seventh grade he auditioned for the school musical, Oliver, to impress a girl in his class.
"I ended up getting the lead, and the girl — at least until she left me for an eighth grader," Schlatter chuckles.
Cue Acting…
He landed in a BFA Musical Theatre program at Ithaca College and began acting in several plays. He went on to do dozens of movies and TV series. "And then this whole animation thing, which really just started off as a way to keep creative during hiatus from Diagnosis Murder, really snowballed into something great," Schlatter explains.
That's right. You might remember Schlatter from his days on the hit television series Diagnosis Murder playing the role of Dr. Jesse Travis.
He says with all his years on the show, it felt like he earned a medical degree, but admits, "These days my medical skills are limited to splinters, bee stings and bloody noses." He goes on to say, "It's funny, if you watch Diagnosis Murder for a while, you'll realize I lost more patients than I saved. Not a great track record for Dr. Jesse."
And does he ever pull out any doctor diatribe? "I can't remember any fancy doctor words," Schlatter answers, then amends, "Oh wait a second. How's this one — sphygmomanometer? It's that blood pressure cuff. And I didn't even need spell check for it."
On Diagnosis Murder, Schlatter had the opportunity to work with TV legend Dick Van Dyke.
"Working with Dick Van Dyke was one of the greatest experiences in my life," he says. "By far, the most talented, inspirational, gracious human beings I have ever had the pleasure of sharing a scene with. He was always so great to me and so great to my wife and children."
Family, Health, Nutrition
Between all of his acting projects and being a busy dad, Schlatter still finds time for good nutrition — or at least his wife does.
"I have to admit as far as nutrition goes, my wife is the one who always makes sure the kids and I eat healthy," he says. "She cooks some pretty unbelievable meals for us and always has fresh fruits and vegetables on hand."
For Schlatter, good health and USANA go hand in hand. His go-to products are USANA Probiotic, Nutrimeal, and Usanimals.
"My kids' nutrition is so important to my wife and me," he says. "We are proud of the healthy choices they make on a daily basis."
He jokingly adds, "But that does not go to say we don't ever have fast food or insane amounts of ice cream."
An Abundant Life
Coach Kick must be doing something right. His daughters are in more dance classes than he can count and his son, who plays sports all year round, just won the Presidential Fitness Award.
Schlatter is in the middle of several developments, both animated and live action. He also just appeared in a Hallmark Hall of Fame movie.
Charlie Schlatter is grateful for the abundant life he has lived so far.
"I never know what tomorrow will bring, but I will say I'm ready for it," he says. "I just try to live every day in the moment and enjoy as much of this God given life as possible."
*The mentioned celebrity is either a distributor or dedicated user who has received compensation for his/her partnership and/or complimentary USANA products.
We're proud to bring you the freshest content on the web! Follow USANA on Twitter, like our USANA Facebook page and enjoy the latest videos on the official USANA YouTube channel.
https://whatsupusana.com/wp-content/uploads/2012/04/Charlie-Headshot-Blog.jpg
600
400
Angie Larsen
http://whatsupusana.com/wp-content/uploads/2019/11/USANA_Logo_Black.png
Angie Larsen
2012-04-19 08:04:23
2017-02-22 12:57:22
Influencer Insider: Animated Actor Charlie Schlatter