USANA Fuels 2012 Texas Water Safari Paddlers, Captains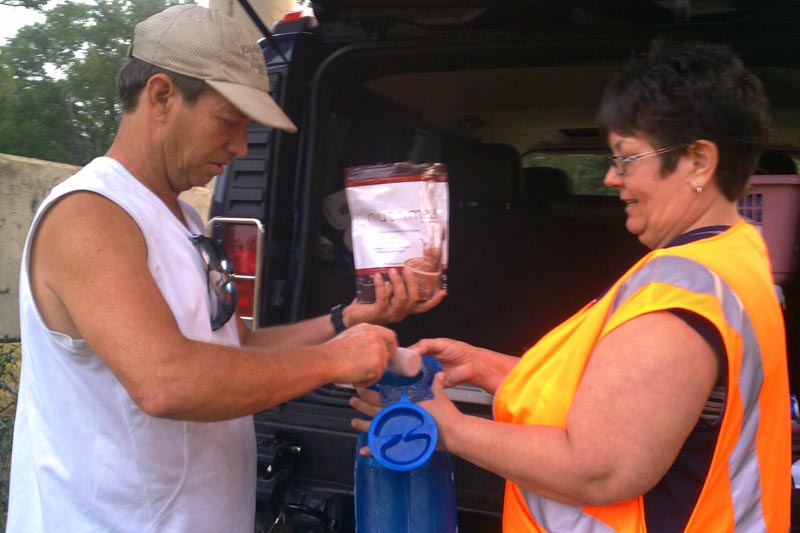 Three words: Texas Water Safari.
Longtime readers of What's Up, USANA? might recognize those seemingly innocuous words — and understand they are anything but innocent.
Also known as the "World's Toughest Boat Race," the Texas Water Safari tests the fitness, stamina, and sheer mettle of anyone who competes.
Perhaps you followed Phil Bowden's Safari saga in 2010. If not, we suggest you take a look.
He's back for another go at the 50th Annual Texas Water Safari, a 260-mile race set for June 9.
In preparation for the grueling event, Phil participated in last Saturday's Texas River Marathon.
By his side on the bank crew for the sweltering 39-mile race were USANA Associates Gwen Burnell and Marty Nelson.
"I got off to a rough start," Phil wrote in an e-mail to What's Up, USANA? this week. "There were 122 boats in a small river. I was a bit taken aback by how fast my competitors were. After a couple of hours I started gaining and moved up to second."
Phil, who's been racing for more than 30 years, ultimately finished 14th overall and second in the solo unlimited division. He qualified to start near the front of the pack for next month's Texas Water Safari.
"Thank God for Marty and Gwen," Phil wrote. "They took good care of me."
It was the first time as boat captain for Gwen, who's been part of Phil's crew previously. She recruited Marty, a dear friend and USANA cross-line Associate, to assist in the difficult endeavor.
"We met to study maps on where the race would start and where the drop-off locations were in between," Gwen said. "Keep in mind, we are talking about finding a bridge in the middle of nowhere and locating the road that will take you from the highway to under the bridge."
And that's only one small slice of what's in store for the crew during the "World's Toughest Boat Race."
Here are some photos Gwen took from last Saturday's race. We wish the entire Phil Bowden Team the best in the Texas Water Safari next month!
We're proud to bring you the freshest content on the web! Follow USANA on Twitter, like our USANA Facebook page and enjoy the latest videos on the official USANA YouTube channel.
https://whatsupusana.com/wp-content/uploads/2012/05/Phil_Gwen.jpg
533
800
Tim Haran
http://whatsupusana.com/wp-content/uploads/2019/11/USANA_Logo_Black.png
Tim Haran
2012-05-10 14:29:00
2017-09-11 08:56:05
USANA Fuels 2012 Texas Water Safari Paddlers, Captains