USANA @ 20: Asia-Pacific & Europe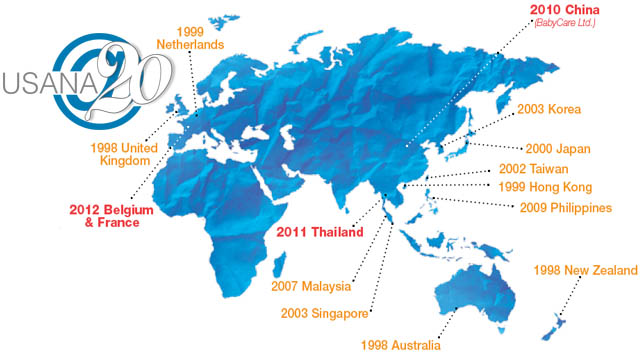 Every brilliant idea has to start somewhere. Dr. Wentz just happened to start his in Salt Lake City, Utah.
What began as a small operation with big dreams turned into an international company with accomplished goals and ever-growing plans.
Dr. Wentz' vision of global health domination began to materialize in 1998 with the first overseas market openings in the United Kingdom, Australia, and New Zealand. Soon, more and more markets opened in Asia Pacific and Europe: Netherlands (1999), Hong Kong (1999), Japan (2000), Taiwan (2002), Korea (2003), Singapore (2003), Malaysia (2007), Philippines (2009), and China (2010).
The newest markets in Thailand (2011) and Belgium and France (2012) have solidified USANA's commitment to spreading true health and true wealth worldwide.
There's no doubt one of the primary reasons for USANA's 20 years of success is due to these international markets.
Exponential growth in Asia Pacific continues to be a driving force for market openings — most recently in Thailand. And steady growth in Europe is the primary reason for opening Belgium and France this year — along with Preferred Customer status in six European Union countries.
Celebrating You
Maybe you think that the main reason USANA is so intent on global expansion is because we want to share true health with the world. And that's definitely part of it. But the only way USANA has been able to open in Europe and Asia-Pacific markets is because of you. Even if you live domestically, you have international influence. You're the reason. So we celebrate you.
USANA's highest-ranking Associate, 11-Star Diamond Director Rita Hui, has been instrumental in building in Asia Pacific, and Emerald Director Justin Morris has done the same to nurture a growing European market. Of course there are many, many more U.S., Canada, and México Associates who also look overseas when expanding their businesses.
With all of the momentum building in Asia Pacific and Europe, who knows where USANA's next market will be located? (Our International Development team might know. But they keep all that info hush-hush.)
According to…
"USANA is in a wonderful position internationally. The economy has been struggling and people are asking what they can do to determine their own future. What a great time to find a product that can support your health and a business that can fit your goals and interests. We see governments looking at direct selling as a source of job creation, and country borders are dissolving as common regulations are being crafted. Major population centers continue to diversify so anyone can find international connections within their own language and culture."
— Alan Bergstrom, USANA Vice President of Europe and Customer Service
You Might Not Know…
USANA's presence internationally is huge, particularly in the Asia Pacific region. You might not know — but it shouldn't come as a surprise — that nearly 500 of the Associates who rank Ruby Director or higher are in the Asia Pacific and Europe markets. That's a lot — and their numbers continue to grow at a fast pace!
It Happened in '10
USANA had many announcements at the 2010 Asia-Pacific Convention: the launch of Sensé™ Blanc Balance for Hong Kong, Japan, Taiwan, Malaysia, Singapore, Australia, and New Zealand; the launch of USANA Calming Tea for Hong Kong and Taiwan markets; and the intent to open a market in China. And later in 2010, USANA followed through, acquiring BabyCare Ltd., a direct selling company in China.
——————–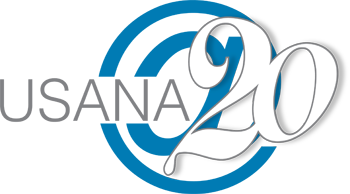 About the Series: We're celebrating USANA's 20th anniversary with USANA @ 20, a series featuring difference-makers — not only individuals, but departments, products, and more — who have had a significant impact on USANA and are poised to propel us into the future. We hope you enjoy learning more about just a few of the reasons USANA is, and will continue to be, a world-class company. To learn more about this series and to read previous installments, please visit USANA @ 20.
https://whatsupusana.com/wp-content/uploads/2012/08/Asia-Pacific-Europe-Featured.jpg
360
640
Missy Bird
http://whatsupusana.com/wp-content/uploads/2019/11/USANA_Logo_Black.png
Missy Bird
2012-08-06 07:45:46
2012-08-05 18:38:14
USANA @ 20: Asia-Pacific & Europe