Ask USANA's CEO: What's Your Biggest Fear?
Have you ever had a question that you've wanted to ask the CEO of USANA? Well, now is your chance! I'll be answering your questions once a month right here on What's Up, USANA? Ask your question in the comment section, and your question might just get answered next month!
Q: I'm just wondering what was your biggest fear and how did you push out of your comfort zone? —Cheryl Valach
A: Th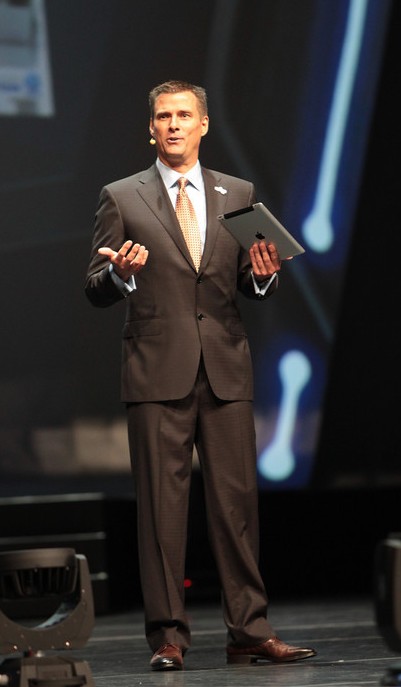 ank you for your question, Cheryl. I have to say that my biggest fear was, and can even still be at times, public speaking. I know this sounds odd coming from a CEO who spends a large majority of his time speaking to large groups of people — just think about International Convention and how many people were there — but I have never been comfortable talking in front of people. I go skydiving, I jump from helicopters when I go skiing, I participate in a bunch of extreme sports, and yet it's speaking in front of crowds that strikes fear in my heart.
We even have a clip of me at one of USANA's first Conventions where my father brought me up on stage to introduce me, and I was off the stage in less than three seconds. That's how uncomfortable I was. I've even gone to extreme measures to help overcome my fear. I've had energy work, taken anxiety medication, went to a therapist, run prior to speaking to build up my endorphins. Believe me, I've tried absolutely everything.
With most things, the first time is the worst — doing something new can be very scary. The way I overcame this great fear is that I told people I was going to speak at a specific event and committed to it. This public statement created the accountability I needed to do everything to prepare. Going forward, the one thing that continues to help me the most is practice. I just keep getting up there and doing the best I can, and I've found that the more I speak, the more I practice, and the more I learn from my mistakes, the better I become.
I like to think that one of the great things about USANA is that we help people confront their fears and grow both personally and professionally, which is a huge benefit of doing the business. It's all about breaking through your own limitations and doing what you never thought you could.
So my advice to you is to make a commitment, tell the world and go for it. The more you put yourself out there, the more you will grow, and the greater the legacy you will leave to your loved ones!
*Do you have a question for Dave? Ask! Post a comment asking Dave your question, and once a month, he'll post a blog answering those questions!
We're proud to bring you the freshest content on the web! Follow USANA on Twitter, like our USANA Facebook page and enjoy the latest videos on the official USANA YouTube channel.

Learn what USANA is doing to make the world a better place.
Discover what USANA products can do to boost your health today by taking this brief online Health Assessment.
https://whatsupusana.com/wp-content/uploads/2012/09/B40C9989-XL-e1348842446924.jpg
350
624
Dave Wentz
http://whatsupusana.com/wp-content/uploads/2019/11/USANA_Logo_Black.png
Dave Wentz
2012-09-28 08:00:17
2017-03-10 10:26:37
Ask USANA's CEO: What's Your Biggest Fear?