Scientifically Speaking: The How & Why of USANA Product Development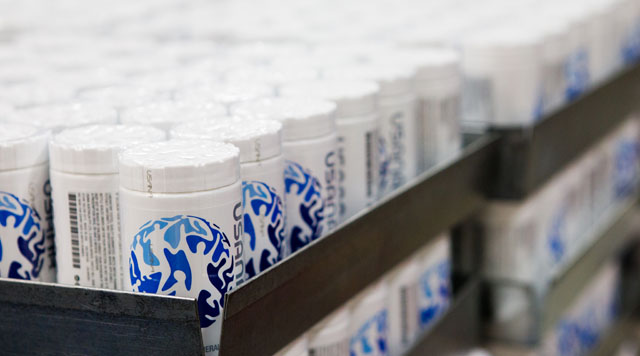 Confession time: Even though I've taken over the writing duties for Scientifically Speaking these days, I'm not actually a scientist. There, I said it. Whew … feels good to get that off my chest!
Here's the thing though — you can still trust me, I swear. I'm constantly interviewing the cool people around the Home Office to get the inside scoop and uncover the facts, making sure you get the best stories. That's what inspired this month's Scientifically Speaking — an interesting conversation I had with Mark Brown, director of product development. He's been with USANA for eight years now, so the dude knows his stuff.
Mark and I discussed a lot of different USANA subjects, but what I found most interesting was the topic of our products — how our current line came to be, why we don't create certain products, and how different products work together to provide the very best health benefits for our customers.
It All Starts with the Essentials
We all know that the USANA® Essentials™ are the foundation for health, but did you know they're also the foundation for the rest of our Optimizers? The research and development team assumes that any good USANA customer is taking the Essentials on a regular basis, and that means any potentially new Optimizer has to complement that formula.
The Essentials have different amounts of specific nutrients, and the scientists have to be sure the new product won't cause an unsafe overlap of any of these nutrients. So if a new product was going to give you an overload of any vitamin or mineral not intended to be taken at excessive amounts, it's not going to fit in our product line.
The Decision Makers
Starting in late 2012, the scientists decided it was time to involve the whole company in the decision-making process of creating new products. A new product development committee was formed that included employees from multiple departments. It was a smart decision, because now when product ideas are proposed, they're submitted in short form to the committee that works as a cross-functional team to accept or reject the idea.
With all opinions coming together, they're able to foresee any roadblocks that might arise. For example, one of Mark's main responsibilities is analyzing where we could purchase ingredients and making sure those ingredients meet our high-quality standards. Sometimes he'll run into a situation where the idea behind a potential product sounds great, but the logistics of purchasing specific ingredients don't make sense. Other times, someone from regulatory might voice a legal concern about the product or ingredient.
Another reason this review process is so important is because the committee is able to work with the research and development team to determine if the product works well with our existing line. When the idea for USANA's Probiotic was proposed, the fact that it would work hand in hand with Fibergy® Plus to promote healthier digestion played a huge factor in the decision-making process.
What the Future Holds
As always, I tried my best to get Mark to slip up and spill some secrets about future products, but he stood his ground, only hinting at what's to come. With USANA's seven-year plan in full swing, there are major initiatives coming up that will keep USANA on the forefront of the health and wellness industries.
Excited? You should be! After my conversation with Mark, I had a whole new understanding of how our current line of products came to be and what's involved with creating any new products that might show up in the future. And with this knowledge, I'm assured we're only interested in creating the finest products possible.
We're proud to bring you the freshest content on the web! Follow USANA on Twitter, like our USANA Facebook page and enjoy the latest videos on the official USANA YouTube channel.

Learn what USANA is doing to make the world a better place.
The future of personalized health and nutrition is now available with USANA's True Health Assessment.
https://whatsupusana.com/wp-content/uploads/2013/04/USANA-Products-Featured.jpg
356
640
Nick Peterson
http://whatsupusana.com/wp-content/uploads/2019/11/USANA_Logo_Black.png
Nick Peterson
2013-04-19 08:05:15
2017-02-23 08:11:55
Scientifically Speaking: The How & Why of USANA Product Development