Powered by USANA: Elizabeth Pasquale Sets Race Walking Record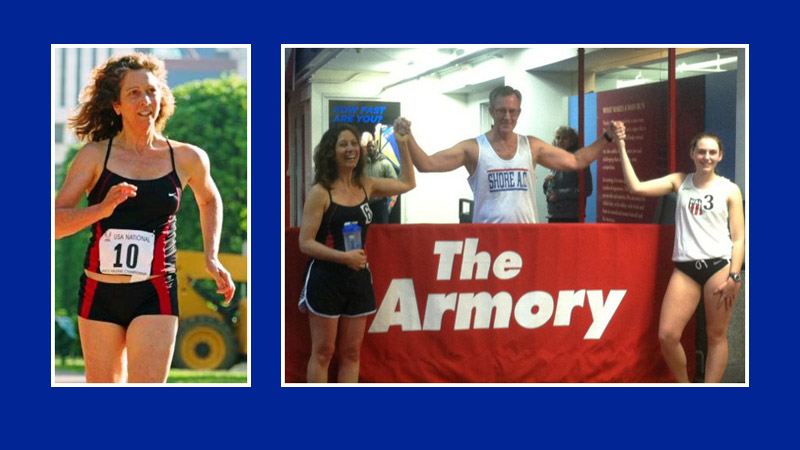 February proved to be a record-breaking month for Elizabeth Pasquale, a competitive race walker from New York.
Elizabeth, 61, set a new USA Track & Field National Masters Record on Feb. 28 in the one-mile race walk at the 2014 USATF New York Open & Masters Indoor Track & Field Championships in New York City. Her 9:25.20 time shattered the previous record in the 60- to 64-year-old women's division by nearly five minutes.
Were it not for technical glitches at two previous events, Elizabeth would hold even more records. Earlier in the month in New Haven, Conn., she initially broke the record for the one-mile race walk and a week later in Tom's River, N.J. she set a new standard in that event and broke the record for the 3,000-meter event as well.
"The officiating was not quite correct for those, so the 3,000-meter record isn't official," she says.
No matter. Elizabeth shouldn't have a problem duplicating her 3,000-meter time (17:13) at an upcoming race.
Being first to the finish line isn't the only concern for race walkers. The sport is judged to ensure competitors follow specific race guidelines, which include having one foot on the ground at all times.
Elizabeth started race walking in the early 1990s and even qualified for the Olympic Trials, having at one time race-walked a 5K in just under 23 minutes. She craves the feeling she gets when racing.
"I think I might be addicted to the racing high," Elizabeth says. "I catch the waves of energy and everything just feels good and right. I want to keep competing in one more race to experience that feeling again."
It wasn't always that way. Health issues and the inability to recover adequately between races forced her to hang up her race-walking shoes until 2006. That's when she discovered USANA and began experiencing the benefits.
"Without USANA I most likely wouldn't even compete," Elizabeth says.
In 2010 she took part in an expedition to climb to Mount Everest Base Camp, and in 2011 with a renewed energy, she started race-walking again. "I'm in a lot better shape now," she thought to herself at the time. "I want to see what I can do."
Three years later, she's setting records and "improving my times by minutes" every season, she says.
Part of that is due to her USANA regimen, which includes the Essentials™, Procosa, BiOmega™ and Proflavanol® C100. She also is a firm believer in Chocolate Whey Nutrimeal™ ("the only thing I will eat on race day") and isn't without her pre-race Rev3 Energy® drink.
Eight years after joining USANA, Elizabeth remains passionate about her sport.
"The race walk is really underappreciated," she says. "If you love running but it's too hard on your knees, try race walking. It's low impact and you can go as fast or as slow as you want to go. Just keep moving."
That's what Elizabeth will be doing. Her next goal is to match her 5K times posted three decades ago. And you shouldn't be surprised to hear that she's not too far away from achieving it.
*These statements have not been evaluated by the Food and Drug Administration. This product is not intended to diagnose, treat, cure, or prevent any disease.

We're proud to bring you the freshest content on the web! Follow USANA on Twitter, like our USANA Facebook page and enjoy the latest videos on the official USANA YouTube channel.

Learn what USANA is doing to make the world a better place.
The future of personalized health and nutrition is now available with USANA's True Health Assessment.
View Tim Haran's profile
https://whatsupusana.com/wp-content/uploads/2014/03/Elizabeth-Pasquale-USANA-Featured.jpg
450
800
Tim Haran
http://whatsupusana.com/wp-content/uploads/2019/11/USANA_Logo_Black.png
Tim Haran
2014-03-12 08:00:53
2017-09-11 08:36:11
Powered by USANA: Elizabeth Pasquale Sets Race Walking Record