Infographic: The Glycemic Index Explained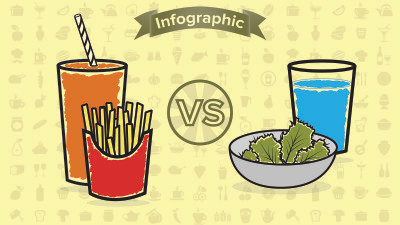 There are a lot of diets out there: low fat, low carb, vegetarian, Mediterranean, Paleo, and a whole bunch more. It can be difficult to know which one is actually best for you.
But no matter how you choose to eat, it can also help to look at the glycemic index of your foods.
Foods with a high glycemic index, such as white bread and sugar, can cause your blood sugar to spike, only to have it crash down later.
And the last thing you want when you're trying to eat healthy is to feel your blood sugar drop so you're left craving more high-glycemic foods.
During a typical day at work, would you rather be on a steady road to productivity or a roller coaster that leaves you drained and unfocused? That's the difference between low-glycemic and high-glycemic meals.
The infographic below, designed by USANA's own Taylor Romney, illustrates the reasons for these effects.
It also offers some tips for making your meals more low glycemic. With a few simple replacements, you'll have a more stable blood sugar, which could help you fight off unhealthy cravings.
If you learned something from this infographic, share it with your friends on Facebook, Twitter, and Pinterest. Especially if you know someone who is totally dependent on bagels for breakfast!
Share this Image On Your Site
Learn more by visiting whatsupusana.com
We're proud to bring you the freshest content on the web! Follow USANA on Twitter, like our USANA Facebook page and enjoy the latest videos on the official USANA YouTube channel.

Learn what USANA is doing to make the world a better place.
The future of personalized health and nutrition is now available with USANA's True Health Assessment.
https://whatsupusana.com/wp-content/uploads/2014/06/Index-Featured-Image-01.jpg
900
1600
Emily Alaniz
http://whatsupusana.com/wp-content/uploads/2019/11/USANA_Logo_Black.png
Emily Alaniz
2014-06-16 08:00:23
2016-04-19 10:13:44
Infographic: The Glycemic Index Explained