6 Steps to Summer Skin Health
It's summertime, so that means it's time for boating, swimming, hiking, laying by the pool, and other fun outdoor activities. It also means it's time to think about the effects of sun to our skin. Though Vitamin D is great for us, too much of those UV rays can do a lot of damage.
I learned this the hard way. When I was a teenager, I wanted a tan more than anything. I used to "lay out" for hours on end hoping for that beautiful glow, but all I got were ugly blotches of red, plus horrible burns.
In my life, I have been scorched so badly by the sun that sheets of skin have actually peeled off me for days. That can't be a good thing, right?
It isn't.
According to the Skin Cancer Foundation, the most common form of cancer is to the skin. More than 3.5 million skin cancers are diagnosed each year in the U.S. — more than breast, prostate, lung and colon cancer combined!
These are daunting statistics, but the great thing is, you can prevent skin cancer! And even if you were a naive teenager like me — who didn't take the necessary precautions in your youth — you can still treat cancer if you diagnose it early enough.
So, what's the best way protect our skin from damaging rays?
1. Cover up! No, you don't need put on a snowsuit, but do throw on some light clothing that covers up your skin. Wear a cute sun hat and sunglasses — not only will you be trendy, but also protected.
2. Don't go tanning. Beaches and tanning salons are filled with people trying to get darker skin. I've heard so many men and women say they feel healthier when they lay out in the sun or in a tanning bed, but they don't understand the risk. The truth is, radiation from either the sun or a tanning bed is deadly!
Oncologists now believe [tanning beds] are to blame for the alarming spike among young women in lethal melanoma cases — the second most common cancer in adults under 30. — Women'sHealthMag.com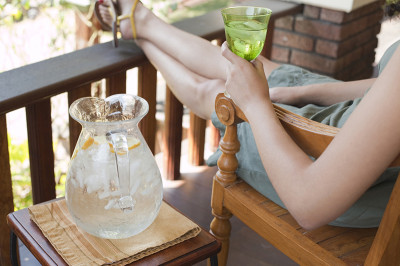 If you must have a tan, there are great self-tanners on the market. They don't turn your skin orange like they used to and provide a natural radiance to your appearance.
3. Stay out of the sun, especially during peak hours, which are from 10 a.m. to 4 p.m. Instead, spend some time in the shade drinking some ice cold water or refreshing Rev3.
4. Use a good sunscreen. If you'll be outdoors for long periods of time, be sure to lob on a Sun Protection Factor (SPF) of 30 (I go for 45+ since I'm fair-skinned) at least 30 minutes prior to going outside (remember: 30 + 30). Also, be sure to reapply after a couple hours or immediately after swimming or excessive sweating.
Sense's Daytime Protective Emulsion has an SPF 15 built right in, and if used as directed with other skin protection measures (see directions for use), decreases the risk of skin cancer and early skin aging caused by the sun. I also recommend purchasing a good foundation containing sunscreen.
5. Examine your skin every month, especially if you have fair skin or moles. If you see a mole change color or shape, be sure to see a doctor right away. Here are some great things to look for when inspecting your skin: http://www.skincancer.org/skin-cancer-information
6. See your doctor each year. When you go in for a physical, have him or her check your skin, too. Your doctor will know what signs to look for to help treat or prevent any issues.
Your skin is the largest organ on your body, so take care of it. And please take these important measures to protect it. If you fail to, you'll age much faster and could have a lot more to contend with than just wrinkly skin.
We're proud to bring you the freshest content on the web! Follow USANA on Twitter, like our USANA Facebook page and enjoy the latest videos on the official USANA YouTube channel.

Learn what USANA is doing to make the world a better place.
The future of personalized health and nutrition is now available with USANA's True Health Assessment.
https://whatsupusana.com/wp-content/uploads/2014/06/USANA-Inside-Beauty-Summer-Skin-Health-Featured.jpg
450
800
Misty Dangel
http://whatsupusana.com/wp-content/uploads/2019/11/USANA_Logo_Black.png
Misty Dangel
2014-06-23 08:00:27
2014-06-23 08:02:33
6 Steps to Summer Skin Health