USANA Green Videos: Going Green is Smart
Introducing New USANA Green Video Vignettes
For years I have fought a nagging feeling that I should bike to work.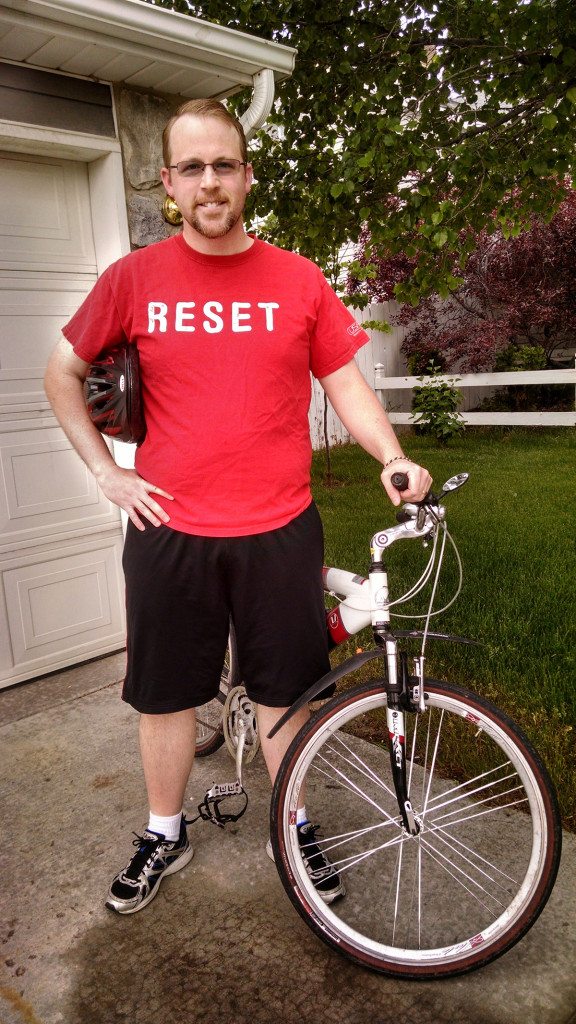 Fuel prices, a desire to help with Salt Lake's fragile air quality, some alarming banging sounds from my car, and an even more alarming report from my bathroom scale were convincing me it was time to "go green" and bike to work.
"Unfortunately," I told myself, "going green is hard. Biking is dangerous. It takes too long to get to and from work. And there is an insane 3.5-mile hill that goes straight up on the way home.
"Nope, going green is too hard. I'll just keep sipping my milkshake, dropping $20 bills into the gas pump, and ignoring the banging sounds. And I'll pretend I'm not adding to our air pollution."
Going For It
A few weeks ago, my wife stepped in. We were reviewing our budget and I suggested we should use some savings to finally stop the banging sound under the car.
Her response was to very sweetly and optimistically say, "Well, maybe you could bike to work instead, like you've always talked about doing."
I suspect she also wanted to save on gas and milkshakes.
So the next morning, I pumped up my bike tires, attached my helmet, and prepared myself for pain. Forty arduous minutes later, I was at work enjoying a well-deserved shower. (By the way, USANA is cool; we have showers at work.)
Oddly enough, despite my saddle-soreness and pessimism, the day went remarkably well. My focus at work was better. I was more optimistic and calm than normal. I got more done than I normally did.
I felt some satisfaction from reducing air pollution, but really, that was just one small part of it. At the end of the day, I was on enough of a high that the one hour and 40 minute torture ride home wasn't enough to dissuade me from biking again the next day.
After a couple of days, I started noticing other benefits:
My vitamin D levels were going up
I was sleeping better at night.
I was beginning to sport a good-looking tan.
I always wore ironed shirts (because there is no way to avoid the need to iron a shirt that has been stuffed in a backpack for 40 minutes).
I was catching up on some of the General Conference talks I had been meaning to listen to.
I was noticing meadowlarks singing on the way in and sunlight streaming through the trees on the way home.
And by the end of last week, I was getting up that stupid 3.5 mile hill in under an hour.
Many people believe that "going green" is hard. It is just too much effort for not enough payback. Furthermore, "going green" is something that only really passionate people do.
But really, green is smart. Green is about choosing behaviors that make your life and the lives of others around you better. For me, going green means all of the benefits I get from biking to work.
Develop 'Green' Habits
Green means different things for different people, but some solutions like the ones we show in the videos on our new USANA Green YouTube playlist apply to nearly everyone.
[youtube]https://www.youtube.com/watch?v=cXB27dy1lkQ&index=2&list=PLM8ZVFQ3_uk9Zvwt-A4ZyzS9Gpfx7X5HM[/youtube]
Visit the USANA Green playlist on YouTube
Saving energy, water, and other resources can make just as much of a difference in your life as they do in mine. And it isn't nearly as hard as you might think, even with a 3.5 mile hill to climb. I promise.
We're proud to bring you the freshest content on the web! Follow USANA on Twitter, like our USANA Facebook page and enjoy the latest videos on the official USANA YouTube channel.

Learn what USANA is doing to make the world a better place.
The future of personalized health and nutrition is now available with USANA's True Health Assessment.
https://whatsupusana.com/wp-content/uploads/2014/06/Going-Green-01.jpg
900
1600
Jeff Robertson
http://whatsupusana.com/wp-content/uploads/2019/11/USANA_Logo_Black.png
Jeff Robertson
2014-06-05 08:00:35
2014-06-06 09:23:54
USANA Green Videos: Going Green is Smart