From the USANA Test Kitchen: Minestrone Under Pressure
Fall has arrived here in Utah, which means it's time to start transitioning to foods that are cozy and warming. While my slow cooker has already been out of the pantry a couple of times, I am most excited to use one of my other favorite kitchen appliances (second only to my KitchenAid mixer) – my pressure cooker.
Pressure cookers have a bad reputation. People are convinced that they're dangerous and they're going to blow up! There's also this idea that food cooked in pressure cookers is not as healthy. Well, let's debunk those two myths right now.
Pressure cookers, both stovetop/cooktop and electric, are safe to use. The temperature is easily regulated and they are no more dangerous than any other appliance.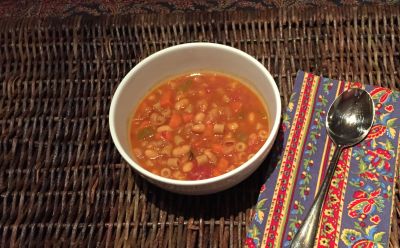 As for the health benefits, did you know that foods cooked in the pressure cooker retain over 90% of their nutrients. Yes, that's right. What do you think about that?!
I recently purchased the cookbook Hip Pressure Cooking, by Laura D. A. Pazzaglia. I've been a fan of Laura's website for quite a while now (www.hippressurecooking.com) and I was excited to get this cookbook. Now, I am newly inspired and ready to cook all of my meals with my pressure cooker. (Note: that is only a slight exaggeration.)
Here's the first recipe I tried from Hip Pressure Cooking. Let me tell you – absolutely delicious!
Classic Pasta and Legume Minestrone
Ingredients
1 fresh sage sprig
1 tablespoon olive oil
1 yellow onion, chopped
1 carrot, chopped
1 celery stock, chopped
1 fresh rosemary sprig
1 bay leaf
4 cups salt-free vegetable stock
1 1/2 cups chopped ripe tomatoes or one 14.5 ounce can
1 cup dried borlotti or cannellini beans, soaked, rinsed and drained
1 cup ditalini pasta or other small shape pasta
2 teaspoons salt
1/2 teaspoon freshly ground pepper
Directions
1. Remove a few leaves from the sage sprig, set aside.
2. Heat oil in the pressure cooker, put in onion, carrot, celery, rosemary, sage sprig, and bay leaf.
3. Sauté about 5 min, until the onion softens.
4. Pour in stock, tomatoes, and beans.
5. Close and lock the lid.
6. Cook at high pressure for 15 minutes stovetop or 16 to 20 minutes electric.
7. Open with the natural release method.
8. Return to high heat and bring to a boil.
9. Add pasta, cook according to instructions on package.
10. Drizzle with extra virgin olive oil, if desired.
11. Sprinkle grated cheese & sage leaves, if desired.
Cooking Note
I did not write a very good grocery list before I made this, so I did not buy sage or rosemary. I substituted oregano and thyme, which worked great.
Your Turn
My Mom cooked regularly with a pressure cooker when I was growing up, so I have been around pressure cookers a long time. They are easy to use, and the results are always so delicious. I cannot wait to use mine more this fall and winter. Our schedule is only getting busier as the holidays approach, and having a way to cook healthy meals in a relatively short amount of time will ensure my family keeps eating healthy year round.
I want to hear from you: do you use a pressure cooker? If so, what is your favorite recipe (or two)?
Happy cooking!
We're proud to bring you the freshest content on the web! Follow USANA on Twitter, like our USANA Facebook page and enjoy the latest videos on the official USANA YouTube channel.

Learn what USANA is doing to make the world a better place.
The future of personalized health and nutrition is now available with USANA's True Health Assessment.
https://whatsupusana.com/wp-content/uploads/2014/11/Pressure-Cooker.jpg
378
671
Lisa Kuftinec
http://whatsupusana.com/wp-content/uploads/2019/11/USANA_Logo_Black.png
Lisa Kuftinec
2014-11-13 08:00:14
2014-11-10 15:12:35
From the USANA Test Kitchen: Minestrone Under Pressure