Fact or Fiction: I'm Immune to Colder Weather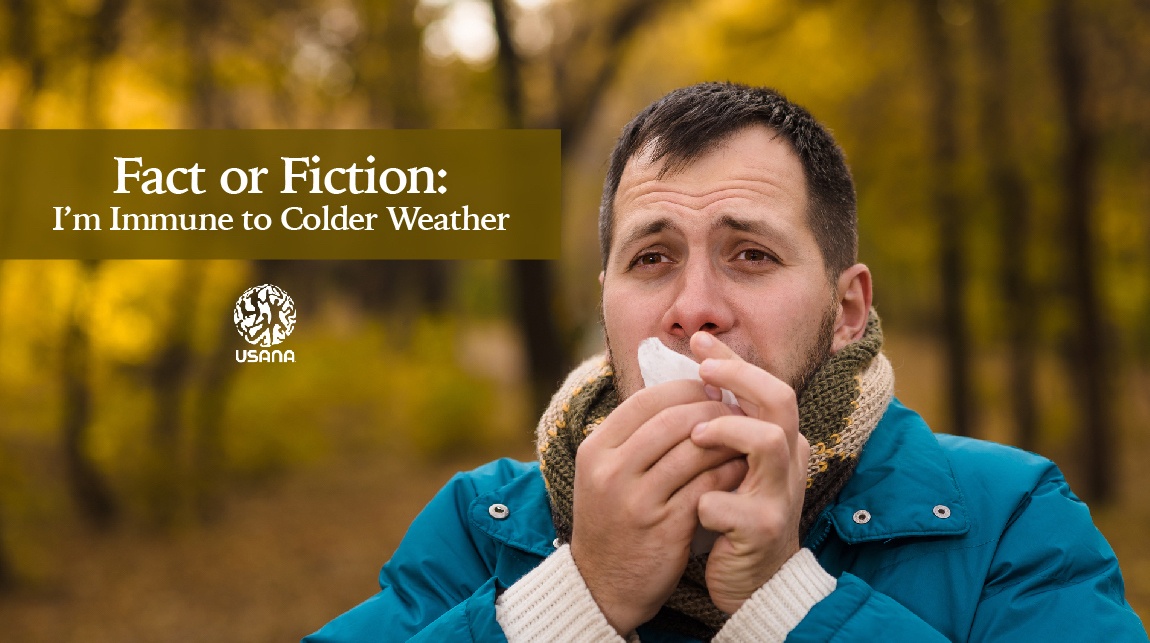 Immune to Colder Weather? You're not Superman.
I love fall. Of the three and a half seasons we have in Utah, fall is by far my favorite. What do I love about it, you ask? Football. The leaves changing color. Football. My favorite holidays. Football. And, probably the best thing about the fall season, cooler weather.
But with the colder weather it is important to keep your immune system healthy. While I'm sure you all wash your hands often and cover your mouth and nose with a tissue when you sneeze, you can't control other people. Here are a couple things you can do to better build up a healthy immune system.
Proper Nutrition and Exercise
Certain foods are shown to help your immune system, which is why proper nutrition is so important. And, for the same reason proper nutrition helps bolster your immune system, it's been shown that eating well can help you feel better. You need proper nutrition.
A great way to do that is to eat foods that are in season. Fall fruits and vegetables include apples, corn, pumpkin, butternut, and root vegetables, just to name a few, and many of these foods are high in vitamin C.
Along with proper nutrition, it's been shown that regular, moderately intense exercise can also help your immune system adapt to stresses.
And while you're eating right and exercising, make sure to stay hydrated. Proper hydration helps your kidneys do their thing, like flushing waste, converting vitamin D3, to the active form, and so much more.
Boost Your Immune System
Even when you're trying your hardest to get all your necessary nutrients in your diet, oftentimes we fall short of that. I know I do. Because of this, supplementation can help pick up the

slack, and USANA has three products that might help support a healthy immune system.
The zinc and the USANA InCelligence Technology™ Beta-Glucan Complex—a combination of reishi and shiitake mushroom powders and baker's yeast extract—in Proglucamune™ immune support supplement can help support healthy immunity, adaptation to mild occasional stress, and general well-being. USANA® Vitamin D supplement is an easy way to get maximum-strength vitamin D to support cellular health, and Booster C 600™ helps to deliver a potent antioxidant defense with USANA's proprietary Poly C® vitamin C blend.*
Make sure, along with bundling up for seasonal weather, you're taking the right steps to build up your own natural defense. Because if the Denver Broncos have taught me anything, it's that the key is having a great defense.
*These statements have not been evaluated by the Food and Drug Administration. This product is not intended to diagnose, treat, cure, or prevent any disease.
We're proud to bring you the freshest content on the web! Follow USANA on Twitter, like our USANA Facebook page and enjoy the latest videos on the official USANA YouTube channel.

Learn what USANA is doing to make the world a better place.
The future of personalized health and nutrition is now available with USANA's True Health Assessment.
https://whatsupusana.com/wp-content/uploads/2016/10/Cold_Feature_Image_16x9_72ppi-copy.jpg
643
1150
Scott Pack
http://whatsupusana.com/wp-content/uploads/2019/11/USANA_Logo_Black.png
Scott Pack
2016-10-17 04:00:30
2016-10-14 15:48:32
Fact or Fiction: I'm Immune to Colder Weather