10 St. Patrick's Day Green Tea Recipes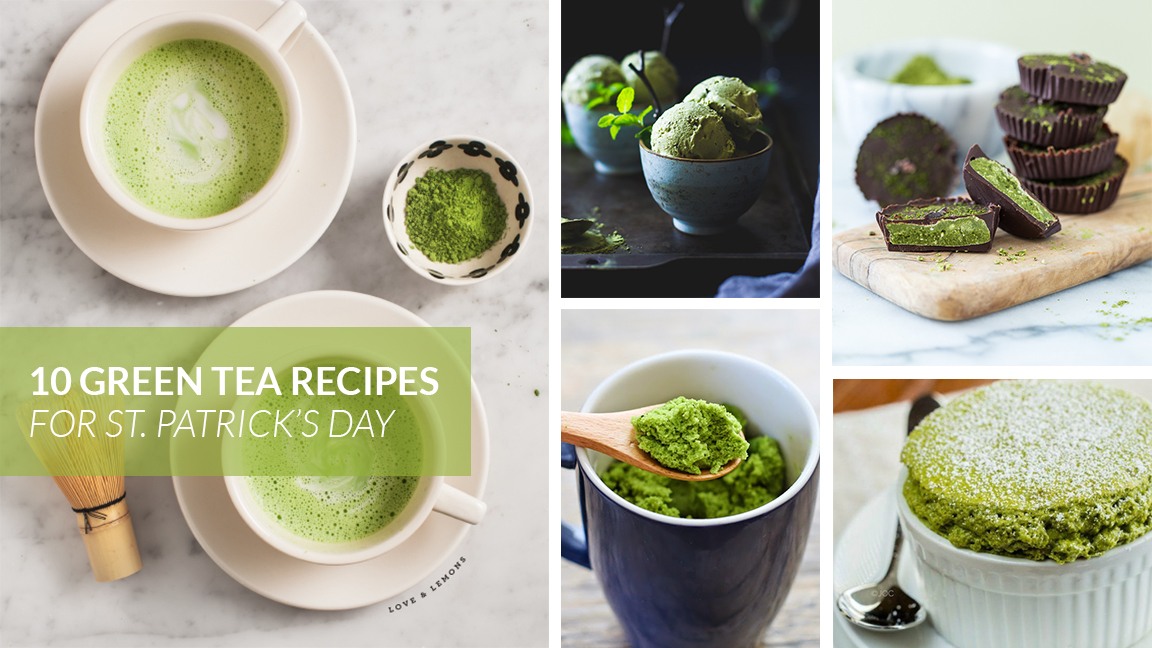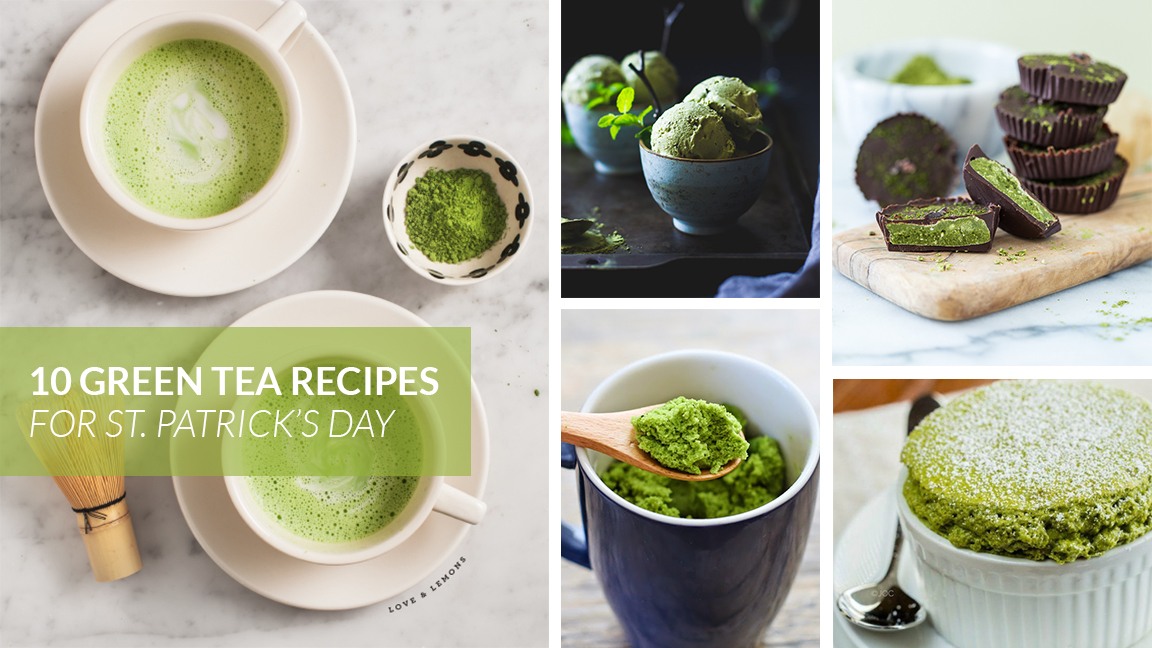 St. Patrick's Day means scouring the Web for "green" recipes. Cabbage, mint and spinach are go-to ingredients for all your green-food needs. But if you follow the health trends, you know that matcha, or green tea powder, is a healthy and relatively new ingredient to incorporate into your recipes.
I have an affinity for green food, and Matcha has a natural green color. It pretty much has the power to make everything look beautiful and tasty. Plus, matcha also has plenty of health benefits. And the rich catechins in its powder form make it one of the highest concentrated and most powerful antioxidants. Also, it's good to your skin!
So I picked my top 10 favorite matcha recipes for you. Let's see which one is your favorite!
Looking for some low fat, antioxidant filled, high protein snacks for your St. Patrick's Day party? The green matcha muffins are your best choice!
Green is the color for spring, so it's time to try green drinks! This simple, healthy drink has mint and lime, and it looks so beautiful and fresh! I can't wait to try it.
I love green tea ice creams from grocery stores, but I worry about the calories. Homemade ice cream is surprisingly easy to make and much healthier! This recipe combines matcha, fresh mint and chocolate chips to make a silky texture with bright green color. Brilliant!
Interested in making a fancy dessert that can only be found in Japan? This Green Tea Soufflé is a Japanese-style dessert with fluffy texture and light bitter green tea flavor. This link even has a tutorial video!
This Matcha Coconut Latte drink is easy, colorful and super flavorful. It's a great drink to replace your coffee or for anyone who doesn't like tea leaves.
If you haven't tried matcha powder and are wondering if it tastes like "a pile of dead grass," you'd better to start with this recipe—you would be surprised about how matcha matches chocolate perfectly!
Who doesn't love those cute green cookies? They are creamy, crispy and with strong green tea flavor. It's easy to pack, so when you bring them to work as snacks, your colleagues will be jealous.
This smoothie is a flavorful and protein-rich drink that helps you recover from your intense workout. With just green tea powder, a pear, spinach, almond milk and some protein like USANA MySmart™ shake, the best post-workout drink is ready for you!
This is the easiest cake recipe I have ever tried. Beautiful green color, fluffy texture. Yum! The best part of the recipe is that you can make it in one minute with a microwave!
The last but best recipe is here! This creamy, pretty, green tea-flavored cake is a perfect dessert to share with your family. What I really like about this cake is that it can be stored up to four days. For a simpler version, the chocolate and honey are not necessary.
Try One!
I tried the Green Tea Mug Cake and here is my result (I didn't use a mug).
Now it's your turn!
Pick your favorite matcha recipe and try it out! Upload the results in our comments and you might be featured on the USANA Facebook page.
https://whatsupusana.com/wp-content/uploads/2017/03/Green__Tea_Recipes_Feature_16x9.jpg
648
1152
Yulin Yin
http://whatsupusana.com/wp-content/uploads/2019/11/USANA_Logo_Black.png
Yulin Yin
2017-03-16 18:00:50
2017-03-17 07:44:52
10 St. Patrick's Day Green Tea Recipes