What Makes USANA MySmart™Foods So Smart?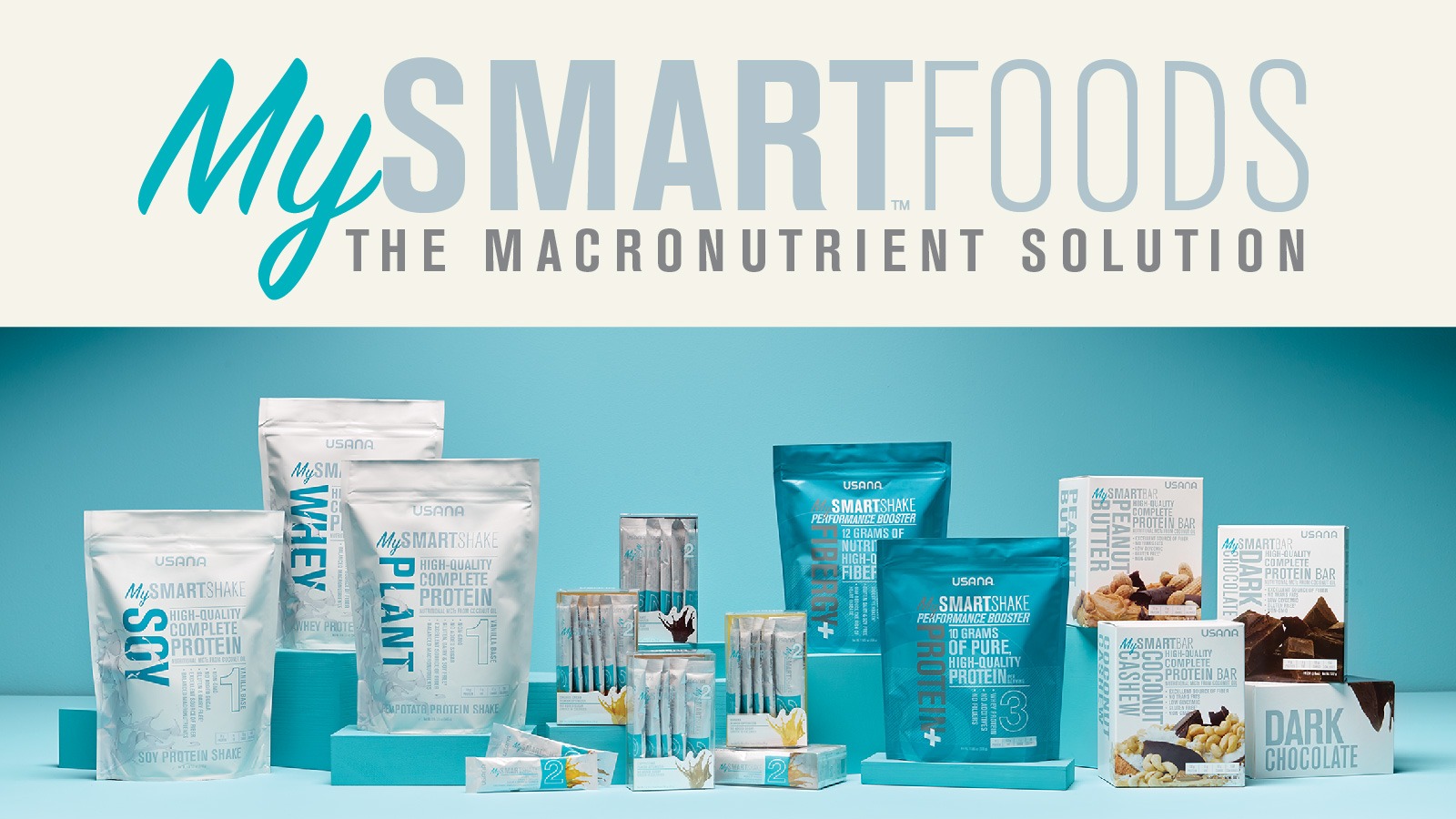 Food keeps you alive. The right food helps you thrive.
But with so many options, choosing the right foods can be difficult. What if the smartest choice was the easiest one to make?
Now it is.
USANA MySmart Protein Shake Base and MySmart™Bars are the delicious, wholesome choices that fit perfectly into your life. And you can start making the smart choice today.
What Makes Them So Smart?
MySmartFoods spring from a foundation of solid science.
They have simple ingredients derived from natural sources—the kind you can actually pronounce and understand.
And these ingredients create a beneficial balance of macronutrients—carbohydrates, proteins, and beneficial fats—with minimal sugar.
These great shakes and bars were formulated with essential macronutrients and fewer carbs to bring balance to the modern carbohydrate-heavy diet.
Adding one shake a day to your diet—taken with the USANA® Essentials™—provides the essential macro- and micro-nutrition to support your health goals.
Shaking Up Your Routine
You deserve a shake that fits your body's needs and tickles you taste buds, too. Because sometimes it's a peach mango kind of day and other times you just need some dark chocolate in your life.
MySmart Protein Shake Base are designed to deliver just that—personalization made easy. That's because you can choose from:
Three protein bases with a mild vanilla flavor—sourced from plant, soy, or whey
Add a booster, like USANA MySmart Whey Base—our new whey protein optimizer
Mix in fruit, greens, your favorite healthy ingredients or other USANA products—like USANA® Probiotic
MySmartFoods are customizable enough to work with your dietary needs and support your goals—wherever you are on your journey to optimal health.
And the best part—you really can't go wrong. Anyway you shake it, you're making the smart choice. (See what I did there?)
We're proud to bring you the freshest content on the web! Follow USANA on Twitter, like our USANA Facebook page and enjoy the latest videos on the official USANA YouTube channel.

Learn what USANA is doing to make the world a better place.
The future of personalized health and nutrition is now available with USANA's True Health Assessment.
https://whatsupusana.com/wp-content/uploads/2015/08/MySmart-featured-image.jpg
900
1600
David Baker
http://whatsupusana.com/wp-content/uploads/2019/11/USANA_Logo_Black.png
David Baker
2016-06-10 11:33:53
2019-05-22 13:05:35
What Makes USANA MySmart™Foods So Smart?