Cash rules everything around you. Sometimes even the most frugal of financiers need some help keeping track of their spending and bills.
I know I could definitely use some help from time to time. I would be lying if I said I haven't at least thought about buying a new pair of Jordan's or Adidas over feeding myself or paying bills.
Lucky for us, there are tons of budgeting apps on that market that are dedicated to providing you with savings plans to keep your moolah in check.
I will go over the top four apps I found during my research. And will give you all you need to know when deciding which one to choose.
Mint (iOS & Android)
From the brilliant minds that created TurboTax® and QuickBooks, comes the most popular, free budgeting app, Mint.
Mint brings your bank accounts, credit cards, bills, and investments together to provide you with all your budgeting needs in one beautifully convenient app.
Because Mint is synched up to your bank account, it can alert you to unusual changes. It even gives you tips if you are spending too much. It has all the information it needs so it can be as intuitive as possible to creating the best budget plan for you.
Mint is probably the most comprehensive budget app on the market. It does so much more than just keeping track of your spending. Saving money from having your bills, debts, investments, and accounts all in place makes you feel like a modern day John D Rockefeller.
Goodbudget (iOS & Android)
Goodbudget is a money managing app and spending tracker that's perfect for the at-home accountant.
The app keeps all your financial activities organized. You can easily keep track of what you are spending and what your outlook is.
Goodbudget is best for those just starting to get into the cold, harsh reality of paying bills.
Goodbudget is an update on the old envelopes system of budgeting. For those unfamiliar with the envelopes system, it is when you have cash allocated into different envelopes for different categories of spending. This allows you to see how much you are spending in certain areas. And know when you've spent too much on one thing.
Goodbudget has digital "envelopes" for each category of spending so you can keep track and know when it's time to stop spending.
The app is free but doesn't have all the bells and whistles that come with Mint.
Mvelopes (iOS & Android)
As you can tell from the title, Mvelopes is similar to Goodbudget because it uses the envelope system of budgeting to keep track of your spending.
Mvelopes differs from Goodbudget because it allows you to integrate your financial accounts into the app, which allows for a more concise spending outlook.
While most of its features are free, Mvelopes offers paid content that allows you to sync an unlimited amount of accounts to the app, create more than 25 envelopes, and a debt management tool. The paid option will run you almost $100/year.
Mvelopes is a more comprehensive app than Goodbudget, but both are great for easy tracking of your spending. Especially if you are a young professional or self-employed.
My only gripe with Mvelopes is the name. Is it "MMM-velopes?" "Em-velopes?" I need answers!
These are the things that keep me up at night.
Wally (iOS & Android)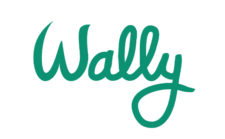 For a more expenses-focused budgeting app, look no further than Wally.
The free app is an interactive way to manage your cheddar and all the expenses in your life. This one is also great for those who are self-employed or anyone who needs to keep good track of receipts and payments.
With Wally,  you can either manually enter or take a photo of a receipt and upload it to the app to keep track of spending. It also takes advantage of the location services on your phone and can figure out what restaurant or store you are at.
Wally can also alert you to bills that are due and help keep you on track towards your budgetary goals.
Give These New Budgeting Apps a Try
Budgeting isn't always fun or easy, but these budgeting apps are all helpful in your pursuit of financial bliss. They are all beautifully designed. And the bright, happy colors can at least detract from the mundane nature of pouring over your finances.
Hopefully, this is a good guide to helping you find what budgeting app would be perfect for you. And since they are all free, you can give them all a try and see which are best for you.
https://whatsupusana.com/wp-content/uploads/2017/09/Budget_App_Feature_16x9-1.png
648
1152
Steve Kostrencich
http://whatsupusana.com/wp-content/uploads/2019/11/USANA_Logo_Black.png
Steve Kostrencich
2017-09-07 07:00:27
2019-06-12 13:17:56
Top 4 Budgeting Apps