Save the Date for Europe Market Expansion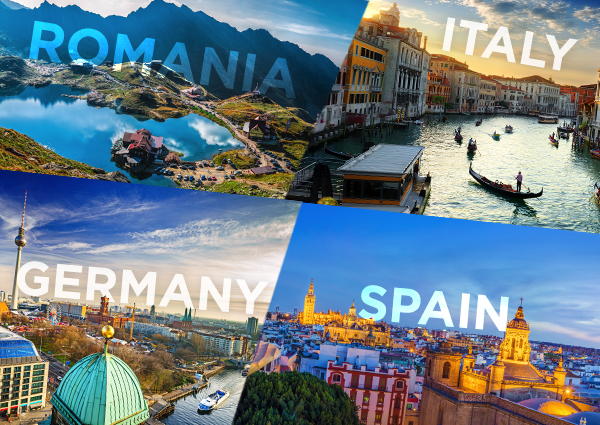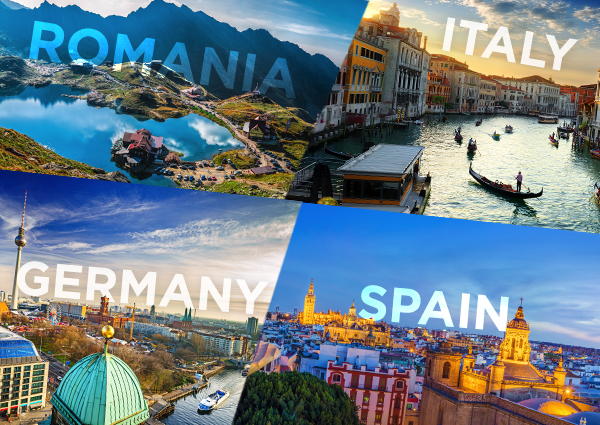 As previously announced, USANA is preparing to welcome Romania, Italy, Germany, and Spain to the USANA family. In a What's Up, USANA? post following last year's International Convention, we said these markets would open in mid-2018, but now it's time to get more specific than that.
These markets will officially open on June 20, 2018.
Romania
Romania is one of the fastest growing economies in Europe, and USANA will give even more growth opportunities to its entrepreneurial population. Additionally, a high number of Romanian-born Independent Distributors are already building leadership in USANA in other parts of the world and are excited to begin efforts back home.
"This is a once-in-a-lifetime opportunity. The Romanian market is a mature market, so the entrance of a global company like USANA doesn't happen every day. Now is the time to take advantage and act upon this opportunity to improve your lifestyle and your health—both from a physical and financial point of view.
"He who wakes up in the morning goes a long way! (Romanian equivalent of the early bird gets the worm)."
– Liviu Irimia, Director of Field Development, Romania
Follow USANA Romania to stay up to date on market-specific news and announcements.
Italy
Because direct selling is a mature industry in Italy, having grown 4.7 percent over the past three years, Italy will join USANA as the 12th-largest direct selling market in the world. Combine that with the fourth-largest economy in Europe, and you have a market with immense potential.
"Amazing things and incredible possibilities are in front of us. USANA is offering a unique opportunity in the Italian market: products of outstanding quality and a very solid company with a fresh and innovative strategy."
"I am personally very proud and thrilled to be part of the USANA family.
"Let's rock Italy together!"
– Raffaella Orlandi, Director of Field Development, Italy
For market-specific details, follow USANA Italy on Facebook.
Germany
Germany touts the fourth-largest direct selling industry in the world, and, like Italy, direct selling has seen great growth in Germany over the past few years. It is also the largest economy in Europe, has the largest population, and ranks as one of the top 10 most health-conscious countries in the world. This all makes Germany and USANA a perfect fit.
"I am delighted to be part of this exciting market opening, and I am firmly convinced that it will be enormously rewarding for both sides."
"USANA can look forward to extremely health-conscious, purposeful, and ambitious customers and Distributors from one of the strongest direct selling markets in the world. Germans can look forward to outstanding and unique products for their health as well as an excellent, sustainable business opportunity with a strong partner."
– Tobias Nitzsche, Director of Field Development, Germany
Check out the market Facebook page for more information about USANA Germany.
Spain
Spain also has an established direct selling industry, and opening this market presents a great opportunity for USANA—driven both in-country and by Spanish-speaking Distributors in the Americas. The country has the 14th-largest by nominal gross domestic product (GDP) in the world, the 30th-largest population, and a very healthy tourism industry as the third-most visited country in the world.
"USANA comes to Spain bringing over 25 years of success within the industry, providing unique nutritional supplements, a brand new skincare line, and the perfect business opportunity. I'm looking forward to helping people in Spain get to know one of the best companies and take the unique chance to become amongst the first group of entrepreneurs to develop business in the country."
-Ignacio Escobar, Director of Field Development, Spain
Follow USANA Spain to stay up to date on market-specific news and announcements.
We are excited to welcome these four new markets to the USANA family. Read more about this market expansion and join us in the countdown to June 20.
https://whatsupusana.com/wp-content/uploads/2018/04/a_module.jpg
425
600
Scott Pack
http://whatsupusana.com/wp-content/uploads/2019/11/USANA_Logo_Black.png
Scott Pack
2018-04-05 09:00:48
2018-04-05 11:49:42
Save the Date for Europe Market Expansion