Summer Living—5 Trends for a Happy and Healthy You
If you hop on Instagram, you're going to find all kinds of tasty summer trends taking over your news feed. (Think avocado toast and nice cream recipes)
And you may have even seen some fishy trends. Seriously—mermaids are pretty big right now. Last year was all things unicorns, but now Ariel's swimming into the scene, thanks to a wave of mermaid fitness classes and new Little Mermaid movies in production.
Fin-tastic workouts aside, here are five fresh summer trends worth checking out. Get ready to enjoy a healthy and fun season in the sun.
1. Visit the Farmer's Market
If you live in the city, summertime means the Farmer's Market is back in town.
Here are some of the delicious benefits of shopping at the Farmer's Market
Fresh from the farm– How often have you purchased strawberries at the grocery store only to have them go bad in two days? I sure have. Most produce you find in stores are several days old before they even hit the shelves. But with farmer's market produce, chances are they picked that plump peach that very morning. Mmm.
Organically grown– You can enjoy peace of mind with each crisp bite of that apple. This is because most farmers who participate in farmer's markets use organic and non-GMO methods to grow their produce.
Supports local farmers– Buying produce at a farmer's market gives local farmers the opportunity to keep their farms in business. You'll make their whole day when you obsess over their fresh produce.
It's really just a lot of fun– Not only do you get to cart home fresh fruits and veggies, but going to the farmer's market can be a fun, social experience. Go with some friends, or take time to browse the local arts and crafts booths. You may end up going home with a jar of homemade apricot jam or some handcrafted jewelry.
Tastes amazing– Enough said.
2: Don't Pass Up on ClassPass
This is probably the most flexible fitness membership you'll ever find, and it's quickly becoming popular in larger cities. When you have a membership with ClassPass you literally have access to all kinds of workout classes and studios nearby. There's everything from rock-climbing and cycling, to barre and boxing.
Each month, you pay for however many classes a month you'd like. From there you can cherry-pick from thousands of classes which ones you'd like to attend. It's a great way to get out of a fitness rut and try your hand at something new without paying a pretty penny. Plus, they offer a free trial period if you're on the fence.
I actually just signed up for ClassPass myself a few weeks ago and it's been so much fun to try out new studios and classes around Salt Lake City. So far, I've only dabbled in yoga, but I've gone to a serene candlelight yoga class, as well a few hot yoga classes. (I was definitely a hot mess after those ones.) I'm even trying a yoga class with live guitar later this week.
3: Get Real on Instagram
Have you ever felt like you were drowning in a sea of everyone's best-filtered photos when you were browsing through your Instagram? That's because you probably were.
But there's been a shift. In fact, more than ever in the past year, users are changing the way they express themselves on Instagram by being more authentic and genuine with their content.
This is even true with influencers and models who have thousands and even millions of followers. They are finding that they actually connect better with their audience when they are being more real. Gone are the days of total perfectionism and placing your best filtered-foot forward. Frankly, perfect is boring and folks are more interested in real, unfiltered truth.
Show the Real Story
Instagram stories have made it even easier to document day-to-day realness. So why not show off that burnt pan of lasagna that made you laugh? Let everyone see your frizzy humidity hair and the pearls of sweat dripping down your face when you visit the Taj Mahal in India. Post a pic of your messy house that never stays clean. (Since you have rambunctious kids and you're actually human.) Others will be able to relate.
The cool thing about this is that it gives you permission to really be true to yourself. Be uniquely you on your social media and love it! You've got a lot goin' for you, so express the real you.
And when you fall in love with your flaw-some self, the rest of the world will too.
4: #Hashtag This
If you love scrolling through Instagram, there's some interesting hashtags to check out. Going back to yoga, just for fun, look up #asana. Yogi's worldwide are posting pics of their favorite yoga poses while they travel. You'll find stunning pictures of yogis doing Warrior One, Dancer Pose, and handstands on the beach, on mountaintops, and even in window sills.
This is definitely a fun hashtag you could try out on your next summer vacay.
Here's a handful of other entertaining hashtags to check out:
#eatyourgreens–You'll never see food look so alluring and artistic.
#weinerdog–If you weren't obsessed before, get ready to fall in love.
#bookaholic–Think beautiful books displayed in beautiful places. The book nerd in me drooled over this one.
#catsofinstagram–Meow.
For all the fitness lovers out there, here's a list of popular hashtags that are worth checking out. This can help you feel connected to a community of other fitness-minded people.
#fitspiration
#letsmove
#movenourishbelieve
#workout
#fitfam
5: You Don't Have to Live in L.A. to Try Out Gluten-Free
This has actually been a trend for quite a while, but it's one that's still quite popular.
For starters, what is gluten anyway?
In a nutshell, gluten is a type of protein that is typically found in foods like certain grains, pastas, cereals, and wheat. Basically, gluten acts like a glue to help foods maintain their shape or elasticity. It's what gives bread that chewy, satisfying texture and also gives bread the ability to rise when baking.
So Why Is Gluten Free So Popular?
A gluten-free way of eating mainly came about as a solution for those who have Celiac disease or gluten sensitivity and have a hard time digesting foods made with gluten. However, many people are choosing to go gluten free, simply because gluten is typically found in many unhealthy processed foods. This includes desserts high in sugar and fat as well as fried foods.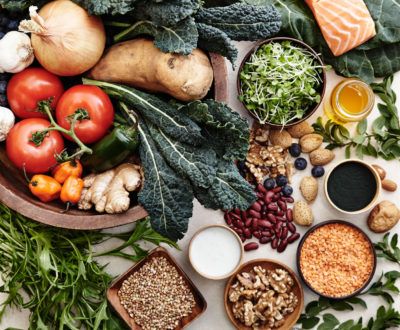 Instead of eating processed foods, those who tout the gluten-free lifestyle choose some of these healthy alternatives:
quinoa
gluten-free flours
rice
buckwheat
fresh fruits and veggies
lean meats
Going gluten free can certainly be healthy if you are choosing healthy alternatives and you maintain a well-balanced diet that contains plenty of protein, carbohydrates, and fat. However, be aware that not all "gluten-free" processed foods you'll find on the grocery store shelves are necessarily healthy. Instead of gluten, they may be packed with other unhealthy gluten-free varieties. The takeaway? Pay careful attention to food labels.
Try This Recipe for Gluten-Free Goodness
If you're interested in eating more gluten-free meals, there are so many delicious and healthy options that make gluten free anything but boring. For your next Taco Tuesday, try out this scrumptious summer recipe by my friend Brielle (aka the Gluten-Free Queen) for Gluten-Free Fish Tacos with Cilantro Lime Sauce.
These mouthwatering tacos pack a punch with plenty of colorful veggies, charred tortillas with a hint of a smoky flavor, and a tangy and dreamy sauce that will have you dying for seconds.
Being Healthy Is Always in Trend
Enjoying a fun and healthy lifestyle doesn't have to just be a summer trend. Choose your favorites and make healthy habits that last all year round.
Looking for other ways to improve your overall lifestyle? Subscribe to WhatsUpUsana.com for regular content on how you can live a balanced, healthy, and happy life.
And don't forget to sign up for the mermaid classes. #LifePriorities.
https://whatsupusana.com/wp-content/uploads/2018/05/toni-cuenca-391183-unsplash.jpg
3840
5760
Matt Jaggi
http://whatsupusana.com/wp-content/uploads/2019/11/USANA_Logo_Black.png
Matt Jaggi
2018-05-10 20:47:46
2018-05-16 10:13:48
Summer Living—5 Trends for a Happy and Healthy You