#USANAGives Back With World Service Week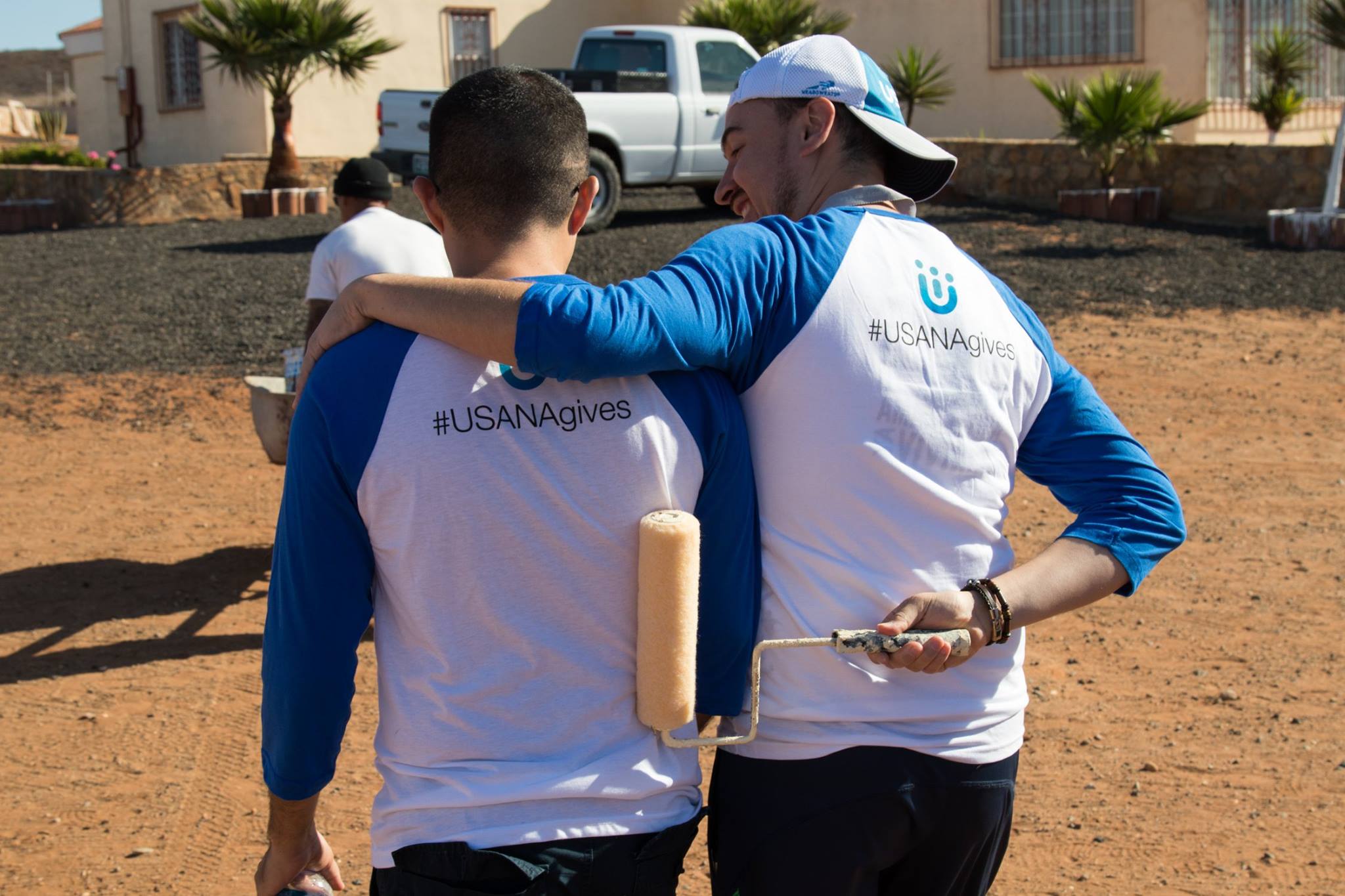 When it comes to serving others, kindness knows no limits and no borders.
It's this way of thinking that made World Service Week with the USANA True Health Foundation so meaningful. It was our moment to share the gift of compassion with so many others around the world.
And this year, the USANA family definitely gave back in many thoughtful ways.
Helping out a Tiny Tim
What is the price of a smile?
This is the question that Alton Thacker had when he decided to start Tiny Tim's Foundation for Kids in 1996. He understood the power of a child's imagination, and he had a dream to bring a smile to as many children's faces as possible. This is why he created his Foundation to provide toys to children around the world.
The Salt Lake City based charity now delivers handmade wooden cars every year to children around the globe. Recently, they built their first one millionth toy.
For several USANA employees, World Service Week was the perfect opportunity to give back to children by spending an afternoon assembling toy cars at Tiny Tim's.
"Big things can happen in small ways," says USANA employee Ben Raskin about his experience. "The time we spent at Tiny Tim's workshop was a fun opportunity to help those children who are less fortunate. We wanted to help in the effort to make sure every kid in the world can get a toy."
Kortney Young, another USANA employee at the Home Office, also enjoyed her time volunteering. "It's crazy to think we're helping close the gap of 500 million children who don't have toys each year. What a special experience."
Packing More Than Meals
Other USANA employees spent their day volunteering at the Utah Food Bank.
Employees split into groups to separate canned food donations and organize them into boxes. They will be donated to families in need around the state. For the individuals and families receiving the food, it's more than just a meal. It's kindness shown when it's needed most. It provides hope.
"What a touching and interesting experience," recalls USANA employee Jestina Van Dyken. "I was so impressed by how much we were able to accomplish in such a short time. I wish we could have stayed longer and I would love to bring my daughter soon to help out as well!"
USANA employees weren't the only ones to volunteer at the Food Bank—it was a teamwork event. US Snowboarder and bronze medalist Alex Deibold and US Freestyle skier and silver medalist Devin Logan also showed up to help sort the food.
It feels good to know that our USANA athletes are such excellent team players both on and off the slopes.
Rolling Up Goodness
Who doesn't love a good burrito?
Seriously. It's cheesy, delicious goodness wrapped in a tortilla.
This is precisely why USANA's management team rolled up their sleeves to roll some burritos with the Burrito Project.
The Burrito Project is a group of volunteers who meet up to roll fresh, hot burritos to feed the hungry and homeless in downtown Salt Lake City.
It's a heartwarming (and belly filling) initiative to help the many people living on the streets who don't know where their next meal will come from.
For USANA Vice President of Communications Amy Haran, the experience was about more than just rolling a burrito.
"It's easy to hurry past people who are at the lowest places in their lives," she says. "You can feel helpless or intimidated in the face of large-scale problems. But by taking a few minutes to look someone in the eyes, smile, offer food or words of encouragement, you're reminded that the smallest act of kindness can make someone's day brighter. I love that USANA cares enough to encourage all of us to get out and give back like this."
Painting a Difference
Even though the sun was blazing and it was a hot 93 degrees Fahrenheit outside, one group of USANA employees spent their afternoon painting 17 fire hydrants for the Sandy Fire Station in Utah.
The group's sweat and sacrifice was well worth the heat. These freshly painted, bright red fire hydrants make it easier for fire fighters to quickly spot in an emergency, whether it's day or night.
"We made sad fire hydrants smile again," says USANA employee Kulawee Watanabe.
Helping Humanity
It wasn't just USANA Athletes and employees who lent a helping hand for World Service Week. Thousands of Associates from every corner of the globe pitched in to make a lasting difference.
Here's just a few of the many ways the USANA family chose to give back:
Caring For Orphans
In Indonesia, USANA Associates and staff members from the USANA office gathered together to volunteer at the Yayasan Mizan Amanah humanitarian charity foundation.
Here, volunteers told stories, sang, colored pictures, and played with 25 orphans.
It was a special experience and Associates even distributed Usanimals™ and spent time talking to the kids about the importance of nutrition. They also gave out fun goodie bags containing snacks and stationary.
To wrap up the event, volunteers provided 70 meals for the orphans and crew. The meal was provided to help break their fast for the Holy Ramadan month since the majority of the orphans are Muslim. The group all enjoyed a nice iftar together (the evening meal with which Muslims end their daily Ramadan fast at sunset), further creating a strong bond among everyone.
Food From the Heart
Our USANA Singapore family certainly know how to touch other's lives. One large group of Associate volunteers came together to assemble food packs. The food was then personally delivered by the group to elderly individuals in need of a meal.
Those who received the meals were truly touched by the kindness shown by this group of do-gooders.
Creating a Clean Environment
There's nothing quite like watching a gorgeous sunset at the beach. And thanks to Associates and USANA staff in Taiwan, the view from the beach in north Taiwan is even more impressive now.
For World Service Week, our volunteers spent the day cleaning out all the trash from the entire beach.
It was a lot of work, but the end results are awe-inspiring. Thanks to our Taiwan family for taking the time to beautify the beach!
Donating Meals for Those In Need
The Food Angel Community Center is a food rescue and assistance program. They have a special mission—"Waste not, hunger not, with love."
In Hong Kong, Associates and employees co-hosted an event with Food Angel to help raise food for those in need in the community. For an entire week, volunteers donated food items to be distributed to the elderly and those in need.
At the end of the week a total of 1,800 boxes of meals were donated!
It's safe to say that all of our volunteers in Hong Kong became food angels for those who truly needed it.
Changing Lives in Rwanda
In Rwanda, Brian Paul, President of the True Health Foundation, Dan Macuga, Chief Communications Officer, and Associate volunteers gave back in several different ways for the Foundation.
The group helped facilitate the opening of a new Dr. Wentz Medical Center in Rwanda. The center is dedicated to providing food and education services to women and children in need.
But that wasn't all.
Our volunteers spoke at a local high school, teaching teenagers business and life skills so they can get ahead in life, despite coming from tough backgrounds.
They also helped repaint a local church that was the site of a massacre during the Rwandan genocide. This building represents a memorial to those who lost their lives due to violence and now stands as a beacon, reminding everyone of the importance of love, kindness, and acceptance.
For Dan, one of the highlights of the trip was volunteering at the Africa New Life Ministries church.
"Another incredible day seeing the work of the USANA True Health Foundation in action," he said. "Kids at this school are sponsored for only $39 a month! Can you imagine how far your money can go helping these kids out? They are so happy, have huge smiles but, most importantly, they get food and an education to help them further in life. I'm so happy to hear their stories and see their appreciation first hand."
It Feels Good to Do Good
Down under in New Zealand, Associates gathered together to deliver warm blankets, clothing, and food to the Auckland City Mission. Thanks to their kindness, the winter won't feel as cold for those receiving these much-needed gifts.
Another Associate in Auckland, Mon Magtot, took his young son Gabriel and together they spent the day visiting the elderly in the Howick Rest Home. For Mon, it filled him with joy to see his son bringing smiles to the faces of the elderly. "Everyone was dancing, singing, smiling, and laughing," says Mon on his Facebook page. "The place was filled with happy faces."
Why We Give Back
The week was whirlwind of activity and service and all too soon, World Service Week had ended. It was a tremendous success and so many lives (and hearts) were changed.
Ayugi Ntambwe-Kalala, Programs Manager with the True Health Foundation, sums up the overall experience best:
"Two years ago, we sat in a room talking about the best ways to engage the USANA family. After countless conversations, we came to the realization that the power that we have within the USANA family is unique. We have a family of half a million generous and able people, all around the world. From that thought, World Service Week (WSW) was born. Why not use our uniqueness to give back to our communities?"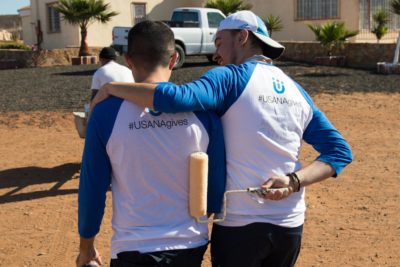 "Fast forward to two years later—we just wrapped up our second annual WSW. Thousands of our USANA family members showed up, gave their all, and served their communities. From Malaysia to Taiwan, the Americas and throughout Europe, and New Zealand and Australia. Our USANA family served the sick, the poor, the homeless, and the hungry, amongst those with other needs. We are so grateful for everyone who gave of themselves and their time. It has been so heartwarming to see all the photos, and we couldn't be more proud, or more grateful for each and every one of you.
The Giving Doesn't Have to End
World Service Week may be over, but the giving doesn't have to end there. Consider making a donation to the True Health Foundation. Visit USANAFoundation.org to make a donation today.
And don't forget to share your service experiences on social media using #USANAgives.
https://whatsupusana.com/wp-content/uploads/2018/06/21992859_1865605876800203_8975246817694462558_o.jpg
1365
2048
Matt Jaggi
http://whatsupusana.com/wp-content/uploads/2019/11/USANA_Logo_Black.png
Matt Jaggi
2018-06-18 06:00:21
2018-06-18 15:51:28
#USANAGives Back With World Service Week