5 Tips for Eating Healthy While Traveling
Whether it's for business, fun, or family, we all pack for travel from time to time. From an overnight trip to that month-long adventure abroad, there's a lot to bring along: bath and beauty products, clothing, chargers, the Kindle/iPad/Switch. But there's one bit of travel prep many people dismiss until it's too late: nutrition. In the hustle and bustle of packing, it's easy to forget about hunger until it strikes.
Instead of perceiving food as just another hassle while on the go, it's time to view nutrition as a tool to help you power through your trip. Let's go over five tips for eating healthy while traveling.
Tip #1: Pack Your Staples / Shop When You Touch Down
When I'm daydreaming about my next vacation, I love to think about all of the delicious, decidedly unhealthy food I'm going to eat. There's nothing wrong with looking forward to extravagant eating, but it's important to balance these out with "staple" nutrition to keep your body in check. Consider the foods you eat often. Which are the healthiest? Bonus points if they don't need to be refrigerated. For me, it's roasted almonds and eggs. Plan a grocery list for your arrival at your destination and buy whatever's reasonable for your accommodations.
Another travel concern is the number of new people, and germs, you'll be coming into contact with. Even if you aren't flying (and especially if you are), give your immune system a boost with a supplement such as Booster C 600™, which uses USANA's propriety Poly C® complex to provide higher levels of vitamin C over time.* There's nothing worse than getting sick on the first day of a sun-kissed cruise.
Tip #2: Enjoy Fresh, Local Cuisine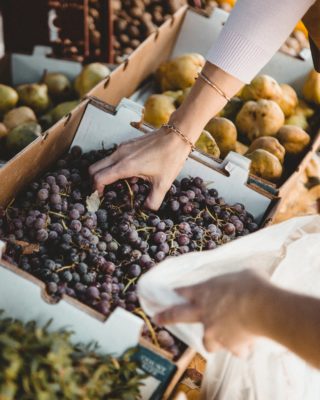 One of the best parts of visiting unfamiliar places is having the opportunity to experience local cuisine. Fruits, vegetables, cheeses, meats, all with their unique local flair. Skip the McDonald's and head to a locally owned restaurant or, if you have the time and accommodations, make a trip to the local farmers market to stock up on fresh ingredients to craft your own meals.
Of course, you're going to be eating and drinking things that are either a little, or a lot, out of the norm. This can mess with your belly's biology, causing uncomfortable temporary bloating or other mild digestive issues. I always pack USANA® Digestive Enzyme to help maintain gut health and, hopefully, prevent the infamous "beached whale" feeling after eating—especially if you happen to be going to the beach!* Even on business, you want to avoid the uneasiness of a rumbling stomach during your workshop.
Tip #3: Split Meals or Order Half Portions
Most trips involve eating out often, which can be a fun break from cooking. And, c'mon, you have to live a little—it's not always about eating healthy while traveling. Many restaurants are notorious for serving larger portions than most would want to eat in one meal. The problem is, biologically speaking, we don't really feel full until 20 to 30 minutes after we eat, which is why it's so easy to overindulge.
There are a few solutions to this problem:
Drink water 10 minutes before the meal. It will help speed up the satiated feeling while eating.
Order a half portion, if available. You might not save a lot of money, but it's better than going overboard.
Split the meal with someone else at the table. Request an extra plate to make sharing easier.
The last tip, and one I use often, is to get a to-go box at the time the food is served. I'll split the meal and commit to only eating the portion on the plate. If I wait to get a box, I'm already two-thirds of the way through the plate and will definitely eat more before the box makes its way to the table.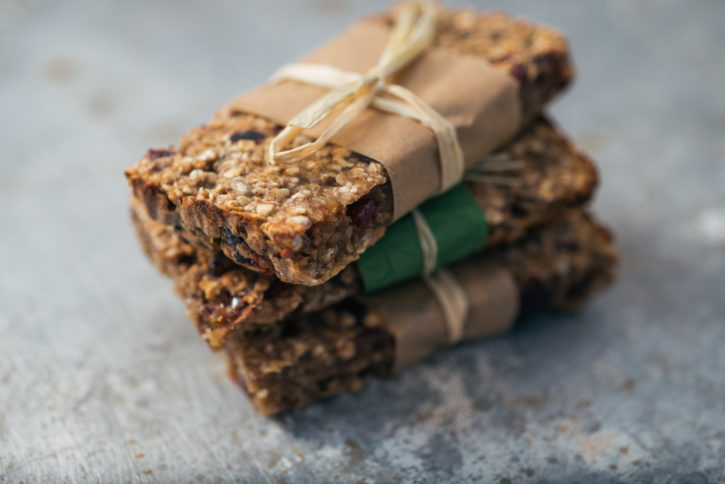 Tip #4: Snack Often
Keep yourself fueled throughout the day and avoid binge eating by snacking on satisfying, high-protein treats. Have plenty of water and a serving of nuts, berries, cheese, or other satisfying, natural foods between meals to keep yourself at the top of your game. If you decide to go for something processed, like jerky, make sure it's the healthy kind.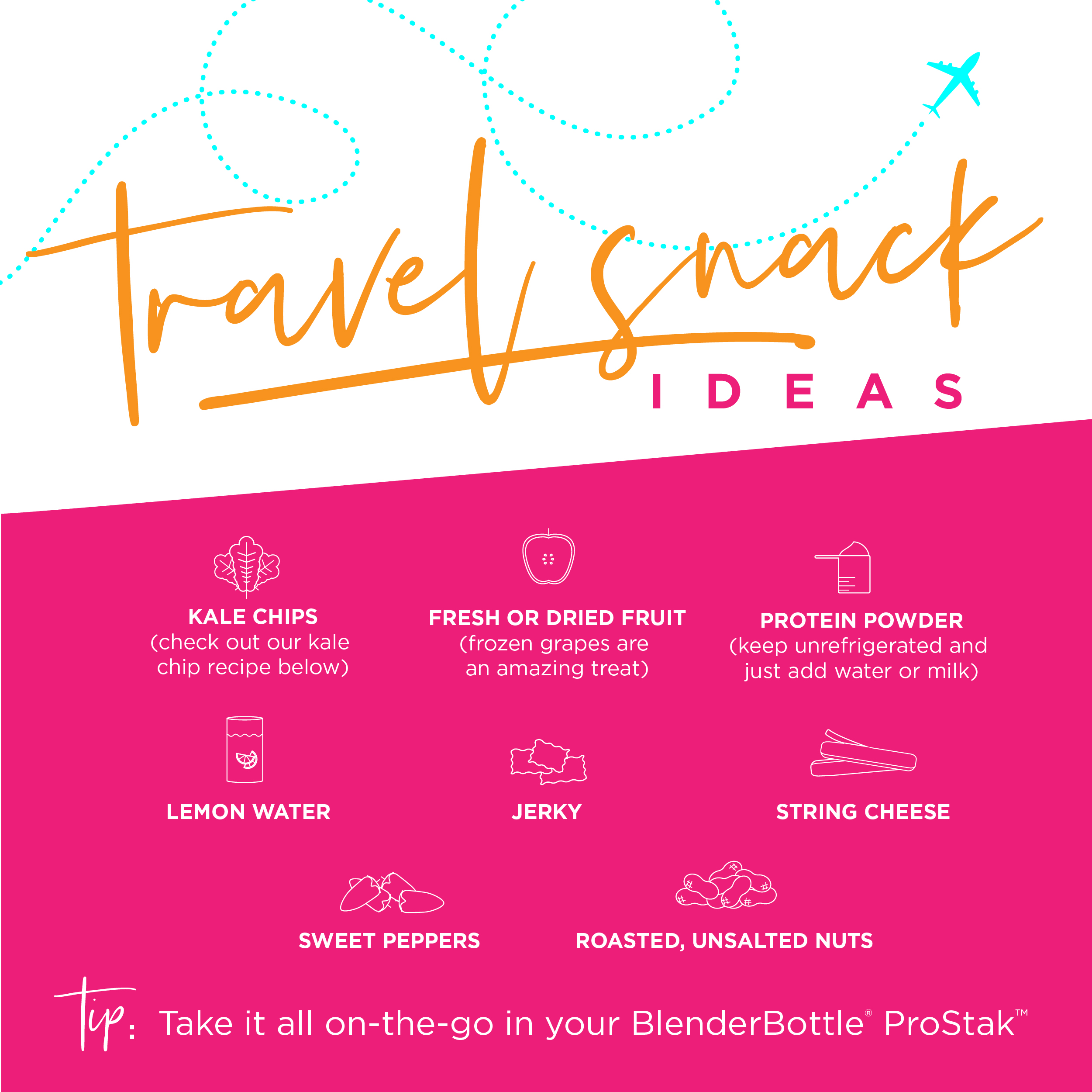 Tip #5: Utilize the Glycemic Index
In a perfect world, your body would recognize it was in "vacation mode" and adjust how it utilizes the food you eat for energy. Since this is definitely not the case, it's important to recognize what kinds of foods will help you thrive while on a trip and which ones will leave you feeling tired and unmotivated. One factor to consider is the glycemic index, which determines how much a particular food will affect blood sugar levels.
Processed foods such as white bread, white rice, soda, and raisins cause a sharp rise, then fall, in blood sugar levels. Other foods, like oats, most fruit, peanuts, and carrots, cause a steadier rise in blood sugar levels, meaning a more consistent level of energy throughout the day. Our very own Matt Jaggi wrote a great article breaking down the dos and don'ts behind the glycemic index.
Bonus Tip: Heading Home
Even the most amazing adventures must come to an end. When it's time to head home, what you eat and drink during your final hours of travel could impact how you get back into your daily routine. Some people try to beat jet lag by drinking lots of coffee for extra oomph on the last day of the trip. Caffeine has a half-life of five to six hours on average, meaning you may still be jittery at the end of the day.
As you begin to wind down from your travels, your body might not be on the same page. Avoid stimulants like alcohol, sugar, and caffeine. To help realign yourself back to your natural sleep and awake cycle, try a melatonin supplement like Pure Rest™ for the first night or two back home.*
Healthy Travels, Friend
What tried-and-true advice do you have to keep health top-of-mind while traveling? Share in the comments below.
*These statements have not been evaluated by the Food and Drug Administration. This product is not intended to diagnose, treat, cure, or prevent any disease.
https://whatsupusana.com/wp-content/uploads/2018/06/1504-–-5-tips-for-Eating-Healthy-While-Traveling_0618.jpg
576
1024
Jake Wolford
http://whatsupusana.com/wp-content/uploads/2019/11/USANA_Logo_Black.png
Jake Wolford
2018-07-01 08:38:15
2019-07-08 15:54:42
5 Tips for Eating Healthy While Traveling