Your Social Media Ticket to #USANA18
USANA's 26th International Convention is swiftly approaching and there will incredible people from all over the globe converging on Salt Lake City all because of their passion for health.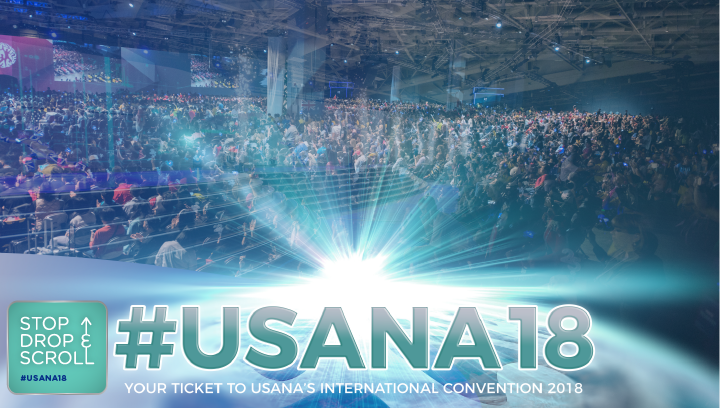 Even if you aren't able to fly Utah and take a seat in the Vivint Center arena, there's a seat reserved for you at this year's Convention. We'll be live streaming, tweeting, and posting throughout all four days and would love for you to follow along.
#USANA18 Is Everything
Follow #USANA18 to see everything from amazing guest speakers, performances, and awards shows to photo booth snapshots and exciting Convention-only surprises rolling out.
If you're attending Convention, snap, tag, and post away. Coming together as the healthiest family on Earth is all about sharing your experiences. It's easy to use social media to share your memorable moments with everyone. Download the Tips to Snap, Tag, Post checklist for yourself.
Follow Along Online
Whatever platform you gravitate towards, #USANA18 updates will be there.
Facebook: Tune in for Facebook Live videos and exclusive behind the scenes sneak peaks.
Instagram: Watch for some exciting Insta stories and tag #USANA18 in your own.
Twitter: Keep up with the live-tweeting from general sessions, book signings, and more.
The Blog: What's Up, USANA? is your hub for all things Convention this year. You won't want to miss a beat.
WeChat: Subscribe for exclusive resources from Convention in Chinese.

Stop, Drop, and Scroll
Stop by and visit the Social Media Education Studio during the day. There will be USANA staff and the entire social media team there to help you navigate each social platform and teaching you how to effectively use each to build your business.
There will be digital copies of all the freshly designed social media guides for you to peruse and ask questions about. Learn How to Brand Yourself, brush up on The Foundations of Social Selling, and ask any social media questions you're pondering. We can't wait to meet you and help you share how you #LiveUSANA.
You'll even be able to get some social-friendly swag, so do it for the 'gram.
If you want to become more tech-savvy, plan on attending the social media education sessions throughout Convention. There, you'll learn from successful social media moguls about personalizing your business for a social media driven world. This new form of communication may be intimidating, but don't worry. These speakers will help you understand the keys to being successful on social.
There's an App for That
Download the USANA Events app from Google Play or the App Store
It's the gateway to Convention events at your fingertips.
From planning out your daily schedule, to reading up on all the amazing presenters, to easily sharing your thoughts about trainings and presenters on social media, the app does it all.
Plus, the handy map feature makes sure you know where you need to be at all times.
Get Trending
International Convention is bound to be the most exciting, educational, and empowering event you'll attend this year. It's really all about engaging with the people behind the screens. Document your experiences, connect with others, and connect with USANA on social to keep Dr. Myron Wentz's vision growing.
Tips to Snap, Tag, Post
1650_Tips_3 copy

https://whatsupusana.com/wp-content/uploads/2018/07/1650_WUU-Hashtag_Header-01.png
408
720
Shauntel Peterson
http://whatsupusana.com/wp-content/uploads/2019/11/USANA_Logo_Black.png
Shauntel Peterson
2018-07-28 06:00:40
2019-07-29 12:14:54
Your Social Media Ticket to #USANA18