Pure Glow: Winter Skincare for a Radiant Holiday Season
Gatherings with friends and family, office holiday parties, a crowded gala with strangers ringing in the new year—we want to look and feel our best as we create vibrant memories to live beyond the season. A healthy glow that radiates from within can instantly brighten a room and provide added confidence to carry you through the bustling excitement of the holidays.
Practicing regular habits to nourish and protect your skin during the busy, and sometimes stressful, holiday season will not only give you a moment to pamper yourself, but will also keep your complexion vibrant to make a lasting, luminous impression. No amount of makeup can match the confidence of healthy, glowing skin.
Let your best self shine through, and reveal your glowing complexion this season, with these winter skincare tips:
Create a Glow from the Inside Out
Achieving an internal glow is likely on the top of everyone's wish list. Healthy skin is closely connected to almost everything we know about healthy living. The more we support our body's biological processes, the more radiant our complexion becomes.
Skincare products may give you that last push into glow territory, but to build a strong foundation for a stunning complexion, adequate hydration and nutrients are essential. What you put inside your body directly affects your skin's appearance. Poor nutritional choices over time can lead not only to metabolic stress, but ultimately impacts the internal environment that allows beautiful skin to flourish.
Reach for Foods Rich in Omega-3s
Omega-3 fatty acids are known for extensive health benefits, but their role to produce radiant skin should excite you to reach for your BiOmega™ regularly this winter season.  Fatty acids DHA and EPA go beyond brain health—they support collagen production, which plays a crucial role to maintain healthy, supple skin. Incorporating salmon, trout, walnuts, flaxseeds, and chia seeds can do wonders to help balance your skin's moisture. As you hunt for recipes to share at holiday events this season, invest in the health of your skin with high omega-3 ingredients.*
Make Hydration a High Priority
Your skin looks its best when you're adequately hydrated. Hearty foods can be comforting during the winter season, but don't forget to also include foods that are naturally high in water content. To aid in your mission to hydrate, fruits and vegetables should be dietary staples, in addition to emptying your water bottle several times a day.
Don't Abandon Your Beauty Sleep
The holiday season for most is the busiest time of year. Many are quick to sacrifice sleep for the sake of glittery celebrations or last-minute shopping. But don't underestimate the powerful role sleep plays in rejuvenation and recovery, which is huge for skin health. When the body gets insufficient sleep, cells tend to become inflamed which, over time, break down collagen and hyaluronic acid—vital to achieve a natural glow. Sleep replenishes the skin's connective tissue collagen and elastin, which maintain firmness and tone. So this party season, be sure to observe a regular bed time to keep you looking fresh.
Enhance the Glow with Exercise
Have you ever noticed that gorgeous flush that follows an intense gym session? Even after a lukewarm shower, your complexion can appear more radiant with the rosy glow caused by increased circulation. Blood supply rushed to the surface of the skin can instantly bring out a gorgeous glimmer that will look great with your party gear. Don't skip your regular exercise regimen—use those mountain climbers to prime your skin for a gorgeous night out.
Practice Self-Care
De-stressing during the holiday season is vital to create a bright, vibrant look. Meditation, deep breathing, and other forms of relaxation can do wonders, particularly during times of heightened stress from planning, cooking, imbibing, and participating in the festive activities of the season. Be sure to make self-care part of your healthy lifestyle. This can include setting aside time for a regular, yet indulging, winter skincare regimen. Perform your essential skincare steps as part of a calming self-care routine. Dedicate a space to take a few minutes alone each day to engage in the meditative practice of caring for your skin.
Let Your Skincare Take Care of the Rest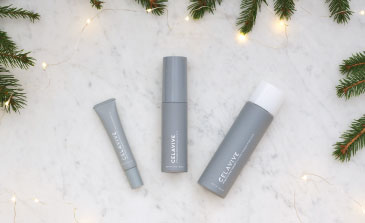 Targeted skincare can help you reach maximum glow. While many of us are sure to hit the basics—cleansing and moisturizing—to really feel your best and take your skin beyond basic health, add additional products into your routine. This is especially important to combat the extremes of erratic winter weather.
You may experience dry skin during the winter months when humidity levels drop and the skin is deprived of the essential moisture required to maintain a bouncy, dewy luster. Restore healthy levels of moisture with the Celavive® Hydrating + Lifting Sheet Mask.
Cell renewal plays an essential role to achieve an optimal glow. Put simply—smooth, supple skin is more effective at reflecting the light, giving you a beaming appearance that appears to be lit from within. In contrast, dull, rough skin is a result of dead skin cells that pile up and can diffuse the light. The natural cell renewal process slows down as we age. Poor overall health factors like health, diet, sleep quality, and hormonal changes can significantly accelerate the rate at which this takes place.
Choose powerful product combinations to nourish your skin. Enhance your results with the beauty-preserving effects of Celavive Vitalizing Serum. This superior product uses powerful ingredients to fight the visible signs of aging and bring a healthy glow to your skin.
If your current cleanser leaves your skin parched, it may be time to check the label and switch your drying product for a richer formula, one with ingredients from natural botanical sources to support nourished looking skin. A hydrating toner applied directly after cleansing, followed by a nourishing moisturizer to lock in moisture, supports your mission to brighten the room.
Using Celavive's skincare products as part of your daily self-care practice supports a healthy lifestyle. Consistent health habits throughout the winter season will allow your beautiful complexion to shine through naturally, so you can wrap yourself in the joy of the season.
*These statements have not been evaluated by the Food and Drug Administration. This product is not intended to diagnose, treat, cure, or prevent any disease.
This post is also available in: Spanish French Chinese (Traditional)